For USC and Pac-12, quality victories (and NCAA tournament spot) hard to come by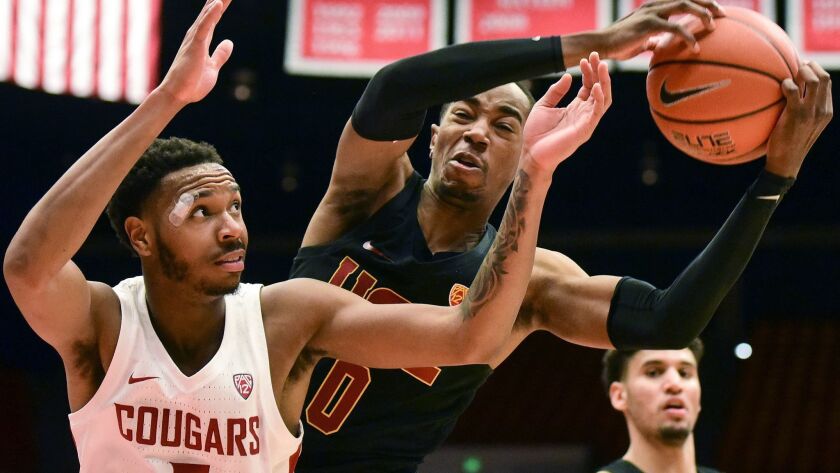 This weekend, Jerry Palm finally added the USC Trojans back to his board as a team being considered for an at-large berth to the NCAA men's basketball tournament.
"But I'm not looking at them seriously yet," said Palm, CBS Sports' resident bracket expert. "They're in a universe of teams I might have to pay attention to at some point."
USC, despite being tied for second in the Pac-12 at 6-3, shares a status with most every other team in the league's top half: With nine games left in the regular season, it has few chances for the type of win that could bolster its resume, and no margin for error.
The Trojans are hurt by the Pac-12's unbalanced scheduling rotation, which keeps them from hosting Washington (No. 20 in the Ratings Percentage Index) and playing on the road at Arizona State (No. 41) and Arizona (No. 63). In another year, those would be three opportunities for what the NCAA has labeled "Quadrant 1" wins — victories against top-30 RPI teams at home, top-50 teams at a neutral site and top-75 teams on the road.
"It is challenging," USC coach Andy Enfield said, "because you don't know who or what teams will be in that mix from year to year, and we have a predetermined schedule of teams we only play once. It changes next year, where we do have the Arizonas and Washingtons twice, but it could be two other teams we want to play twice next year.
"In a year that the conference does not have a lot of marquee wins outside of the league for a variety of reasons, it is harder to make those big wins up during the conference season."
USC is 0-7 in Quadrant 1 games this year. Four losses came in nonconference play as star senior Bennie Boatwright was recovering from offseason knee surgery. The other three came in road losses at Oregon State (in overtime), Oregon and Washington.
Before the Pac-12 tournament, the Trojans have just one more chance to grab a Quadrant 1 win — at UCLA, No. 69 in the RPI — but the Bruins could fall out of the top 75 by Feb. 28.
"That's the Pac-12 in a nutshell," Palm said. "How do you resume build in this league? It's not an easy thing to do. It's not the Big Ten where you lose seven in a row like Indiana and you've still got seven games that can help you."
The Hoosiers are an interesting case. Like USC, they are 13-9. But where the Trojans whiffed in November and December, Indiana picked up Quadrant 1 wins over Marquette and Louisville. While the Trojans began picking up steam in league play, the Hoosiers lost seven straight, but four were to Quadrant 1 teams. Sure enough, Indiana broke its losing streak with another massive win Saturday night at Michigan State (RPI No. 11).
And the Hoosiers have four more potential Quadrant 1 wins on the schedule before the conference tournament.
The Pac-12, Palm says, is having one of the worst years he's seen from a major conference. It was so bad in late December that there was speculation the Pac-12 could be a one-bid league if Arizona State were to win the conference tournament. Washington's 9-0 start in the conference has put the Huskies firmly into the field for now, but even they don't have any Quadrant 1 wins other than at Oregon and at Oregon State — teams not projected to make the NCAA tournament.
Palm currently has Washington as a No. 7 seed and Arizona State as a No. 10 seed in his bracket. He says Arizona, which carries a Quadrant 1 win over Iowa State, is the only other team close to an at-large berth.
Pac-12 coaches discussed why the league struggled so much in nonconference play on Tuesday's conference call, and the consensus view is it's much more difficult to schedule home-and-home series as a Pac-12 school, so they have to play more on the road and at neutral sites to build a resume.
Oregon State (14-7, 6-3), which has hopes of at-large consideration, had to play St. Louis of the Atlantic 10 on the road this season and took a bad loss. Last year, the Beavers couldn't get St. Louis to Corvallis and settled for playing the Billikens in Portland. Oregon State hasn't hosted a team from a major conference outside the Pac-12 since 2014-15.
"The excuses we hear is travel out here is not easy, they don't recruit Oregon regularly, so we've had to entice them with playing a neutral in Portland and we'll return one to your campus, which doesn't make us real happy," Oregon State coach Wayne Tinkle said.
Palm said he does not buy the scheduling excuse.
"That sounds like the whine of a non-major conference," Palm said. "Nobody wants to hear the Pac-12 complaining about that, even if it's true. It's not so much scheduling as it is you've gotta get better players and coach them up. UCLA's got players. Couldn't coach them up. USC's got players."
USC's players hope to vault up Palm's board in the next month. It will take something close to perfection.
"Run the table before the conference tournament," Palm said, "and then ask me again."
Sign up for our daily sports newsletter »
USC UP NEXT
VS. UTAH
When: Wednesday, 8 p.m.
Where: Galen Center.
On the air: TV: Pac-12 Networks; Radio: 710.
Update: The Utes (11-10, 5-4) are coming off a woeful weekend at home in which they lost to Oregon and Oregon State. Utah is led by guard Sedrick Barefield, who averages 16.3 points.
Twitter: @BradyMcCollough
---
Get the latest on L.A.'s teams in the daily Sports Report newsletter.
You may occasionally receive promotional content from the Los Angeles Times.