Why USC's free-throw woes are personally frustrating for coach Andy Enfield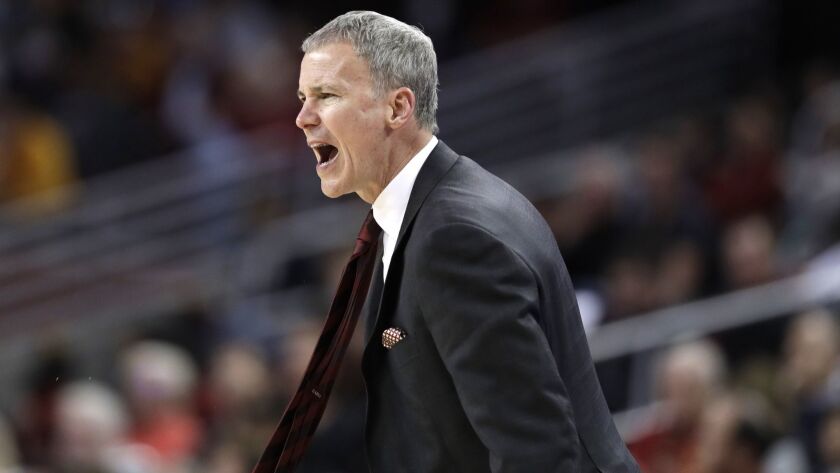 Last month, after a USC practice, Andy Enfield spent some time venting about the topic that is most dear to his basketball soul.
The Trojans were coming off a game at California in which they had made a higher percentage of three-point shots (19 of 31) than free throws (10 of 20). USC started the game three of 10 from the line.
"My senior year," Enfield said, referring to his career as a player at Division III Johns Hopkins University, "I missed six free-throw attempts the entire season, 123 of 129. So imagine how that felt when we missed seven. We missed more in 10 shots than I did in 129."
Enfield let out a laugh before once again asking for empathy from his audience.
"Imagine how that felt," Enfield repeated.
He was, after all, the NCAA leader in career free-throw percentage (92.5) from 1991 to 2007, when Missouri State's Blake Ahearn (94.6) and Gonzaga's Derek Raivio (92.7) topped Enfield.
Enfield is a numbers guy and not one to turn his back on a bargain. They're called free throws for a reason, and he can't help but wonder how much better USC's season would have gone if the Trojans had cashed in more often.
Fortunately, against Cal, USC was so hot from deep that its poor free-throw shooting didn't matter. Unfortunately, in the following week, the problem only intensified in losses to Oregon State and UCLA.
Against the Beavers on Senior Day at Galen Center, USC missed all six of its free throws, including three by senior forward Bennie Boatwright, the Trojans' second-best free-throw shooter at 70.4%. Meanwhile, Oregon State made 15 of 19 to secure a 67-62 win.
"I've never been in a game where we don't make a free throw," Enfield said after that one.
Against the Bruins last week, the Trojans made one of seven from the line, and Boatwright missed both his attempts. USC lost 93-88 in overtime.
"Bennie Boatwright, the odds of him missing five straight free throws, about less than 1%," Enfield said. "A lot of weird things happened this year."
In the latest NCAA statistics updated through Monday, the Trojans were 334th nationally at 64.2% from the line. The only thing that could have made them feel better about all those wasted points was that UCLA was even worse, placing 341st at 62.9%.
Enfield, who once turned his shooting prowess into a job as a "shot doctor," has tried to impart his wisdom onto the Trojans, who are 15-15 overall and 8-9 in the Pac-12 after Thursday's 83-74 loss at Utah. USC, which made seven of 10 free throws against the Utes, closes the regular season Saturday at Colorado.
"Free-throw shooting is a skill that is technique driven," Enfield said, "but you also have to go up and be able to handle the pressure and relax yourself and have confidence and put the ball in the basket.
"Unfortunately, we can't do it for them. We can help them work on it, but when the lights turn on, it's hard to simulate that in practice. Because out here, the lights are on, but there's no one in the stands and it really doesn't matter if they make it or miss it. But in the game, it does."
If USC is going to put together a miraculous four-game run through the Pac-12 tournament next week in Las Vegas, the Trojans will have to start by changing their fortunes at the line, especially late in games.
They could try using their coach as inspiration.
"When I played," Enfield said, "I was able to relax and just let my technique take over. The most common way to miss a free throw is short, especially when you're tired. At the end of a game, that was my focus, not to leave it short, to really get the follow-through up and get it over that front rim."
UP NEXT
AT COLORADO
When: Saturday, 2 p.m. PST.
Where: Coors Events Center.
On the air: TV: Pac-12 Networks; Radio: 710.
Update: The Buffaloes (18-11 and 9-8 in the Pac-12) enter the game in a four-way tie for fourth place in the league standings. A win over the Trojans could vault Colorado into a first-round bye in the Pac-12 tournament next week. USC played at Utah without freshman wing Kevin Porter Jr., who was a game-time decision with an ankle injury. The Trojans gave freshman point guard Elijah Weaver his second start of the season, and Weaver delivered with 17 points and five assists with just two turnovers.
Sign up for our daily sports newsletter »
Twitter: @BradyMcCollough
---
Get the latest on L.A.'s teams in the daily Sports Report newsletter.
You may occasionally receive promotional content from the Los Angeles Times.