The root cause of USC's basketball success this season just might be ... beet juice?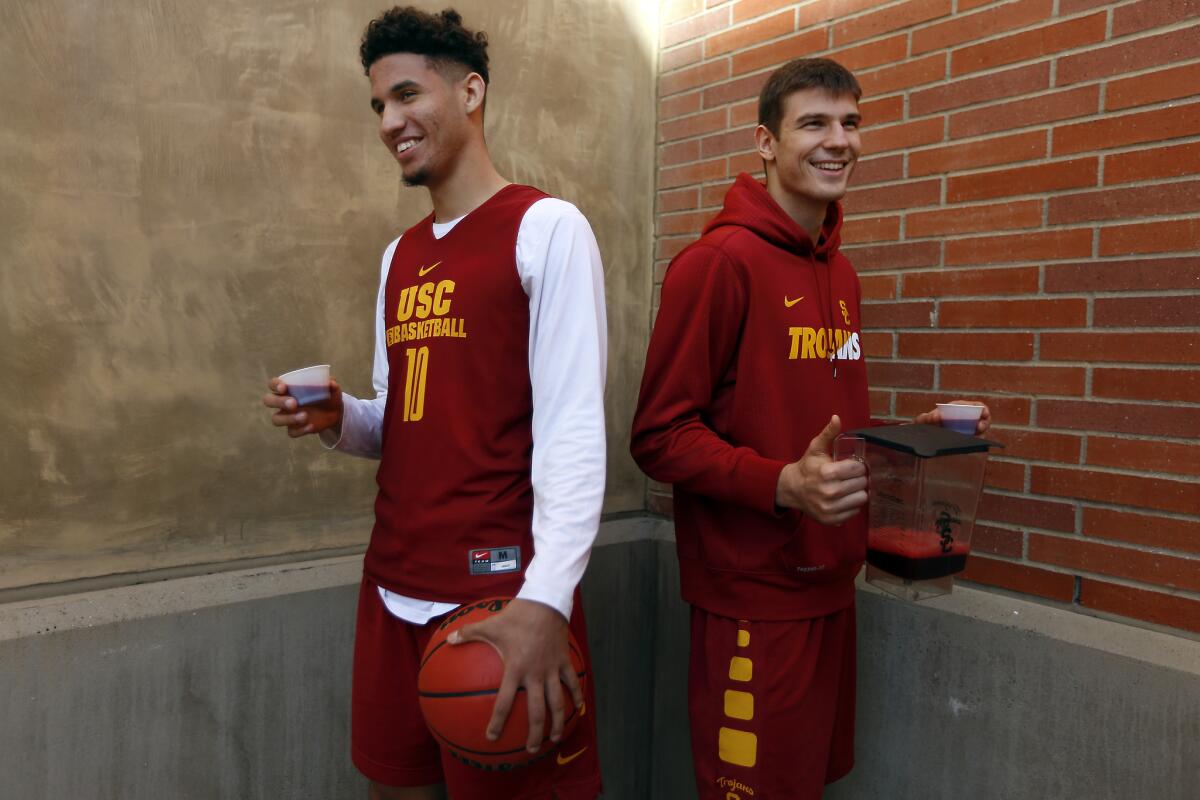 For USC's basketball team, success has not been sweet. It tastes a little earthy and a tad gritty — a bit like eating dirt, some players say.
Turns out, success tastes like beet juice.
Since the season started, the Trojans have chugged beet juice before workouts, vigorous practices and games.
It will be the team appetizer before a first-round NCAA tournament game against Providence on Thursday in Raleigh, N.C. — even if they don't necessarily savor the flavor.
"You ever have some spicy food, and it kind of comes back up?" forward Malik Martin said. "That's what it tastes like."
Last season, before USC experimented with beet juice, it finished last in the Pac-12 Conference. This season, USC reached the NCAA tournament for the first time since 2011.
USC has improved in many areas, of course. But beet juice has devotees everywhere. Endurance athletes and other sports teams knock it back to increase nitrate levels. Experts say nitrates widen blood vessels and improve cell function, so athletes can do more work while expending less energy.
Pistachios, pomegranates and spinach all contain nitrates, but few are as packed with them as beet roots.
In 2012, Becci Twombley, USC's director of sports nutrition, started serving the drink to the football team's offensive linemen. The group's blood pressure went down. Workouts lasted longer.
The rest of the football team started drinking the juice last season, and it spread. USC's sprinters became adherents.
"They won't run without it," Twombley said.
About an hour before each basketball game, Twombley or strength and conditioning coach Kurtis Shultz mix powdered beet concentrate, from a product called BeetElite, with water. Then they set out four-ounce cups for each player.
"A lot of guys said they do really feel a difference," Shultz said.
The drink comes in two flavors, original and black cherry, and a spokesman from Neogenis, which makes BeetElite, said the company works to "improve on the earthy taste from the beets while not adding sugar to the final product."
Taken within suggested limits, beet juice is safe for most anyone, experts say. And plenty of people actually enjoy the taste. Just don't count USC's players among them.
The Trojans cope by plugging their nose or guzzling it down in one swig.
"You've got to take it like a shot," Martin advised, or it tastes even worse.
Sometimes, players try to avoid the drink altogether, so Twombley and Shultz work the beet beat to make sure all cooperate. During a November trip to Orlando, Fla., Shultz noticed a suspicious number of cups were never touched.
Before the next game, Shultz video-conferenced with Twombley from his iPad. He placed it above the juice spread. As the team filed into the locker room, Twombley chirped over the iPad, "Don't forget to take your beet juice!"
Said Shultz: "Everybody did their beet juice that day."
Beet juice is but a splash in Twombley's overarching nutrition cocktail. Each player has his own plan.
In past seasons, Twombley said, players were picky and stubborn. This season, the team is receptive to anything Twombley and Shultz suggest will help performance, with occasional encouragement required.
For example, early this season Twombley noticed guard Jordan McLaughlin wouldn't touch his vegetables.
"I don't like vegetables," McLaughlin told her.
Said Twombley: "Well, you have to eat vegetables."
Said McLaughlin, as he left to grab dessert: "I'm not going to."
But McLaughlin got a surprise when he opened the freezer and found that Twombley had removed the ice cream.
A compromise was negotiated: whenever McLaughlin ate his vegetables, the whole team could eat ice cream again.
Over time, Twombley has learned each player's tastes. The Serbians, Nikola Jovanovic and Strahinja Gavrilovic, will eat anything.
Katin Reinhardt adheres to his own strict diet, mainly consisting of organic foods. At halftime, while teammates munch on fruit snacks to restore sugar levels, Reinhardt nibbles honey-based snacks.
"The whole philosophy is that every food fits, so sometimes nutrition is fun," Twombley said. "And sometimes it's not."
For most players, beet juice qualifies as the latter. But the benefits are hard to dispute.
Andrew Coggan and Linda Peterson, assistant professors at the Washington University School of Medicine in St. Louis, found that beet root juice increases maximum muscle power by about 6%.
For a basketball player, Coggan said, that means a higher vertical leap. It could represent "the difference between making the podium at the Olympics and not making the podium at the Olympics," he added.
So USC's players put up with the taste — with one exception.
"Malik Martin won't take it," Twombley said. "At all. Ever."
The first time Martin tried, the juice disgusted him. Twombley asked if he'd try again.
"Becci was pressuring me, and I was like, 'You know what Becs, I got you,'" Martin said. So he tried again but concluded, "It was worse than the first time."
Martin isn't forced to drink the juice, but he eats more pistachios and spinach and gulps plenty of Powerade before games.
The others stick to beet juice as often as they can.
"It's effective," guard Julian Jacobs said. "It's just terrible."
Get the latest on L.A.'s teams in the daily Sports Report newsletter.
You may occasionally receive promotional content from the Los Angeles Times.