USC can look ahead after holding off Cal, 38-30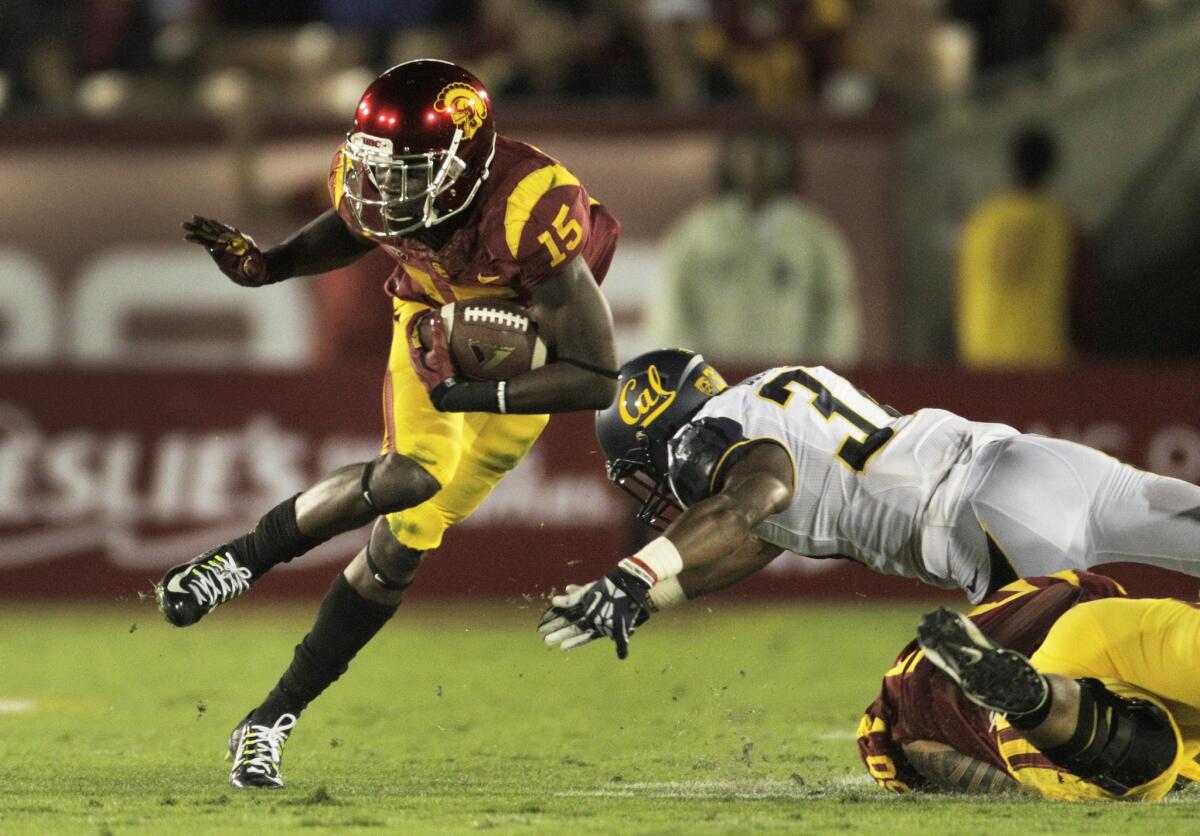 The confidence-building games are over.
USC blew out Washington State two weeks ago and held off California on Thursday night.
Now, the main rival awaits.
After its 38-30 victory over Cal at the Coliseum, USC can finally turn its attention to UCLA.
"It's Bruin week already," tailback Javorius Allen said on the field after the game.
It could not have come soon enough for a USC team that once again let an opponent come back in the fourth quarter.
USC recovered an onside kick with less than two minutes left to secure the victory.
"Sometimes, they're not always going to be as pretty as you like," Coach Steve Sarkisian said. "But we're 2-0 in November."
In a week when Cody Kessler was named a finalist for a national quarterback award, and the Heisman Trophy Trust informed Allen he was a potential candidate, Sarkisian appeared to use Cal as the vehicle to put receiver Nelson Agholor on the national radar.
With 2012 Biletnikoff Award winner Marqise Lee observing from the sideline, and a national television audience watching at home, Agholor caught 16 passes for 216 yards and two touchdowns against major college football's worst pass defense.
Kessler passed for four touchdowns and USC's defense held Cal's previously high-powered offense in check as the Trojans defeated the Golden Bears for the 11th consecutive time and improved their record to 7-3 overall and 6-2 in the Pac-12 Conference.
Before the season, USC hoped that its showdown against UCLA at the Rose Bowl would be for the Pac-12 South division title, a berth in the conference title game and, perhaps, a shot at the College Football Playoff.
The victory over Cal puts USC in a second-place tie with UCLA in the South, with the rivals hoping that Arizona State stumbles.
It will get tougher for USC against the Bruins and quarterback Brett Hundley, whom they were seemingly unable to tackle in defeats the last two seasons.
But the Trojans cannot wait to finally play the Bruins.
Offensive lineman Zach Banner said that despite UCLA's victories, "We still own L.A."
"They got us the last two years, but they don't own it," he said. "They've just been renting it for a couple weeks."
Cal, which lost to UCLA, 36-34, appeared to have enough firepower, if not defense, to at least challenge the Trojans.
The Golden Bears (5-5, 3-5) came into the game averaging nearly 42 points a game.
But USC stymied quarterback Jared Goff and his receivers and kept running back Daniel Lasco in check. They held Cal to 384 yards, 125 below its average.
The Trojans took a 21-2 lead after the first quarter, built it to 31-2, and had a 31-9 edge at halftime.
Kessler's touchdown pass to tight end Randall Telfer early in the fourth quarter put USC ahead, 38-16, before Goff passed for two touchdowns to pull the Golden Bears to within 38-30.
But Trojans receiver Darreus Rogers recovered an onside kick to secure a win.
"The second half we played well but it was too little, too late," Goff said.
Agholor was too good. Two weeks after amassing 220 receiving yards in the Trojans' 44-17 victory at Washington State, he eclipsed 100 yards receiving for the fourth consecutive game.
The junior from Florida had eight catches for 120 yards and a touchdown in first quarter. He had 13 receptions for 177 yards by halftime. A spectacular 88-yard touchdown was nullified by a holding penalty.
"I have a great offensive coordinator, head coach and quarterback that believe in me and gave me the opportunity," Agholor said. "We've got great receivers here and those guys are capable of the same thing. I was just blessed with the opportunity."
Cal didn't have an answer for Agholor. "We prepared for him and he's just a great player who made some great plays," linebacker Hardy Nickerson said. "He's shifty but also fast and we had our hands full with him and some of the other guys on the team."
For most of Thursday night, just about everything went right for the Trojans, even when things went wrong. USC had three apparent touchdowns called back because of penalties (14 for 159 yards). It didn't matter.
Now comes UCLA, which has an open date Saturday.
"They've been playing better," linebacker Anthony Sarao said. "I think they were a little shaky when they played Cal, but they've been playing well the last few weeks.
"We can't have that. We have to play better."
Twitter: @latimesklein
Get the latest on L.A.'s teams in the daily Sports Report newsletter.
You may occasionally receive promotional content from the Los Angeles Times.