Duke transfer Derryck Thornton is on point for USC in 82-73 victory over California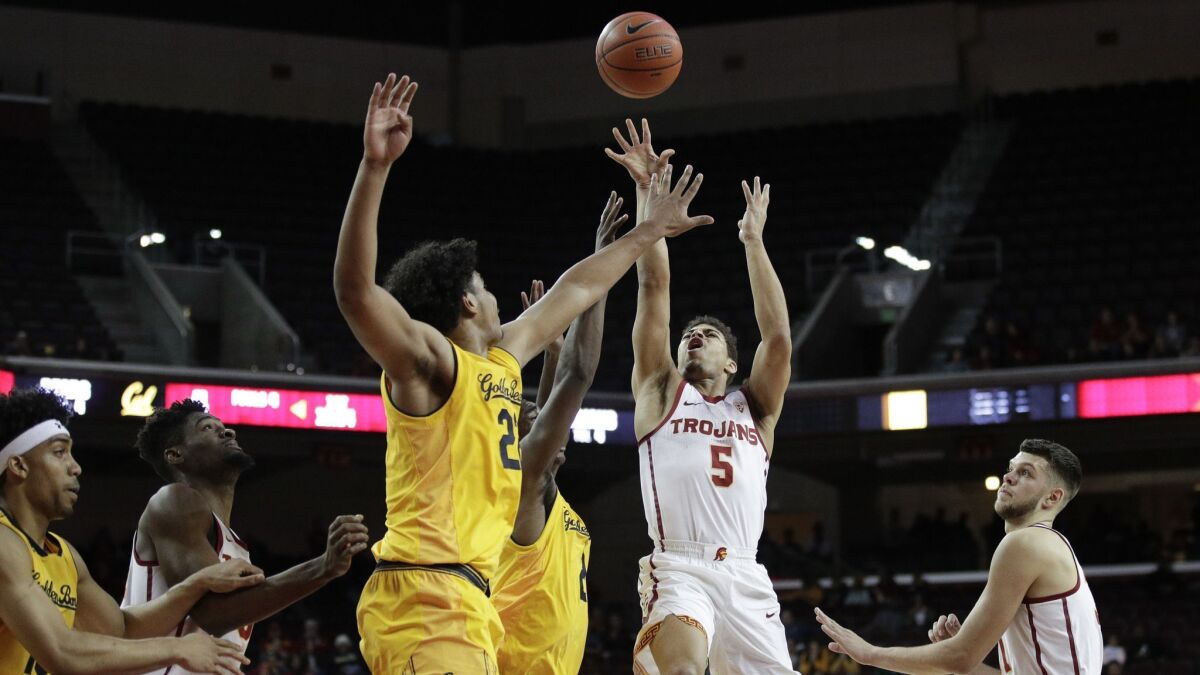 Entering his team's Pac-12 Conference opener against California on Thursday night, USC coach Andy Enfield had learned enough about his team's luck in 2018 that he wasn't going to leave anything to chance in 2019.
The Trojans, down to eight scholarship players after the sudden transfer of forward Jordan Usher on Monday, did not engage in any contact at Wednesday's practice, opting for a walkthrough instead. But on Thursday, at the usual light pregame walkthrough, USC was going over one of Cal's offensive sets when disaster struck again.
Freshman point guard Elijah Weaver, coming off a breakout 14-point performance in his last game, stepped on a teammate's foot and aggravated a left ankle injury that required surgery last August and sidelined him for nearly three months.
"I've never seen that in all my years of coaching," Enfield said bitterly. "In this season, with all our injuries, we've had so many freak things happen, it doesn't surprise us."
The Trojans did not have to adjust their starting lineup for Cal, but they were down to two scholarship reserves, neither one a guard.
It was a good thing for USC that Derryck Thornton played so well he didn't need any backup in an 82-73 Trojans victory. He had 13 points and a career-high 12 assists, adding seven rebounds and two steals in 37 minutes. Thornton's most important statistic was the zero in the turnover column.
"He played a great floor game," Enfield said. "Any time you have 12 assists and no turnovers, that's pretty impressive. He ran the team tonight and played under control, made the right decisions."
USC (8-6) notched its first win over an opponent from a major conference.
And given how frustrating this season has been, no enjoyment was lost in the fact that it came against Cal, which is 5-8 and has unseemly losses to Yale, San Francisco, Fresno State and Seattle to its discredit.
Nope, that mattered little to the Trojans, who desperately need to build momentum early in conference play and have a chance to do so with another home game Sunday against Stanford and their Pac-12 road opener Thursday at Oregon State.
Thornton, a redshirt junior point guard, showed the command that Enfield had hoped to see when the coach convinced the Los Angeles native to return home after deciding to transfer from Duke after one season.
Playing behind Jordan McLaughlin last season, Thornton did not get a chance to find his footing at USC, and, with the highly regarded Weaver coming in this season from Cocoa, Fla., it was not Thornton who generated buzz last summer.
Weaver's surgery gave Thornton a window to take over, but he didn't fully step into the role until Thursday night, just hours after Weaver was sidelined again.
Thornton paved the way to a dominant game for USC center Nick Rakocevic, who scored a career-high 27 points on 12-of-14 shooting thanks in part to the chemistry he shared with Thornton on pick-and-roll plays.
"He was incredible," Rakocevic said. "He continues to get better. Just seeing the growth of him and really looking like an amazing point guard, it was unreal to watch him today. He's got the ball on a string, and he got everybody else what they wanted."
Enfield did not sound positive about Weaver's status for Sunday, and who could blame him?
It has been six weeks since Kevin Porter Jr., a projected NBA lottery pick, took a knee to the thigh against Missouri State, and he still hasn't returned to practice.
Charles O'Bannon Jr. remains sidelined after finger surgery.
USC's starters played all but 25 minutes Thursday.
For one game, at least, it worked out for USC, which hopes that it found a point guard in the process.
"We're really proud of Derryck's development," Enfield said, "and we need him to keep playing like this."
Twitter: @BradyMcCollough
---
Get the latest on L.A.'s teams in the daily Sports Report newsletter.
You may occasionally receive promotional content from the Los Angeles Times.