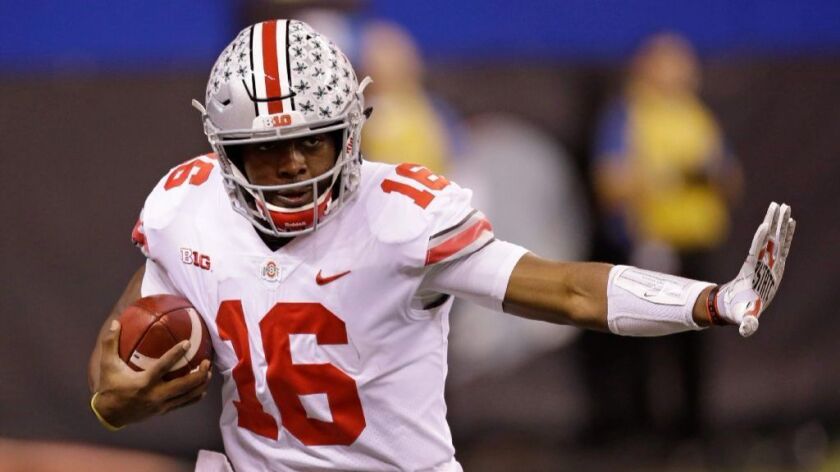 The USC defense has been down this road before.
When the Trojans play Ohio State in the Cotton Bowl on Dec. 29, they will face a dual threat in J.T. Barrett, a quarterback who can hurt opposing teams with his arm and his legs.
"Great athlete," linebacker Uchenna Nwosu said. "He can do it all."
Nwosu and his teammates have faced mobile passers twice this season, with mixed results.
Notre Dame's Brandon Wimbush threw for two touchdowns and ran for two more in a 49-14 victory by the Fighting Irish. Two weeks later, USC outlasted Arizona 49-35, but the Wildcats' Khalil Tate made things difficult with 161 yards on the ground and 146 by air.
The question is, will those experiences pay off in Arlington, Texas?
"It prepared us for what we are about to face," Nwosu said. "It's an advantage."
Statistics suggest the matchup will be challenging. Ohio State's balanced, sixth-ranked offense will attack a USC defense that ranks No. 56 against the rush, surrendering 158.3 yards a game.
The Trojans will answer with an aggressive front that averages 3.3 sacks, sixth-best in the country. But in Barrett, they will face a quarterback who possesses a different skill set than they have seen before.
With 732 yards rushing this season, the fifth-year senior isn't as fast or elusive as Tate, who amassed 1,353 yards in fewer games. As a running threat, Barrett is probably closer to Wimbush.
But Barrett has a better arm, ranking eighth in the nation in efficiency with 2,939 passing yards. His 35 touchdown passes are especially worrisome to USC coach Clay Helton.
"That's a huge number," Helton said. "I've been extremely impressed by his down-the-field accuracy."
Experience could also make a difference.
Playing the better part of four seasons, Barrett is a three-time Big Ten quarterback of the year. His decision-making has translated into clutch plays such as the controversial fourth-down keeper in last season's win over Michigan.
"He's not going to blow the roof off and have a 60-yard run … hopefully," USC linebacker Cameron Smith said. "But he's going to get what he needs to get."
Trojans players and coaches have stated — repeatedly — that stopping the run will be their top priority on defense. With Ohio State's spread scheme, that means limiting Barrett.
"They use both guys in the backfield as runners, both the quarterback and the tailback," Helton said.
So what have the Trojans learned from earlier this season?
Wimbush succeeded in gaining the edge early, which opened the middle of the defense to big chunks of yardage for the running backs.
"They knew we had soft edges and they were able to get outside," Nwosu said.
Injuries robbed the Trojans of key defensive players in that October game — they should be healthier this time. And wiser.
"That's something we need to do, be more secure on our perimeters," Nwosu said.
Tate's blurry quickness and scrambling served as a reminder that pass rushers need to stay disciplined. Though USC recorded five sacks, there were too many long gains.
Defensive lineman Christian Rector talks about being more "cerebral" against Barrett.
"I mean, keeping him contained in the pocket is a big thing," Rector said. "We have to stay true in our pass-rush lanes."
The safeties could play an important role if they crowd the line of scrimmage for run support against an offensive line anchored by Billy Price, who won the Rimington Trophy as the nation's best center.
The Buckeyes rebounded from early injuries among that group to rank 15th in rushing.
"By the end of the season," coach Urban Meyer told the Big Ten Network, "the offensive line was one of our strongest units."
But the Buckeyes still have those three receivers split wide, so Helton said the Trojans cannot afford to load the box too often. Again, he referred to Ohio State's downfield passing.
"You try to say, OK, we're going to play up toward the line of scrimmage," Helton said. "Now you're matched up against [receivers] who can really run."
The onus will be on USC's front seven to know their assignments and read their keys, Smith said. Keeping an eye on Barrett will be a big part of the task.
And that will require Trojans defenders to play better against a type of quarterback that has victimized them in the past. As Smith put it: "It's another piece for us to worry about."
Follow @LAtimesWharton on Twitter
---