Column: USC's doctor scandal awoke a horrific memory. Now Nicole Haynes fights for the truth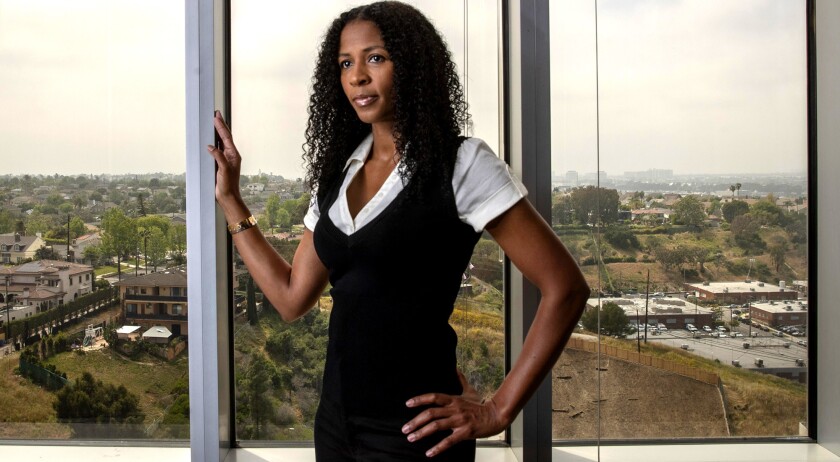 Nicole Haynes, a USC champion heptathlete, remembers the one time in her Trojans track career when everything slowed down.
She had signed into the Engemann Student Health Center because she was suffering severe stomach pains along with vomiting and diarrhea. She was ushered to an examining table, where her legs were immediately placed in stirrups.
"I had never had a gynecological exam," she recalled, "so I figured this is what they do for terrible stomach pains."
The attending doctor extensively examined her vagina. She had never experienced anything like it. She was a virgin. She was scared.
"He was poking me in places I had never been poked before," she said. "I was just like, 'Get this over with.' "
The extensive and invasive exam was completed with the most basic diagnosis. The doctor said she had food poisoning and sent her home without even a prescription.
"I was thinking, 'All that for that?' " she said. "Did I really need that kind of exam? It didn't sit well with my spirit. I felt very violated."
Twenty-three years after that 1995 incident, Nicole Haynes, now in media sales, remembered one more thing. She saw a photo in a Los Angeles Times story last spring about numerous sexual abuse allegations against a campus gynecologist. She saw that same man on ensuing television reports. It was the doctor who she said gave her the exam that made her feel uncomfortable.
"I saw his face, I knew that face, I'll never forget that face," she said, her voice rising. "It was George Tyndall."
A Times investigation last year revealed that Tyndall had been accused of sexually abusing hundreds of USC students for nearly 30 years in his role as the school's lone full-time staff gynecologist. The series detailed how complaints of abusive behavior were lodged beginning in the 1990s, yet Tyndall was allowed to continue practicing until 2016.
The stories led to local, state and federal investigations, including the Los Angeles Police Department's largest sex crimes investigation of a single subject.
What has not yet occurred, according to Haynes in a recent interview, is justice.
Sign up for our daily sports newsletter »
Tyndall has denied all wrongdoing. There have been no charges filed against him. And now Haynes is suing her beloved school in an effort to uncover the truth.
USC has negotiated a proposed $215-million class-action settlement with a group of plaintiff's attorneys that would guarantee payouts of at least $2,500 to every student who was examined by Tyndall for women's healthcare from 1989 to 2016. Haynes is part of a group of about 650 women who are challenging the settlement for its lack of transparency and accountability, and are suing USC in state court.
"That settlement is ridiculous,'' she said. "Absolutely ridiculous."
Although the school has hired an outside law firm to conduct an investigation into Tyndall, it is unclear whether those results will be shared with the alleged victims. Haynes is upset that the settlement won't give them their day in court.
"USC is fully aware that this situation has happened, but they don't want to deal with it or the repercussions that come with it," Haynes said. "They don't want to hear our stories, they don't want to deal with why they allowed this man to continue to work here for nearly 30 years knowing he had been abusing all these students."
Mike Arias, an attorney who represents 160 plaintiffs in Haynes' lawsuit, said the haste and limited scope of the settlement were stunning.
"I've been doing this sort of work for 30-plus years, and I've never seen a settlement so quickly," Arias said. "USC has made it very clear they don't want to have to relive this on their side. But so many women want to know what happened. And they have the right to know what happened."
Haynes, who competed as a heptathlete from 1992 to 1996 and won the then-Pac-10 championships in her senior season, did not tell anybody about her strange visit with Tyndall for years.
"I was used to bottling things up,'' she said. "I was taught, there's things that will happen to you in your life, you need to stay focused and push through and keep it moving."
But then once she saw his photo last May — "I'm like, 'That's the dude!' " — she didn't hold back.
She first called a friend who is a doctor to confirm that physicians don't do gynecological exams for food poisoning.
"He started laughing and was like, 'What are you talking about? No!' " she recalled. "And I'm like, 'Oh my gosh.' "
Several months earlier, she had been watching the chilling televised accounts of the victim statements in the trial of convicted serial child molester Larry Nassar, a former USA Gymnastics team doctor and Michigan State physician.
"I realized, that's what this dude did to me,'' she recalled. "I was walking with those girls. I was literally one of them."
She soon realized, unlike in the Nassar case, there was no public reckoning yet here.
She called USC to ask for her student health records. She was told those records no longer existed. She scanned the news for any USC explanation of the incidents. Again, none existed.
So she searched the internet for lawyers and called Arias, furious at a school that she said always treated her like family.
"I want to know why USC allowed this man to continue treating its students after numerous complaints,'' she said. "It should have taken one complaint. How did they not get rid of him then? It was like they were feeding us to the lions.''
Through it all, Haynes still loves her Trojans. She still attends football games and track events. The fight song still gives her chills. Her Twitter handle is still @NicoleHaynesUSC.
"My time there was the most amazing four years of my life,'' she said. "Once you were a Trojan, you were part of this exclusive group of people, and it was all love all the time.''
But, like many people close to the university, she has become disillusioned with its leadership.
"I will always love the school itself, but obviously, the people at the top want this to go away, and that's wrong," she said. "I want them to stand up to the world and say, 'We were wrong, we're sorry, this is why it happened.' "
She has a 4-year-old daughter, Sydney. Together, they attended the homecoming game this year. She says Sydney is destined to one day be a Trojan.
Under one condition:
"I don't want to send my daughter to USC if they're OK with allowing a doctor with abuse claims to keep treating people and not explaining why," she said. "If they allowed this to happen, what else are they allowing to happen?"
Get more of Bill Plaschke's work and follow him on Twitter @BillPlaschke
---
Get the latest on L.A.'s teams in the daily Sports Report newsletter.
You may occasionally receive promotional content from the Los Angeles Times.