USC's controversial $215-million settlement with gynecologist's victims moves forward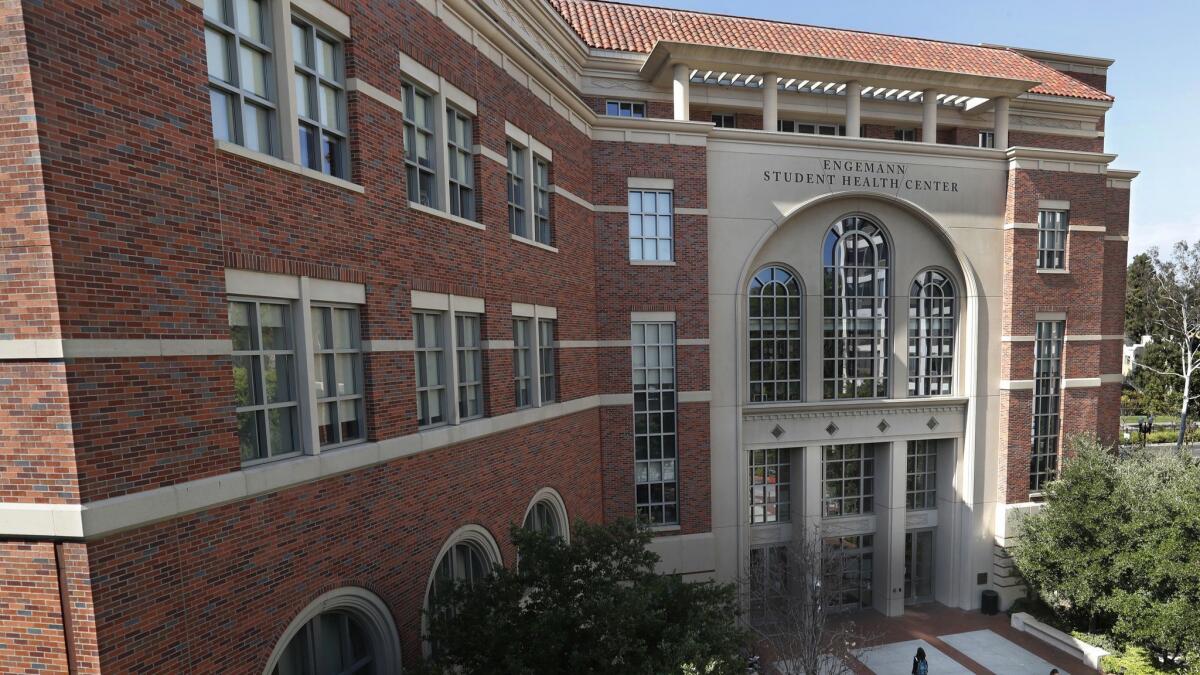 As federal regulators continue investigating USC's handling of a campus gynecologist accused of sexual abuse, the university is pressing forward with a $215-million class-action settlement with former patients.
An agreement filed in federal court Tuesday outlines the process for determining how much money individual women treated by Dr. George Tyndall will receive and describes new safeguards against sexual misconduct that USC must adopt as part of the deal.
The broad outlines of the settlement were announced in October, but this week's court filing is the first opportunity for U.S. District Judge Stephen V. Wilson to review the terms worked out by USC and a team of class-action lawyers. Wilson has to approve the agreement before it is offered to students and alumnae.
The settlement has come in for criticism from lawyers for more than 500 women suing the university in state court. They have said the deal is premature and paltry, and allows USC to avoid embarrassing public disclosures about administrators' bungling of decades of misconduct complaints against Tyndall.
One attorney representing former patients said he planned to protest the settlement in court.
Tyndall, who has repeatedly denied wrongdoing, is also a party to the settlement, giving him an opportunity to end a portion of the litigation against him without being questioned under oath by his former patients' attorneys.
What USC administrators knew about the physician and when they knew it is the subject of an investigation by the federal Department of Education. The Los Angeles County district attorney's office has also convened a criminal grand jury to hear evidence about Tyndall. In addition, the state court lawyers are demanding the gynecologist's personnel file and other records as they gather evidence for their lawsuits.
USC and the federal class-action attorneys, who stand to collect up to $25 million in legal fees, have defended the agreement as a way to ensure compensation for about 17,000 former patients without the long delays, uncertainty and public nature of litigation.
Layn Phillips, a retired federal judge who previously mediated Michigan State University's $500-million settlement with victims of Dr. Larry Nassar, led negotiations in the Tyndall class-action suit. He said in a sworn declaration filed Tuesday that "it is my considered judgment that plaintiffs would be unlikely to have obtained more money and benefits without going through years of discovery and trial, where they would face substantial risks of a less favorable outcome."
Tyndall was the sole full-time gynecologist at USC's student health center from 1989 until 2016. The Times revealed in May that he was the subject of repeated complaints from students and staff that he improperly photographed students' genitals, performed inappropriate pelvic and breast exams, and made suggestive remarks during appointments.
An internal investigation determined his medical care amounted to sexual harassment. University lawyers arranged a secret deal in 2017 that allowed the physician to leave with a payout and a clean record with the state medical board.
Under the terms of the class-action settlement, every former patient who saw Tyndall for a women's health issue will be eligible for a minimum payment of $2,500.
In addition, former patients who submit written accounts to a special master evaluating claims will receive payments of $7,500 to $20,000, depending on their experience with Tyndall. Women who submit to an interview with the special master will be eligible for an award of up to $250,000.
To calculate each patient's award, the special master will work with a team of experts in gynecology, psychology and sexual trauma.
FULL COVERAGE: USC former gynecologist Dr. George Tyndall accused of inappropriate behavior »
Beyond the compensation, the settlement requires USC to agree to a series of administrative changes. The university is to create a position for "an independent women's health advocate" to ensure complaints about improper sexual or racial conduct are investigated.
USC must also conduct background checks that delve into prior history of sexual harassment, improve employee training, and bolster staffing so that female students always have the option of seeing a female doctor.
Some patients have already indicated they plan to opt out of the deal to pursue cases in state court. John Manly, who represents scores of former patients, said he planned to ask Wilson to throw out the class-action settlement and allow further investigation.
"We're going to ask the court to reject it until there is real discovery, the [Department of Education] finishes and the district attorney finishes. What's the rush?" he said, adding that the class-action deal "allows USC to keep their secrets, and that does not do a service to anybody."
The settlement terms permit USC to back out of the agreement if the total number of women participating drops below a certain figure. That figure is confidential and shared only with the judge, according to a copy of the settlement filed in court.
One of those participating in the class-action settlement is Elisabeth Treadway, a 2001 graduate who alleges Tyndall touched her inappropriately and made insulting remarks during an exam her sophomore year.
In an interview, Treadway said that when she went to him for symptoms that turned out to be herpes, he performed a prolonged and seemingly unnecessary vaginal exam, showed prurient interest in her genital piercing and then told her she should keep her herpes diagnosis a secret or people "would know what kind of girl I was … that I was promiscuous and slutty."
"Sadly I believed him and still struggle with that not being a core belief about myself," said Treadway, who now lives in Florida.
She said she plans to submit to an interview with the special master.
Of forgoing a lawsuit that might bring to light information about how USC mishandled decades of complaints against Tyndall, Treadway said, "I don't need to know the dirty details to know how that experience changed my life."
Twitter: @MattHjourno
Sign up for Essential California for news, features and recommendations from the L.A. Times and beyond in your inbox six days a week.
You may occasionally receive promotional content from the Los Angeles Times.