Column: Helene Elliott: Patience paying off for Trojans under Andy Enfield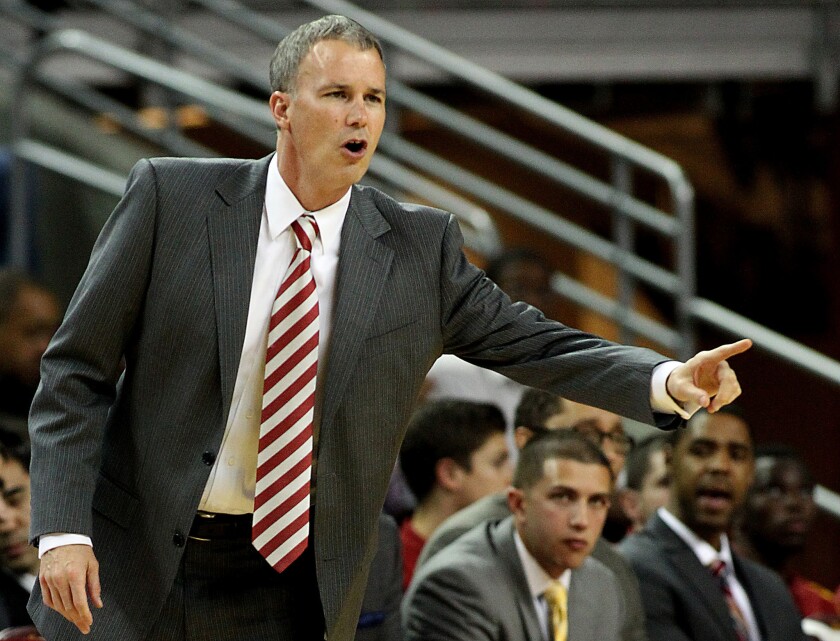 Somehow, USC junior guard Julian Jacobs kept his faith in the Trojans' future through two occasionally turbulent seasons and two Pac-12 Conference last-place finishes. After each loss — there were 21 in 2013-14, the team's first under Coach Andy Enfield, and 20 last season — Jacobs would remind himself there was a process to grind through, a plan to respect, a path to follow.
That's why Jacobs couldn't restrain his excitement this week after USC was ranked in the top 25 for the first time since 2008, coming in at No. 21 in the Associated Press poll and No. 25 in the coaches' poll with a record of 15-3, including 4-1 in the conference. With wins over Washington State, Arizona State, then-No. 7 Arizona and UCLA, the Trojans, who were projected to finish 10th in the Pac-12 preseason media poll, have already won more conference games than they did each of the previous two seasons.
"To see it all coming to fruition as far as wanting to come to SC to turn the entire program around, it's honestly monumental," said Jacobs, who is averaging 12.5 points and 5.5 rebounds. "The team was OK before I got here. I wanted to come here to be part of a team that could potentially be ranked and be a force in the tournament, and by the looks of the way we're going we're definitely on that track."
Told of Jacobs' enthusiasm, Enfield gave a hearty laugh. "Julian always has a flair for the dramatic," Enfield said. "He's become a big-time leader for us, so whatever he says, goes."
When USC hired Enfield in 2013, fresh off his NCAA tournament regional semifinal run with Florida Gulf Coast and its flashy, up-tempo "Dunk City" acrobatics, Athletic Director Pat Haden declared he wanted more than just a successful program. "We want to reset the basketball culture starting today," Haden said.
It has taken time for Enfield to make this his team in personnel and in style, but he's steadily turning around a culture that settled for irrelevance for too long.
"My freshman year we had a lot of negative energy with certain players and so it seemed just strenuous. There were multiple times during my freshman year when we really didn't want to come to practice because we were in last place and guys didn't really get along," said Jacobs, who was involved in a physical confrontation with teammate Darion Clark after a practice during one of the team's worst stretches last February.
"We kind of took baby steps. We made a huge jump last year, but we've improved every year since. And he's done a good job of keeping us focused on the big picture, which is that it's going to pay off at some point."
That point has been reached. The Trojans led the Pac-12 before Wednesday's games by making 155 three-point baskets, a reversal of their near-bottom ranking the last four seasons. Players have recorded 11 double-doubles, three more than last season. Defensively, the Trojans blocked 118 shots in their first 18 games and rank among the national leaders with an average of 6.56 blocks per game. They have depth and use it well.
Their tipping point this season came early. The Trojans were 5-0 after beating then-ranked Wichita State in their opener at the AdvoCare tournament in Orlando, Fla., but sophomore guard Jordan McLaughlin broke his nose in their next game, against Xavier, the first of two straight losses. They could have fallen apart. That they chose to unite told Enfield this season would be different.
"I think it speaks to the resiliency and the maturity and the confidence of the players on the team to come back," he said. "And since that time we've won 10 out of 11, including some big wins. So we just hope it carries forward."
Their next tests come Thursday at Oregon, which has beaten the Trojans 10 times in a row, and Sunday at Oregon State, which was 9-2 at home before facing UCLA on Wednesday. Going on the road with a top-25 ranking "does give you confidence, but it doesn't win games for you," Enfield said.
"We haven't done anything yet, so to speak. Right now we have 13 games left and we're on the road in probably two of the hardest places to play in the country this week. So we're going to need everyone to be on board as we go through the rest of the season."
There's no doubt Jacobs has bought in. "I think we're an NCAA tournament team, and you know just as well as I do anything can happen in the tournament," he said. "We're a force to be reckoned with."
That, truly, would be monumental.
Follow Helene Elliott on Twitter @helenenothelen
---
Get the latest on L.A.'s teams in the daily Sports Report newsletter.
You may occasionally receive promotional content from the Los Angeles Times.