USC's Cody Kessler enjoys connection to Frank Gifford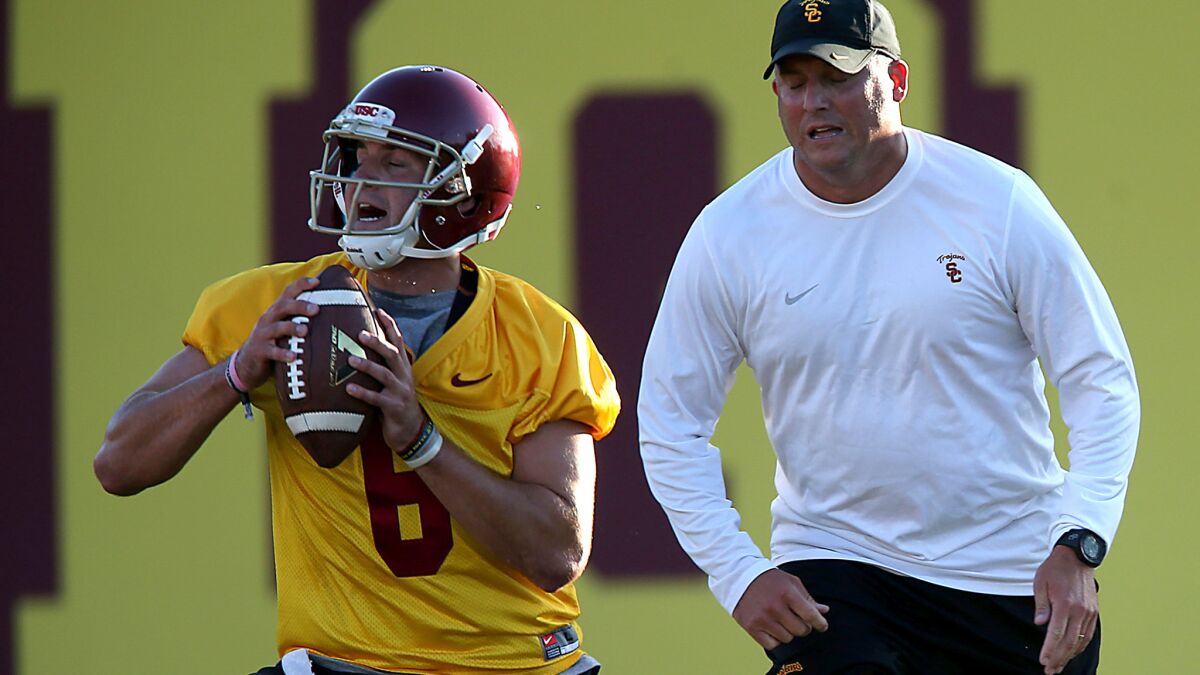 As USC quarterback Cody Kessler makes his way from the McKay Center locker room to the practice field, he walks by a gallery of plaques honoring Trojans All-Americans.
He always notices one: Frank Gifford.
"It's cool because it's the only one on there that says 'Bakersfield, California,'" Kessler said after Sunday night's practice.
Kessler, like Gifford, came to USC from Bakersfield. He was roommates with Gifford's son, Cody, a former USC walk-on receiver, during Kessler's freshman year.
Kessler, now a fifth-year senior, said he was saddened by news that Frank Gifford died Sunday at the age of 84.
Kessler said his thoughts and prayers were with Gifford's family.
"It's a very sad day, not only for Bakersfield, but for the sports world," he said.
Gifford was an All-American halfback and multipurpose star at USC in 1950, was a first-round NFL draft pick by the New York Giants, led the Giants to the 1956 NFL title and was the league's most valuable player. He also was enshrined in the college and pro football halls of fame.
"It's everything as a player you dream of," Kessler said. "He lived an amazing life so it's cool to be able to say he's from Bakersfield and I came from where Frank Gifford's from."
Kessler on Sunday continued to play with command as he prepares for his third season as the Trojans' starter.
On Saturday, he said he felt "completely comfortable" and was eager to work with a receiving corps that must make up for the loss of Nelson Agholor.
Browne improved
Max Browne, Kessler's backup, has been sharp through two workouts and appears much stronger than last fall.
The 6-foot-5, 220-pound Browne made strides during spring workouts, recognizing coverages and adjusting routes without hesitation.
The third-year sophomore's confidence has been evident through two workouts.
"I think I just kind of picked up where I left off," he said.
Freshman quarterbacks Ricky Town and Sam Darnold also have performed well.
Town graduated early from Ventura St. Bonaventure High and enrolled at USC in January. During spring workouts he appeared overwhelmed at times, just as Kessler and Browne did as early enrollees, but made progress.
Coach Steve Sarkisian said Sunday that Town was "playing much better than he did in the spring."
Darnold participated in summer players-only workouts but practiced for the first time Saturday.
"Sam's playing very well for a guy who's had only two college practices," Sarkisian said.
Redshirt freshman Jalen Greene, who played quarterback last season, has moved to receiver.
Blue-shirts
Sarkisian said he would not officially announce "blue-shirt" players until all have signed grant-in-aid agreements.
Blue-shirts are players who were not officially recruited but receive scholarships after the start of training camp. The scholarships count against the next year's recruiting class.
Tight end Taylor McNamara, a graduate transfer from Oklahoma, is eligible this season.
Tight end Daniel Imatorbhebhe, a transfer from Florida, must sit out a year.
Receiver Deontay Burnett from Gardena Serra High and offensive lineman Clayton Johnston from Anaheim Servite are other players in training camp expected to be awarded scholarships.
Quick hits
Tailback Justin Davis was limited because of hamstring tightness, Sarkisian said. Safety John Plattenburg (hip) and offensive lineman Viane Talamaivao (hamstring) also were limited…. After two practices without pads, the Trojans will practice with shoulder pads Monday and Tuesday before going into full pads on Wednesday…. The Trojans practice Monday at 2:30 p.m.
Get the latest on L.A.'s teams in the daily Sports Report newsletter.
You may occasionally receive promotional content from the Los Angeles Times.