Injuries mount, but it's full speed ahead for Trojans' Smith-Schuster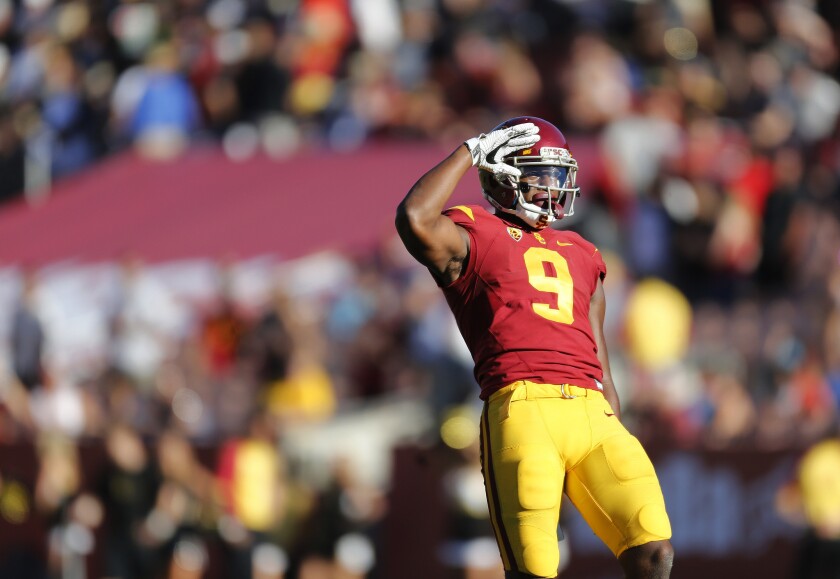 Some days, USC receiver JuJu Smith-Schuster sees the training staff more than he sees some of his teammates.
On Monday, he awoke at 6:30 a.m. so he could be at the training room by 7. He spent an hour there, riding a stationary bike, stretching on a foam roller, getting a massage. He came back later in the day for another two hours or so.
That was a light day. Smith-Schuster estimated that most days he spends about three and a half hours in the training room.
That's what it takes to keep one of the nation's most talented receivers on the field.
"Trying to get back to the old me," Smith-Schuster said. "I just want to get back to being able to run normal, top speed and make cuts, make those catches."
Right now, Smith-Schuster said, he's not quite there, though he will continue to play. He has a bruised hip that's bothering him. Or it could be his shoulder. Or his wrist. Or his back. Or his foot.
The pinkie finger that was dislocated a few months ago was such that if he held his hand straight, palm toward the floor, the digit angled almost parallel to his shoulders, like a freeway exit ramp veering from the other lanes.
USC coaches say Smith-Schuster is always banged up because he always plays at full speed. He once ventured well outside the boundary during training camp to catch a wayward pass. Then he crashed into the wall surrounding USC's practice field, an impressive though unwise display of effort.
Smith-Schuster says he doesn't know how to play any other way. But as his field time this season has diminished with a possible NFL future on the horizon, he is reevaluating whether that approach is wise.
"My coaches tell me to slow down," Smith-Schuster said. "I mean, if I want to be able to play as long as possible, 10, 15 years hopefully — if God's willing to make me be able to take my body that far — if it means I have to sacrifice a practice or sacrifice finishing, then that's something that I might have to do."
Smith-Schuster's three latest injuries all happened on one play. In the first quarter of USC's win over UCLA on Saturday, Smith-Schuster lunged to catch a long pass and then dove for the end zone. He landed awkwardly on his side, crunching his hip, compacting his shoulder and wrenching his wrist all at the same time.
He stood up appearing unsure of which appendage to clutch first. The hip hurt most. By the second quarter, he stayed on the ground following an incomplete pass and went to the locker room to have his hip examined.
"I've been through so many injuries, I would probably say this is the hardest," Smith-Schuster said. "I was in so much pain."
But he says he told the trainers he was going back in the game regardless. He returned later that quarter.
USC Coach Clay Helton said he spoke with Smith-Schuster at halftime. He wanted to make sure Smith-Schuster was being honest about his ability to perform
The coach told him, "JuJu, just make sure that you're unselfish, that if you get to a point where you're not helping the football team then let's pull off and let somebody else in there."
Smith-Schuster's 89 receptions last season went for 1,454 yards, which was fourth in the nation, despite his playing with a broken hand for a portion of the season. Various ailments this season have limited him to 758 yards — 59th nationally — in 59 catches.
Helton said the goal is to keep Smith-Schuster on the field as much as possible while not risking an injury that sidelines him for an extended period.
"There's a fine line between that," Helton said "And it takes a very unselfish player to be able to know, 'You know what? I may not be able to play 80 plays today. Maybe I have to play 40 and give my best 40 that I can knowing that my buddy can take my other half.' "
There are signs Smith-Schuster is mellowing. He sat out Tuesday's practice to recover, even though he could have played if pushed.
Still, offensive coordinator Tee Martin noticed Smith-Schuster chafing on the sideline.
"It really hurt him," Martin said. "Usually a guy gets out or he has a day off to recover and heal up, they kind of like that."
His new perspective had limits.
Not talking about playoffs
At No. 12 in the College Football Playoff ranking, USC has a remote shot at making the four-team playoff. That would require a highly unlikely string of losses around the country.
Helton said it wasn't on the team's mind.
"That's not our job," Helton said. "We don't worry about things you can't control."
Junior's 'senior day'?
Smith-Schuster, a junior, is expected to be an early-round NFL draft pick, if he chooses to leave school early.
Smith-Schuster put the odds of his return at "50-50," though that may have been generous.
"You never know, he said. "Maybe I might come back."
Follow Zach Helfand on Twitter @zhelfand
---
Get the latest on L.A.'s teams in the daily Sports Report newsletter.
You may occasionally receive promotional content from the Los Angeles Times.