Deontay Burnett can't talk like Keyshawn Johnson, but USC needs him to play like that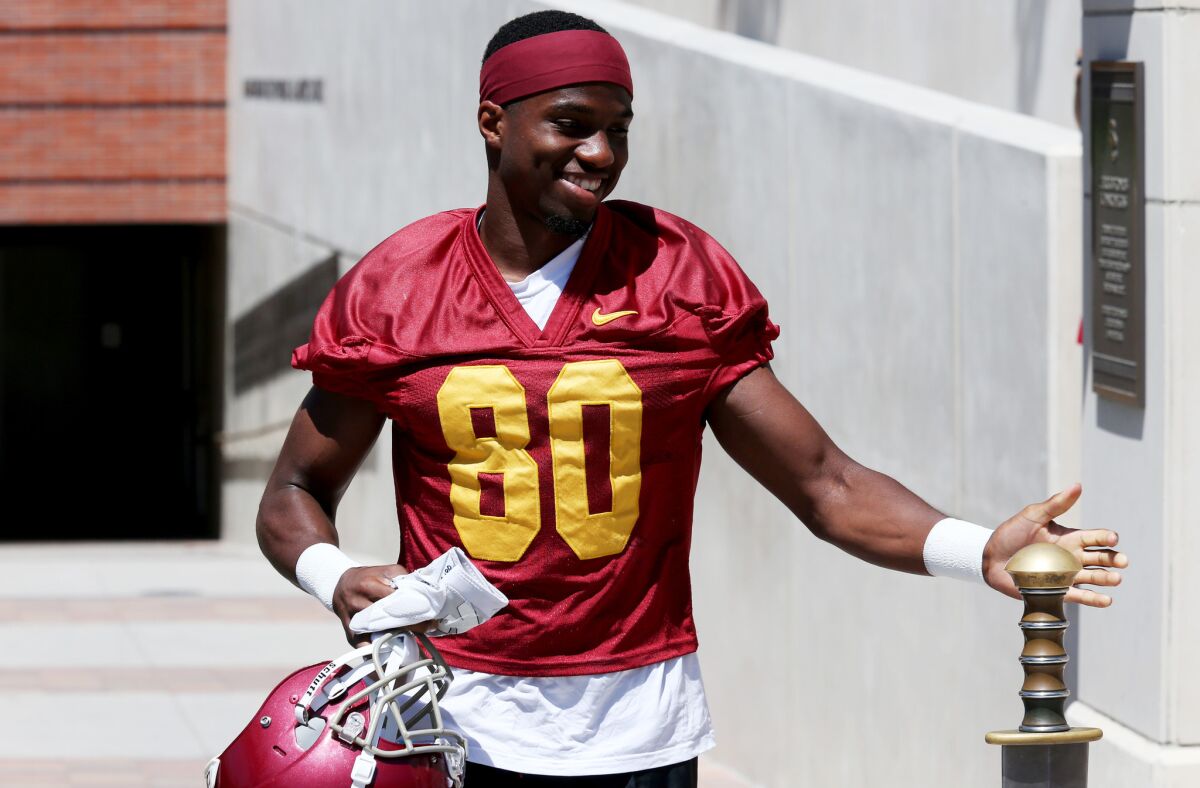 Deontay Burnett politely declined some advice Saturday.
Burnett, a mild-mannered junior from Gardena Serra High, is expected to be the No. 1 receiver this season for USC, which opened training camp Saturday. The role is hallowed territory around Heritage Hall. The last four top pass-catchers at USC were five-star recruits. All made at least one All-American second team.
The Trojans can use a big-time receiver in a group that lost much experience and big-play ability. Usually, such pass catchers wield big, brash personalities — think the Patriots' tight end Rob Gronkowski or the former USC and NFL receiver Keyshawn Johnson. Burnett does not.
So maybe Burnett can use some flash — a shtick.
"That's not my game," Burnett said after practice Saturday. "My game is to work in silence and get better every day."
How about a new nickname?
"Just 'Tay,'" he said.
A signature touchdown celebration?
"Nah. Just point at my family, really," he said. "That's about it."
The questions were facetious, but Burnett didn't smile. He wouldn't even concede that he is, in fact, USC's No. 1 receiver.
"I wouldn't consider myself 'the guy,'" Burnett said. "We have a lot of talent at the receiving corps."
The Trojans need him to be. USC lost its top two targets from last season, JuJu Smith-Schuster and Darreus Rogers. Coach Clay Helton said the receivers concerned him more than any position group.
But, he said, "You can sleep at night because you've got Deontay in your back pocket."
Burnett didn't even start until USC's eighth game, after a knee injury ended Steven Mitchell Jr.'s season. Burnett established himself as a reliable, sure-handed target, with a 77% catch rate, exceeding even that of the sticky-fingered Rogers. Offensive coordinator Tee Martin said Burnett committed zero drops during spring practice.
USC coach Clay Helton guides players through a workout during the summer camp opener.
(Luis Sinco / Los Angeles Times)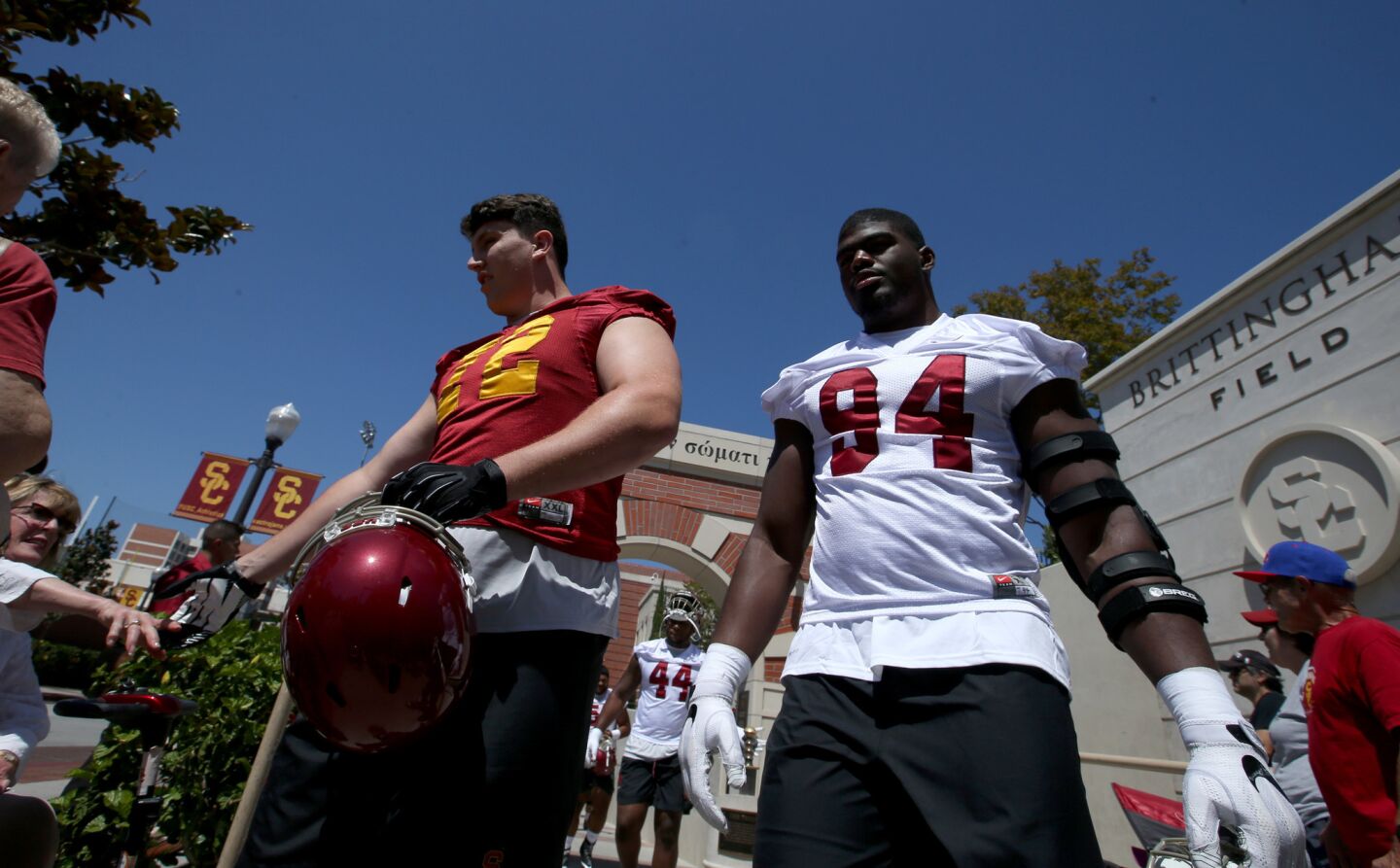 USC players emerge from the locker room to begin the first practice of summer camp on campus Saturday.
(Luis Sinco / Los Angeles Times)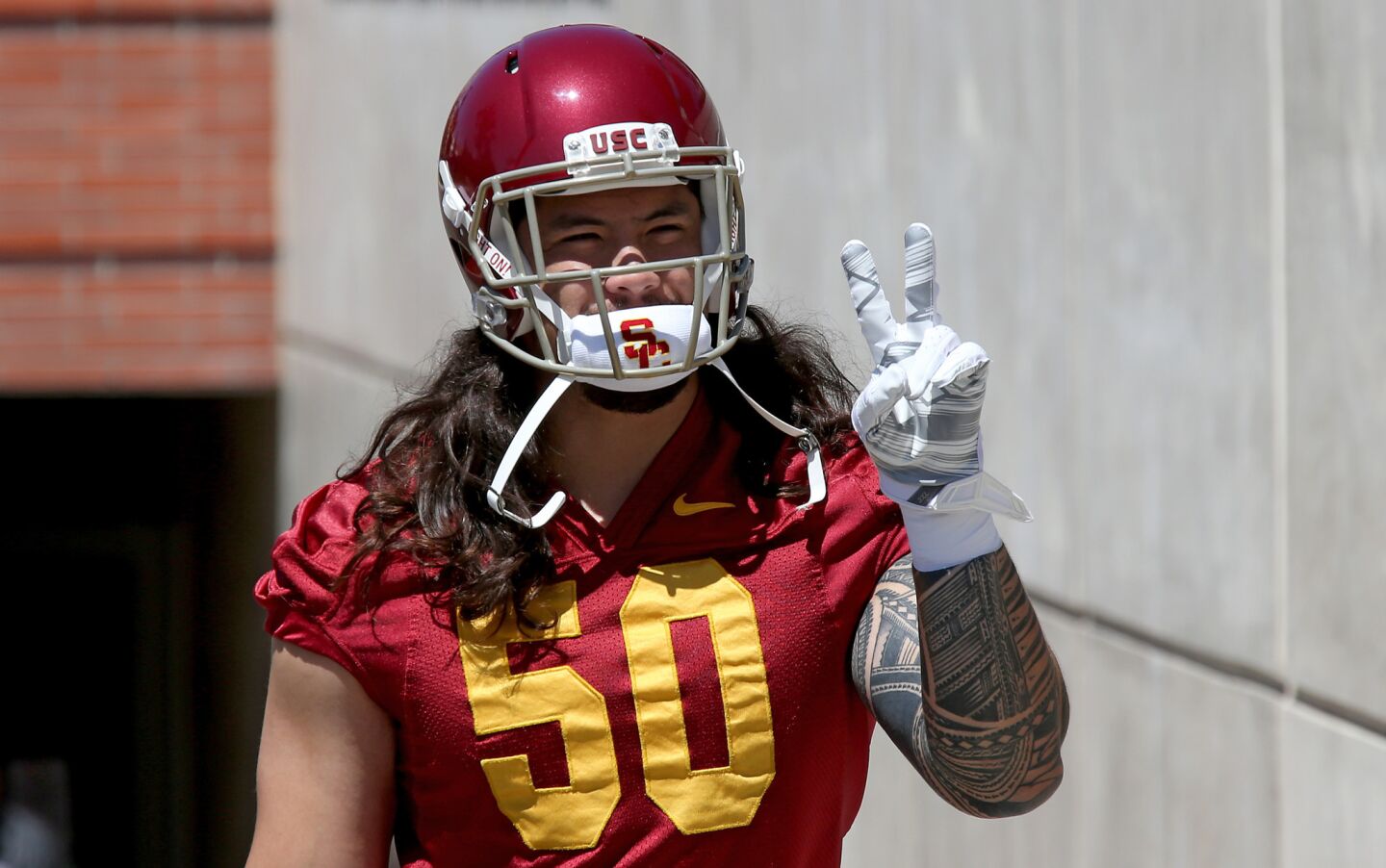 Trojans offensive lineman Toa Lobendahn flashes the victory sign as USC opens camp at Howard Jones Field.
(Luis Sinco / Los Angeles Times)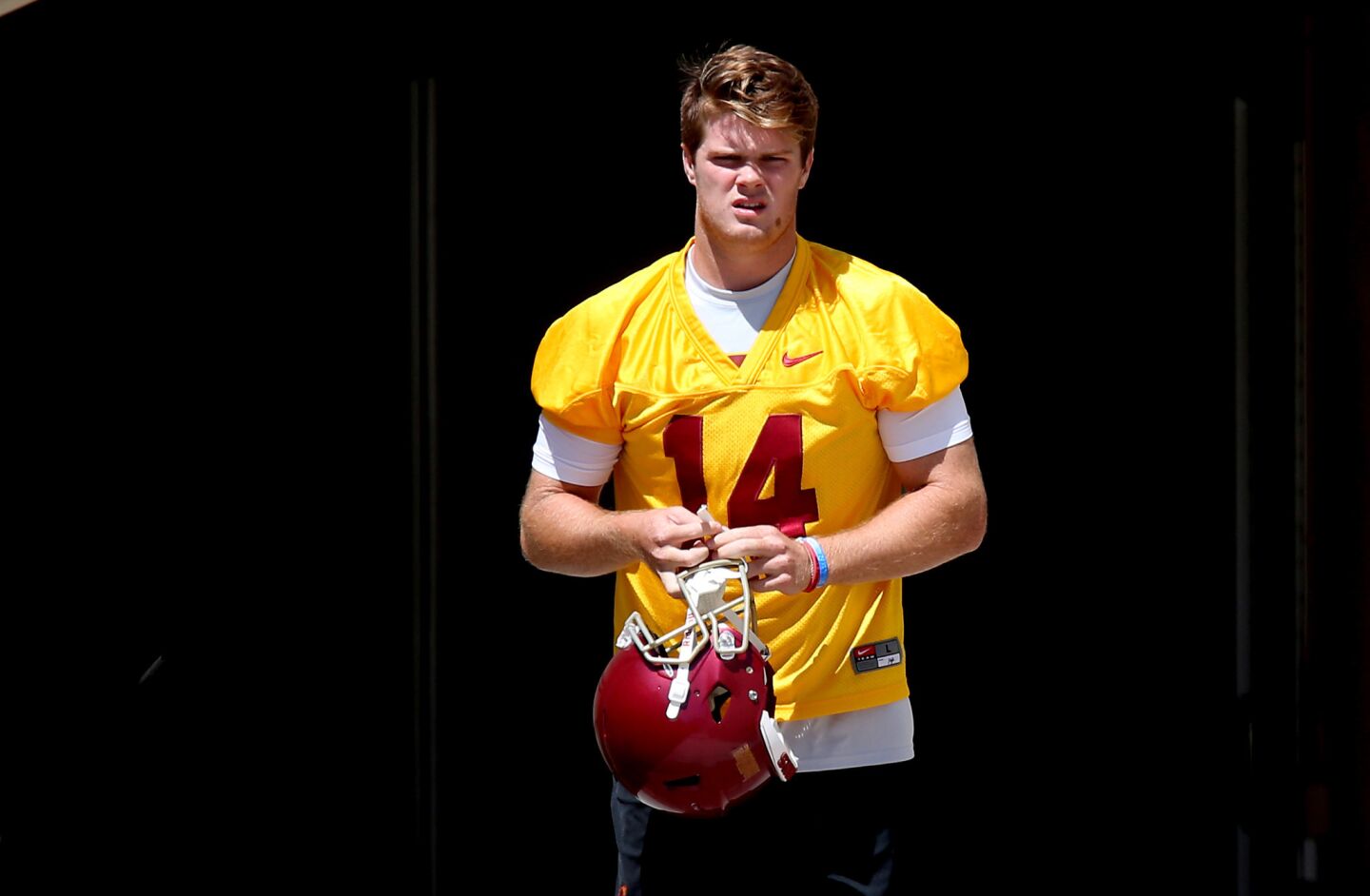 Heisman Trophy candidate and quarterback Sam Darnold emerges from the locker room for USC's first workout of summer camp.
(Luis Sinco / Los Angeles Times)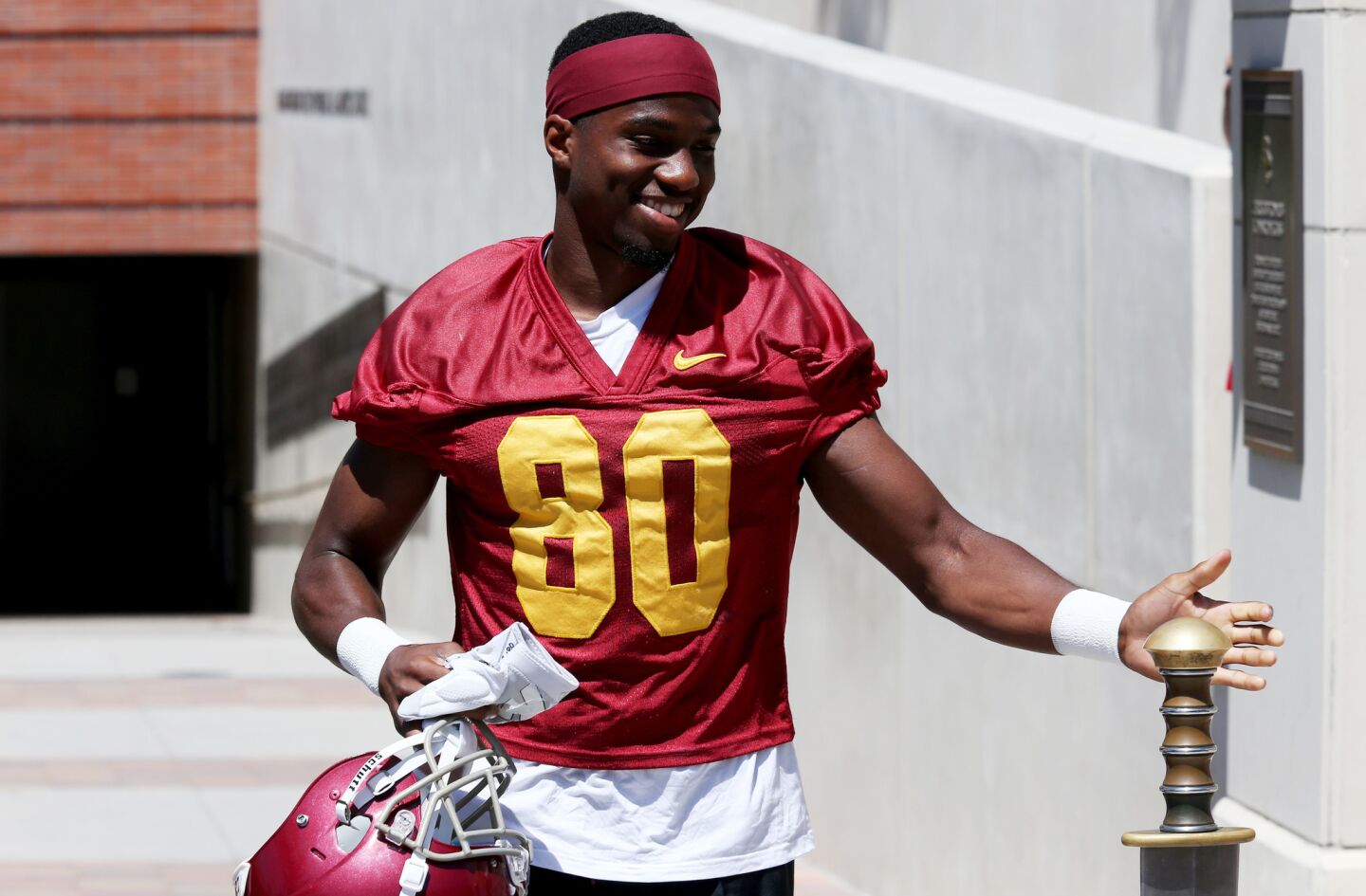 Trojans wide receiver Deontay Burnett touches the Sword of Troy as players head to Howard Jones Field to open summer camp.
(Luis Sinco / Los Angeles Times)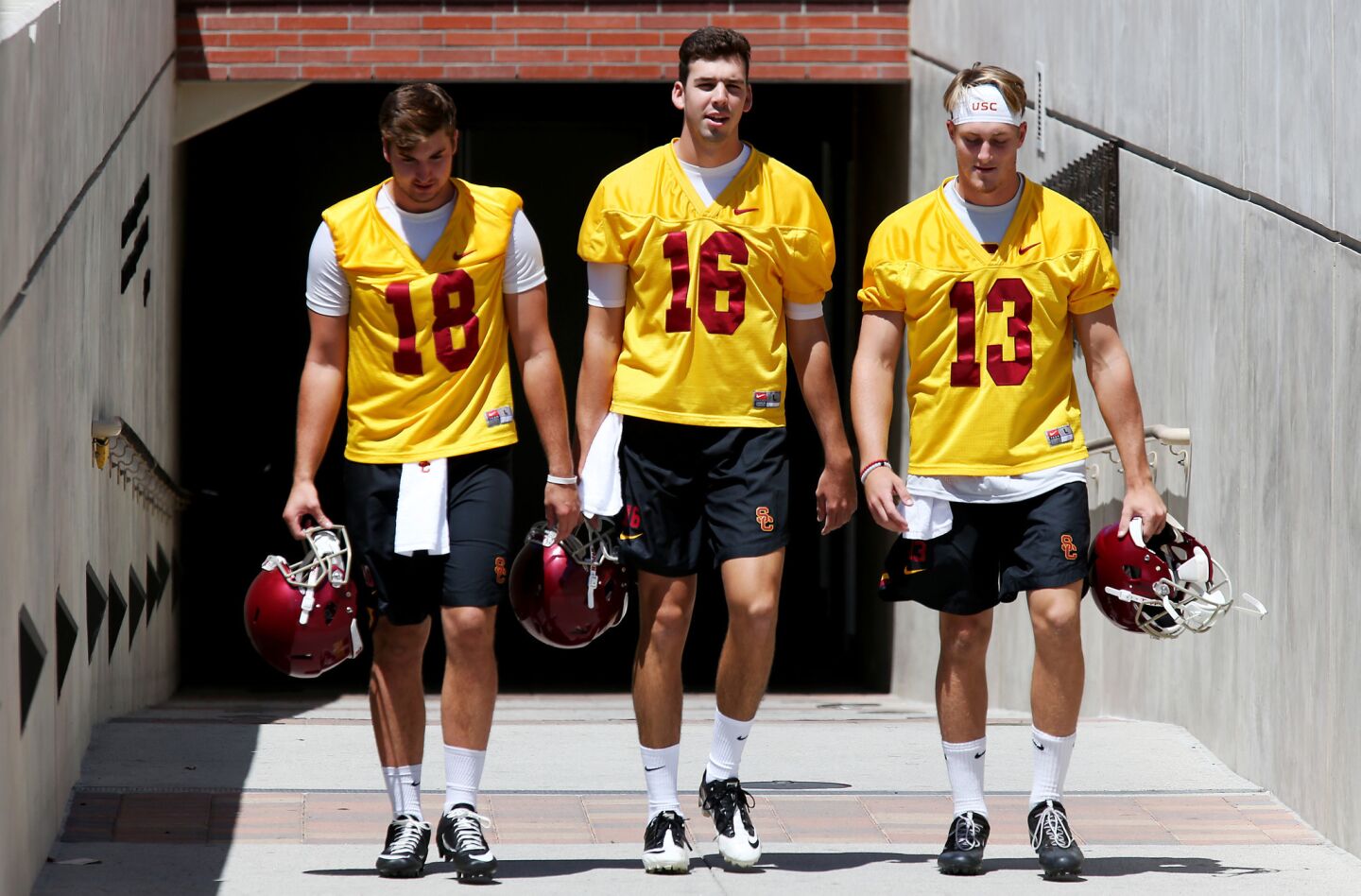 Reserve quartrerbacks (from left) Thomas Fitts, Holden Thomas and Jack Sears emerge from the locker room as the Trojans convene for their opening summer workout.
(Luis Sinco / Los Angeles Times)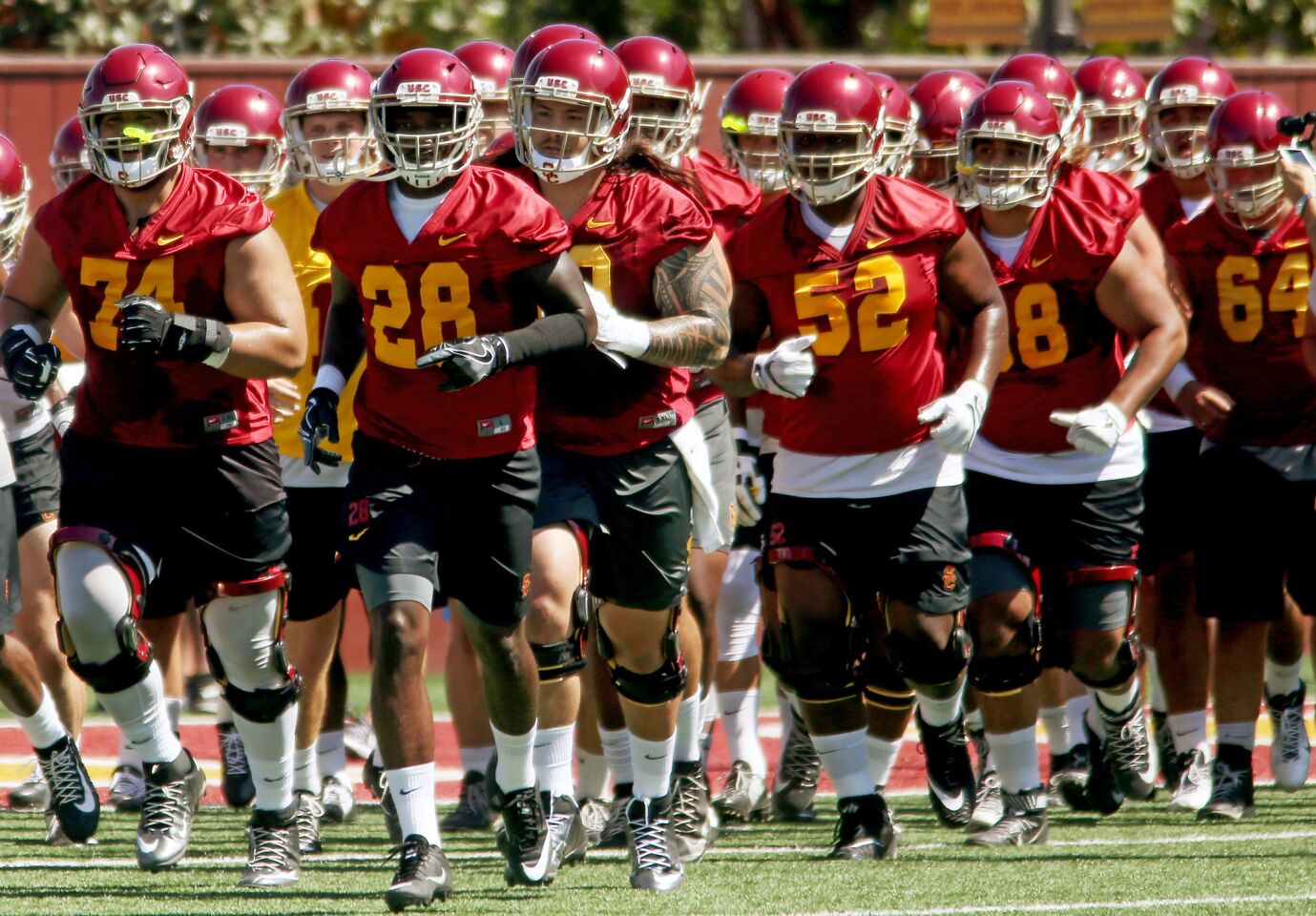 Players take the field for the start of USC's first summer practice at Howard Jones Field.
(Luis Sinco / Los Angeles Times)
Quarterback Sam Darnold (14) warms up with offensive players during the opening of summer camp at USC.
(Luis Sinco / Los Angeles Times)
USC coach Clay Helton watches his players begin working out at the team's first summer practice.
(Luis Sinco / Los Angeles Times)
Trojans quarterback Sam Darold (14) to participate in a drill during USC's first summer workout.
(Luis Sinco / Los Angeles Times)
But Burnett, who finished with 622 yards and seven touchdowns, didn't exceed 100 yards until the final game of the season.
USC has enjoyed a serendipitous run with explosive receivers. Robert Woods, Marqise Lee, Nelson Agholor and Smith-Schuster all entered as obvious big-play athletes.
Burnett's ascendance came as a surprise. He initially committed to Washington State. USC didn't know much about him. Martin, then USC's receivers coach, noticed him only when he was scouting Burnett's teammate at Serra, Adoree' Jackson.
Trusting an instinct, Martin called Burnett at the last minute, the morning of signing day, to offer a deal. USC was out of its 25 scholarships. But because Burnett wasn't officially recruited, he could take a blue shirt, meaning his scholarship would begin in the fall, and it would count against the next season's scholarship count.
Burnett was not an instant star. Asked if he gets recognized even now, Burnett laughed. "Ha," he said. "No."
But the Rose Bowl offered a glimpse of his talent. He caught 13 balls for 164 yards and three scores. He said he watched a replay of his final touchdown, an ad-libbed 27-yard post route that tied the score in the final minutes, just once.
He hasn't watched it since.
"It's my mind-set to move past that because I know that the team can achieve greater things," Burnett said.
Quarterback Sam Darnold said Burnett does have some typical qualities of a receiver.
"Tay's always talking to me, 'Get me the ball, get me the ball,'" Darnold said.
The pair developed a quick chemistry last season and spent much of the summer refining it. Burnett drove to San Clemente to work with Darnold. They enrolled in the same class, Writing 340, and ran throwing sessions after.
"I just come out here just to be the same Deontay as last year but just to work harder," Burnett said.
Talking in the third person? He was almost sounding like Johnson.
Quick hits
Reserve cornerback Jonathan Lockett will require hip surgery that will sideline him "for an extended period of time," Helton said. … Freshman receiver Joseph Lewis IV made a long, difficult catch over a defender along the sideline during seven-on-seven drills. Helton highlighted Lewis and fellow freshman receiver Randal Grimes as impressive on the first day.
Follow Zach Helfand on Twitter @zhelfand
---
Get the latest on L.A.'s teams in the daily Sports Report newsletter.
You may occasionally receive promotional content from the Los Angeles Times.