USC's receiving situation is unsettled. Tight end Daniel Imatorbhebhe may be an answer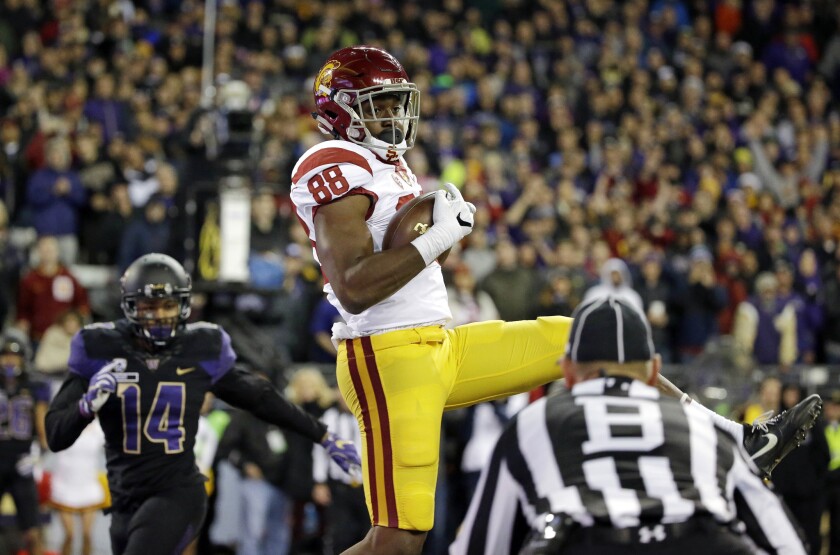 When tight end Daniel Imatorbhebhe stepped into the USC locker room for the first time as a scholarship athlete, he found the nameplate got his last name wrong.
Yes, "Imatorbhebhe" is a difficult last name, he said. But still.
"Coming out of high school I wasn't really given a chance by too many people," Imatorbhebhe said. "Even last year, I started third on the depth chart. I know me and [Deontay Burnett] for sure talk about how we came here, we were blue-shirts, people didn't know who we were. We walked past here, media people would push us, 'JuJu! Adoree'!' Nobody wanted to talk to us. Nobody knew who we were."
Imatorbhebhe gained a measure of respect and notoriety last season. He usually affected the game more than his modest stat line — 17 receptions for 250 yards and four touchdowns — would suggest.
Now, Imatorbhebhe stands on a precipice of sorts. USC's outlook at receiver is unsettled aside from Burnett. But concerns over breaking in new receivers could be tempered by one possibility: One of quarterback Sam Darnold's favorite pass catchers could end up being the tight end.
Imatorbhebhe, who transferred from Florida, developed an instant rapport with Darnold on the scout team two seasons ago. The pair, plus Burnett, had a standing basketball game every weekend. Over time, the three found they could anticipate the other's moves on the field. Soon, on the scout team, Darnold and Imatorbhebhe tormented the starting defense.
Last season, the chemistry translated to the actual games. But Imatorbhebhe's playing time was limited. He enjoyed a miniature breakout game against Washington, when he caught five passes for 78 yards and a score, but he otherwise never exceeded two receptions in a game.
This season, Imatorbhebhe will see the field plenty. And he predicted USC's schemes will rely on tight ends more heavily.
"The official answer is: If they throw it we're gonna catch it," Imatorbhebhe said. "But you could even see in installs, they trust us a lot more. We've got some really cool stuff we put in, building off the stuff we did last year. So I think we're going to be a big part of what we do. And I only say that because that's what I was told, not because I'm thinking we've arrived."
Blocking partially dictated Imatorbhebhe's low start on the depth chart last year. Imatorbhebhe was a slot receiver in high school, tall and skinny. He added bulk (he is officially listed at 235 pounds, though he says he is 10 pounds heavier) in the last two years.
Coach Clay Helton prefers to recruit receivers he can convert into tight ends. Tyler Petite, USC's other tight end option, was also a receiver in high school.
"The No. 1 thing we look for in a tight end is can you push the ball vertical?" Helton said. "We really feel we can teach both run blocking and pass protection. But it's hard to teach route running and speed."
Imatorbhebhe, he said, can extend defenses. Darnold uses him to pick on mismatches.
"He kind of reminds me of a Gronk, where you can split him out and get a matchup that you like," Darnold said, referring to New England Patriots tight end Rob Gronkowski. "If he's matched up on a corner, you're going to use his strength. If he's matched up with a linebacker, you're going to use his speed. And even sometimes he's faster than corners."
Imatorbhebhe has been limited in practice with a hip flexor injury that Helton is treating with caution.
"I don't want it to turn into something where we look up and it's a four- or five-week thing," Helton said.
When Imatorbhebhe is fully back, he is one of USC's best offensive weapons.
Imatorbhebhe has, he said, already made an impression. He noted that when his younger brother, Josh, a receiver, arrived last year, his name was spelled correctly everywhere.
Who was that?
Earlier this week, Helton had noted that running back Ronald Jones II had improved as a pass catcher.
During the full team portion of practice Thursday, Darnold dropped a snap, scooped and scrambled, then lofted a high pass on a wheel route down the sideline.
The receiver caught it over the defender, in stride, for a touchdown. Squeals sounded from the sideline.
"Who was that?" safety Jamel Cook yelled. "Rojo?"
It was, indeed, Jones.
"There you go," Helton said.
Quick hits
USC will hold its first fully padded practice of training camp Friday. … Cornerback Ajene Harris had two interceptions Thursday, both against quarterback Matt Fink. … Right tackle Chuma Edoga was pulled with hamstring tightness.
Follow Zach Helfand on Twitter @zhelfand
---
Get the latest on L.A.'s teams in the daily Sports Report newsletter.
You may occasionally receive promotional content from the Los Angeles Times.