To prepare for top cornerback role, Iman Marshall is studying ahead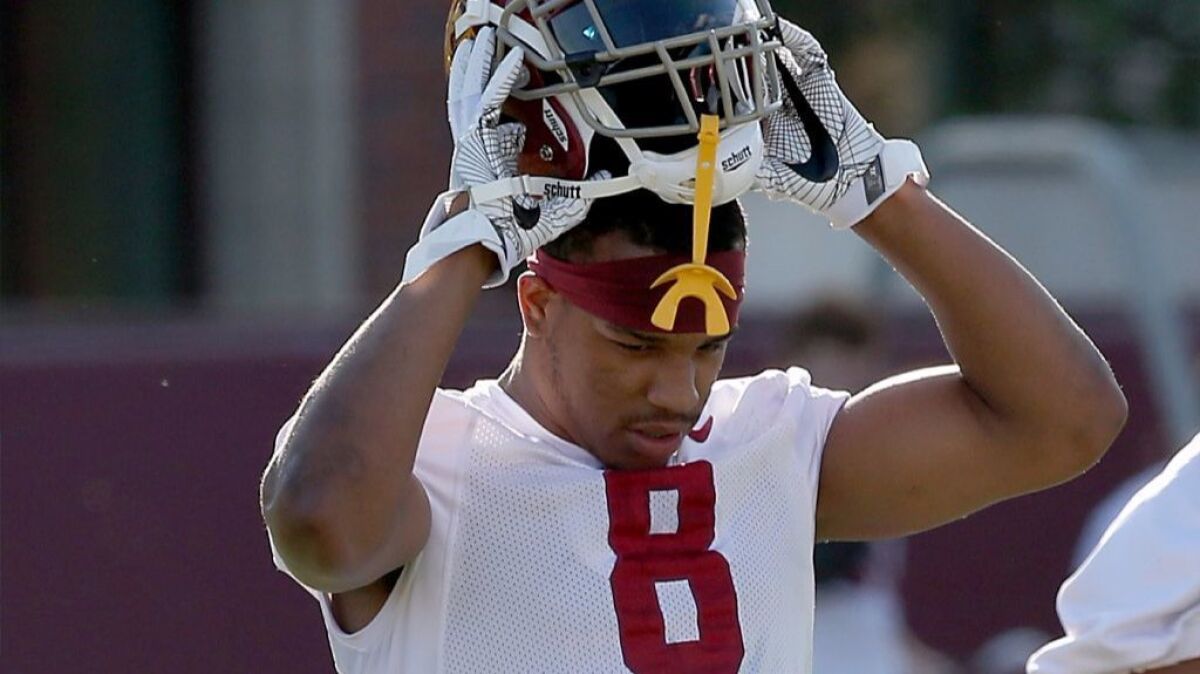 Iman Marshall made a list of the best receivers he will face this season and spent the offseason compiling film and studying them. He reviewed past encounters, mining his memory for ticks and tips.
He is, in other words, preparing for his new role: USC's No. 1 cornerback.
Last season, Marshall transitioned from a talented but handsy freshman to a stout sophomore. He played opposite cornerback Adoree' Jackson, who won the Jim Thorpe Award given to the nation's best defensive back, but Marshall was actually the more consistent of the two.
Of course, Jackson consistently drew opponents' best receivers. His talent gave Marshall space to mature in a more forgiving role.
"He allowed me to grow and better my craft," Marshall said.
Now, it is Marshall who is responsible for shutting down the opposing offense's best aerial weapon. To prepare, Marshall has begun poring over film of California's Demetris Robertson ("a very explosive dude"), Notre Dame's Equanimeous St. Brown ("He's nice") and Washington's Dante Pettis ("He's really nice").
Coach Clay Helton called Marshall a "perfectionist" and "one of the more competitive souls I've ever been around."
"He's really not comfortable or satisfied with where his game is," Helton said. "You see him after every practice working one little tool that he can put in his toolbox, and I appreciate that as a coach."
Cornerback has evolved into perhaps the most important position in the modern game, and the responsibility is even greater in the pass-happy Pac-12.
Helton said the league has prepared Marshall for what he will face this season.
"You look up and you're playing Washington and they've got one on each side," Helton said. "In this league it's a passing league. It's one of those things where you have to have two good corners at all times."
Positional battles near end
USC will scrimmage Saturday, and Helton said he was paying attention to two positions more than the others: receiver and nose tackle.
At receiver, Steven Mitchell Jr. has supplanted Tyler Vaughns in recent practices. Vaughns initially practiced with the first team, but Mitchell has taken over that role. USC is jammed with options at receiver, but Deontay Burnett is the only one who has separated himself from the competition. An ankle injury to Michael Pittman Jr., whom Helton expected to play often off the bench, only muddled the outlook.
The race at defensive tackle is not quite as crowded, but it has shown more promise. Josh Fatu, a 6-foot-2, 315-pound senior, has practiced most often with the first team, but freshman Marlon Tuipulotu (6-3, 295) has played nearly as often.
And another freshman, Brandon Pili, has been a surprising factor. Pili was mostly unknown until he transferred to a high school in Oregon. USC coaches have described him as an uncanny athlete for someone of his size.
"He's 340 pounds and he is pound for pound I think the best athlete on this team," defensive line coach Kenechi Udeze said of the 6-foot-4 native of Alaska. "I mean, he can dunk a basketball. He can do a cartwheel. He's out there throwing on the run and putting it on the money. He's a phenomenal athlete."
Quick hits
USC will not release a depth chart over the weekend, as it did this time last year, but will wait until next week or the following weekend.
Follow Zach Helfand on Twitter @zhelfand
---
Get the latest on L.A.'s teams in the daily Sports Report newsletter.
You may occasionally receive promotional content from the Los Angeles Times.