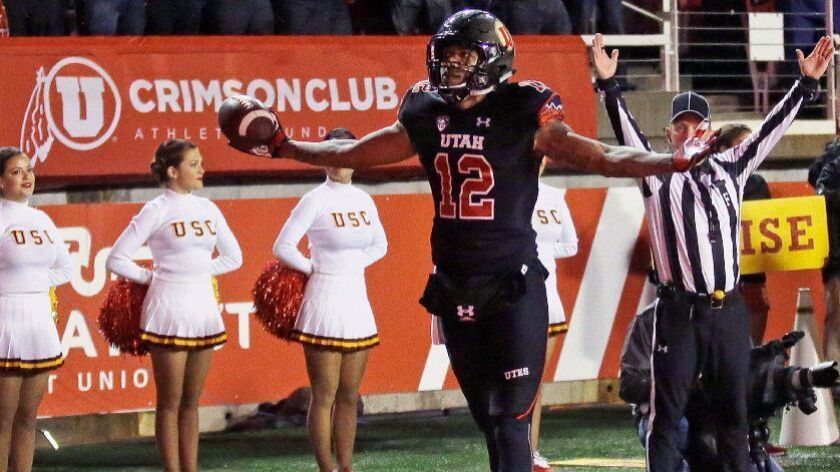 The game was on the line, and as it would turn out, the Pac-12 South division was on the line too. USC was playing at Utah last year on a chilly, rainy Friday night. USC had the ball on Utah's 37-yard line, up by three points in the final minutes. It was fourth and three.
USC coach Clay Helton made a decision that would ultimately cost USC a shot at the Pac-12 championship. He opted against giving his offense a chance to put the game away. He sent on the punt team.
Utah was pinned at its seven-yard line, but the Utes marched 93 yards down the field and scored a touchdown with 16 seconds left to win 31-27. Afterward Helton said he regretted the outcome but not the move.
"If I had to do it over again," Helton said a day later, "I would've made the same decision."
This season, when USC plays Utah on Saturday at the Coliseum, if USC has to do it all over again, Helton might well make a different decision.
A season ago, USC mostly stayed true to Helton's word. After the Utah game, USC was in a similar position — in the no-man's land between an opponent's 35-yard line and midfield — 13 times. USC punted 10 times. It attempted a fourth-down conversion only three times.
This season, USC has shifted toward aggression. USC has punted four times and gone for it four times. And on those four punts, USC's average was fourth-and-18.
"I try to lean toward the aggressive side, especially offensively," Helton said. "And we've gone for a bunch this year just because I felt good about it."
Comparing the two seasons doesn't offer a perfect comparison. Each decision to go for it or punt is complicated by the score, the time left in the game, how well each offense and defense is playing and the yards left to gain.
But the shift toward aggressiveness is undeniable.
Why?
Helton said the aggression early in this season could be partially credited to having a freshman kicker, Chase McGrath, whose mettle was still unclear. And quarterback Sam Darnold was a big part of the equation. Against Utah a season ago, he was making his first start. He was unproven.
Darnold began this season after having orchestrated a memorable comeback in the Rose Bowl against Penn State. In other words, he showed that putting the ball in his hands at the end of the game is often the right decision.
"As you gain confidence as a coach in those situations, yeah, you go for it more," Helton said. "That's why I've done it a lot this year already."
Trojans on the mend
Tight end Daniel Imatorbhebhe's recovery from a prolonged hip flexor injury may be progressing ahead of schedule. Imatorbhebhe was a limited participant in practice again Wednesday, and Helton said for the first time that a return for Saturday's game is possible.
Previously, Helton had targeted next week's game at Notre Dame for Imatorbhebhe's return.
"He's feeling good right now," Helton said. "But around Thursday or Friday we'll listen to the doctors, see where they're at. And more importantly listen to him also and see where his body is. I know he's really putting a lot of work into it right now, wants to play in this game."
Wednesday's practice also marked the return of right tackle Chuma Edoga, who had sustained a high ankle sprain in the first half of the game against Washington State and has not played since.
Edoga "was actually better than I thought he would be," Helton said.
Quick hits
Receiver Deontay Burnett did not practice Wednesday. Helton wanted to give him time to rest a sore shoulder and toe.
Follow Zach Helfand on Twitter @zhelfand
---