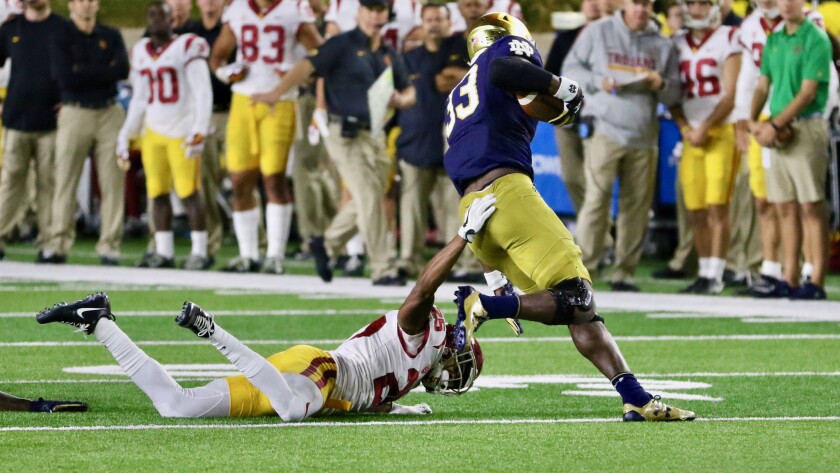 A pivot was happening in real time at Notre Dame Stadium on Saturday. Since USC's loss to Washington State in late September, the Trojans have sold themselves on the fact that all of their goals were still right in front of them.
A 49-14 loss to Notre Dame all but erased their biggest one, a spot in the College Football Playoff. In the aftermath, some players were still adjusting.
Outside USC's locker room, linebacker Cameron Smith began talking about USC's path forward.
"We're still right in front of our. … " He stopped before he got to "goals." Instead, he continued: "We've still got a Pac-12 championship to look at."
Coach Clay Helton said players have rallied to USC's new reality. He said the team is focused on winning the Pac-12 Conference South.
And in that goal, the biggest obstacle — rather surprisingly — awaits Saturday: Arizona State.
"We don't have time to feel sorry for ourselves," Helton said.
USC had expected a lull in its marathon of a season after Notre Dame, but the pressure only ratchets with Arizona State. The Sun Devils failed to qualify for a bowl game last season after losing their final six games. They were picked to finish fifth in the South by media members in the preseason. They began this season with a narrow victory against New Mexico State, then lost to San Diego State and Texas Tech.
Now they're the hottest team in the conference. In consecutive weeks, Arizona State handed Washington its first loss and went on the road to easily defeat Utah. Arizona State gave up a total of 17 points in the two games.
The victory last week over Utah positioned Arizona State as the top contender to USC's control of the South, and transformed Saturday's game from an easy bounce back after Notre Dame into another elimination game. Each team has only one loss in the conference. Each has passed the most difficult part of its schedule. If USC loses, it would need Arizona State to lose twice in its final four games to have a shot at the Pac-12 championship game.
"We understand how big a game this is," Helton said.
Arizona State will provide a stress test of USC's vulnerabilities that Notre Dame laid bare.
"The critical areas to address when you're talking about Arizona State is here comes another running game," Helton said. "And then offensively obviously we need to run the ball better."
Arizona State is middling in rush offense and rush defense, but it offers another quarterback capable of running in Manny Wilkins, although Wilkins is a much more reluctant runner than Notre Dame's Brandon Wimbush. And its rush defense has emerged as a force in the last two weeks. It held Washington to 91 yards and Utah to 110 yards on the ground.
In past seasons with past coaches, losses have snowballed on USC after high expectations fizzled out. A year ago, USC avoided a similar fate with Helton's steadiness and the switch to quarterback Sam Darnold.
The situation is different now. There is no new quarterback to generate excitement. USC was never a serious playoff contender a season ago; it was this season.
But the Trojans vowed they would rally.
"It's tough," Darnold said. "We're gonna sulk and look at the film for a day or two. And then we're gonna bounce back."
Said Helton: "There's still a lot to play for in this season."
Physicality issues
Helton remarked Sunday that USC's inability to rush effectively against Notre Dame stemmed not from blown assignments but from getting whipped physically.
"It didn't look like we were ready to play," safety Chris Hawkins said. "We didn't come out with the fire we needed to play in this rivalry game. … We didn't come out ready, and they attacked us from the beginning."
How did USC lose the trench battle so decisively? There were no easy answers.
USC shies away from full tackle in practices, as have many teams. But Smith said USC's practices were "physically enough."
The Trojans must balance increased physicality with injury risk. Half of the starters have sat out a game because of injury and several more have sat out big portions of games.
Offensive coordinator Tee Martin noted that, despite the personnel losses, USC still runs physically demanding drills like team run sessions and nine-on-seven drills.
"We practice physical," he said. "We go hard at practice. So I can't fault that. I can't fault our preparation."
Follow Zach Helfand on Twitter @zhelfand
---