Impromptu meeting in Clay Helton's office helped USC defeat Arizona State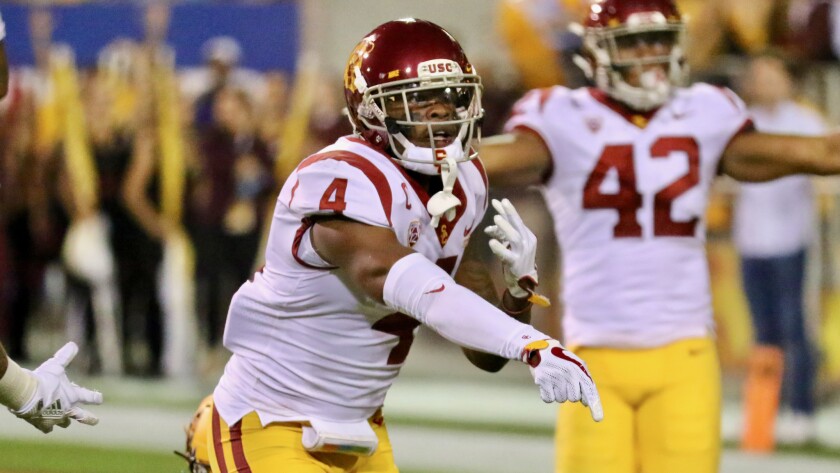 Something had been gnawing at Chris Hawkins for weeks, and Thursday he finally walked into USC coach Clay Helton's office to address it.
USC was wrapping up a particularly tense week, coming off a blowout loss to Notre Dame. Coaches were frustrated. Players were on edge. Even Hawkins, a safety and team captain and a reliably mature and sober voice, was a little sensitive and short in interviews.
Hawkins felt the tension had been mounting for some time. USC doesn't have a bye week — "it's been a long season," linebacker Cameron Smith said — and the grind and the constant churn of injuries were exhausting. Hawkins felt that bonds were fraying. Helton has an open-door policy. Hawkins availed himself of it.
"I just told him I don't feel like we're a close team right now," Hawkins said. "Basically, I told him it's a lot of individuals."
Several players interviewed after USC's 48-17 victory over Arizona State on Saturday described the meeting as a release. They called it a possible turning point and catalyst as the Trojans try to close out the Pac-12 Conference South division.
The meeting lasted 15 to 30 minutes, Hawkins said. Helton listened and appeared to take Hawkins seriously. Hawkins believed part of the reason USC wasn't playing to the level it had last season, when it won the Rose Bowl, was because there were too many clashing agendas.
Helton said that he values the chance "to listen to our players and be able to see where they're at." Especially, he said, "a gentleman who's been here for five years."
Later that day, at a team meeting, Helton tried a reset. Helton urged the team to ignore everything else and focus on enjoying the game. He told them to let loose.
"It was freeing," tight end Daniel Imatorbhebhe said. "Super freeing. You could see it from him, all that he's gone through this season, he was just like, 'Look, guys, we're just gonna have fun.' "
Quarterback Sam Darnold said that the season could be a "grind."
"I think we can lose track of why we actually play the game," Darnold said Helton reminded them. "Coming from him, the guy who should be stressed out the most, it's something special."
When players showed up at the walkthrough practice Friday, music was blasting out of speakers.
"It was [hip hop trio] Migos," Imatorbhebhe said. "It was bumping."
It was a small but meaningful gesture "to give a little juice," Helton said. USC used to always practice with music, but when Helton became coach he wanted the players to focus only on football, on the crunching of pads and nothing else. Now he thought a change could be refreshing.
On Saturday, he continued the theme. At a meeting before the game, instead of cramming, Helton cued up videos of Reggie Bush and Clay Matthews playing at USC. Look how much fun they were having, he said.
Players said they noticed an immediate difference.
USC tried to embrace the villain role on the road. Before the game and at halftime, about two dozen players preened, waved and danced in front of Arizona State's student section. USC players talked smack to opposing players near the sideline. They were enjoying themselves.
What followed was perhaps USC's best performance of the season.
"We had something to lose, but we played like we had nothing to lose," Hawkins said. "You don't want to call it desperate play, but you just play like nothing's on the line here. You don't tense up. You don't tighten up."
Helton said that USC is "going to be really close" to getting back Stephen Carr for Saturday's game against Arizona.
Carr, a freshman running back who has averaged 5.9 yards per carry, has sat out four games because of a foot injury. He was a limited participant in practice last week, and Helton said "he was right on the brink" of returning against Arizona State, but USC decided to hold him.
USC can use the depth. Two running backs behind him in the rotation, Vavae Malepeai and James Toland IV, were carted off the field Saturday.
Malepeai emerged from the locker room walking with a limp and with the left knee wrapped with ice. Helton said Malepeai's knee was "stable" and Malepeai was scheduled for an MRI exam Sunday evening.
Toland will be out for several weeks because of a shoulder injury, Helton said
The game against Arizona has been scheduled for 7:45 p.m. at the Coliseum and will air on ESPN. … USC climbed four spots in the Associated Press poll to No. 17.
Follow Zach Helfand on Twitter @zhelfand
---
Get the latest on L.A.'s teams in the daily Sports Report newsletter.
You may occasionally receive promotional content from the Los Angeles Times.