USC offense improves in a hurry, by hurrying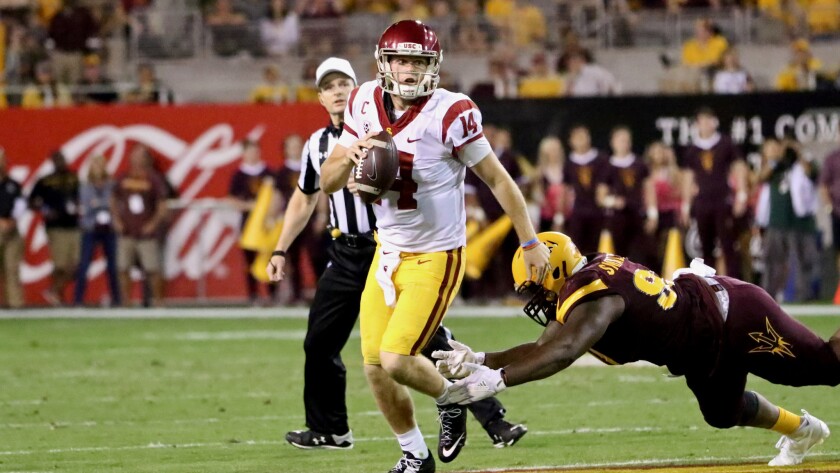 Clay Helton looked like a man who did not want to say anything. He tucked his upper lip into his lower lip. He set his jaw.
It was last Thursday, and he'd just been asked about the success of the offense on up-tempo drives.
Might that be something USC could start the game with and stick to?
Helton usually answers questions honestly. He did here, kind of. He nodded subtly. He did not open his lips.
"Mmm hmm," he said. He said nothing more.
There was reason to be enigmatic. USC's game plan against Arizona State called for heavy tempo.
It would be fair to say that USC's offense transformed into Oregon's blur during the first half Saturday, except that in some respects USC's was even faster. The average time from one snap to the next, excluding punts and kicks, was only 19.8 seconds of game time. Oregon's time during its national runner-up season in 2014 was three seconds slower. (Oregon's preference for the running game, which keeps the clock moving, accounts for some of the difference.)
The strategy worked: USC scored 31 points in the first half, its best offensive half of the season.
"I think every team is different," Helton said Sunday. "This one seems to be doing well with [tempo]. It's something that we've always had within the system and it's something that really was effective for us the other night."
On average in the first half, USC snapped the ball with 14.4 seconds remaining on the play clock. One series was particularly speedy. USC fed Ronald Jones II on all three plays. On the first, 18 seconds remained on the play clock. On the next two, 19 seconds remained. A safety was still backing up into his position when USC snapped the ball the final time. Jones blew past him and shook off another tackle on a 67-yard touchdown run.
Like a run-and-gun NBA team, USC has put pressure on defenses for most of the season when it goes up-tempo. The gambit neutralizes a defense's scheming. Washington State had success against USC because it switched coverages often, confusing quarterback Sam Darnold with a crowded secondary or, at other times, penetrating blitzers into the backfield.
When USC cranks the speed, defenses become more predictable. There is little time to call exotic schemes. And Darnold, who thrives in a two-minute drill, is free to improvise and create.
Offensive coordinator Tee Martin had previously used tempo at times but usually only for isolated series.
"I think the kids get in a flow," Helton said last week. "I think Tee gets in a good flow of things too. ... It's just when you pull it out and use it. And I know Tee always has it as a tool in our toolbox."
A week after getting physically dominated against Notre Dame, USC controlled the line of scrimmage against Arizona State.
USC ran for a season-high 341 yards. It gave up only 78 rushing yards, its second-best performance of the season. And the Trojans had six sacks.
How was there such a stark difference in one week?
"I credit our coaches," Helton said.
Defensively, he said, the front seven cleaned up the assignment busts that had plagued the team, especially early in games, for most of the season.
"Offensively I thought there was a physicality and great fundamentals and technique," Helton said. "We had a couple physical beats the week before. I did not see that on tape this week, especially in the run game. I thought the kids did a great job of being able to hang on that first level block up to the second level."
USC's Nov. 11 game at Colorado will kick off at 1 p.m. PST and will air on FOX.
Follow Zach Helfand on Twitter @zhelfand
---
Get the latest on L.A.'s teams in the daily Sports Report newsletter.
You may occasionally receive promotional content from the Los Angeles Times.