Sam Darnold isn't the only Trojan with a big decision to make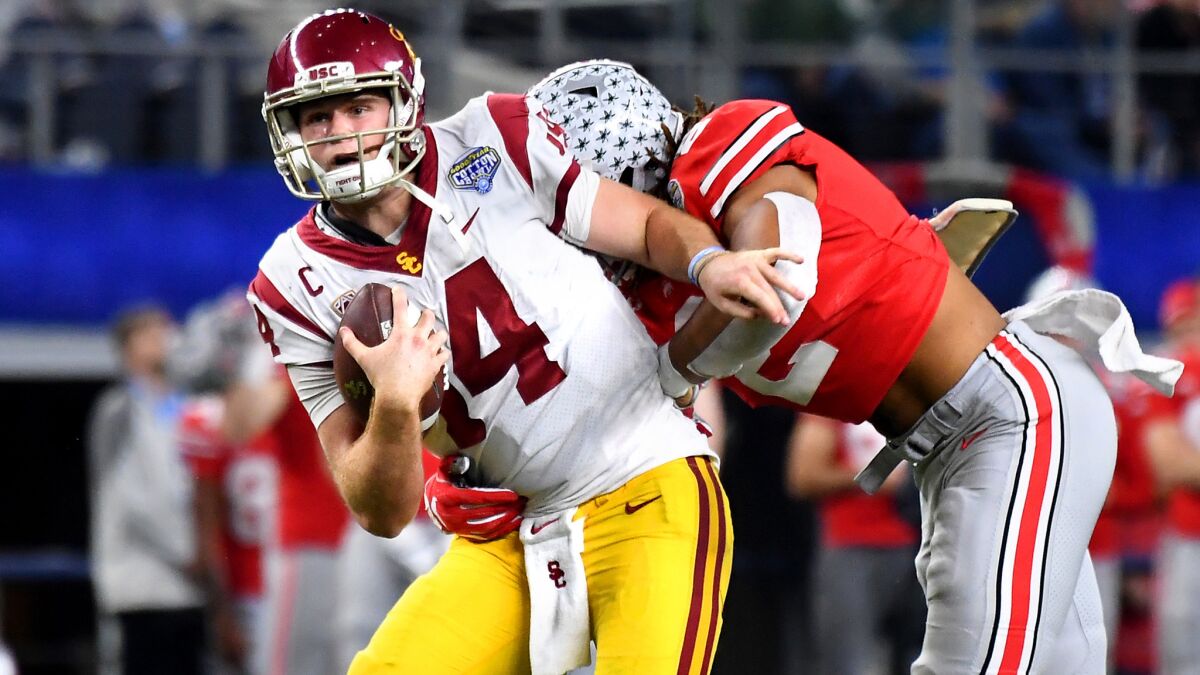 Reporting from Arlington, Texas —
Sam Darnold strode into a news conference following USC's pounding in Friday's Cotton Bowl under his own power. But he might as well have been carried in on a shield.
The Trojans' quarterback committed three turnovers that led to two Ohio State touchdowns and was sacked eight times. But he didn't stay down for long, dropping back to pass on more than half of his team's offensive plays, flinging the ball into the Texas night until the clock mercifully ran out on USC's season.
The question now becomes, has the clock run out on Darnold's college career?
Entering Friday, Darnold seemed certain to enter next spring's NFL draft, where he stood a good chance of being the No. 1 pick. But despite throwing for 356 yards against Ohio State, becoming the first USC quarterback to top 4,000 yards in a season, the Cotton Bowl debacle might lead the redshirt sophomore to reconsider.
"Sometimes that's just how the game goes," he said. "We'll look at film and get better."
No matter what Darnold decides to do between now and the Jan. 15 deadline to declare for the draft, and no matter how much film they watch, the Trojans may get worse before they get better.
Five senior starters — center Nico Falah, safety Chris Hawkins, all-conference linebacker Uchenna Nwosu, defensive lineman Josh Fatu and wide receiver Steven Mitchell Jr. — played their last game for USC on Friday and as many as six juniors — including Dar-nold's two main offensive running mates, tailback Ronald Jones II and wide receiver Deontay Burnett — are facing their own decisions about the NFL draft.
Others who could leave include linebacker Cameron Smith, who led the team in tackles the last two seasons, defensive lineman Rasheem Green and all-conference tackle Toa Lobendahn.
That could leave a number of holes for coach Clay Helton to fill on a USC team that went 11-3. But until the players make their decisions — or at least until they tell Helton — the team doesn't know how many scholarships it can offer recruits.
Helton and other members of the coaching staff say they will meet with third-year players who are considering turning pro.
"The majority of time what I've done is just provide correct information," Helton said. "Provide the information of where he could be drafted, the next step moving forward, where it could be, what it could be. What would happen if you come back? What's left out there?
"And just be a shoulder to lean on."
Darnold might be the player with the toughest decision to make. Entering this year, his second as a starter, Darnold's size — 6-foot-4, 220 pounds — and strong, accurate arm had many projecting him as the likely No. 1 pick. But his stock may have fallen. Although Darnold passed for more than 4,000 yards, he also threw fewer touchdown passes than last year, saw his completion percentage drop and he turned the ball over 22 times.
Tee Martin, USC's offensive coordinator and a former NFL quarterback, says a chance to smooth out those rough edges — and erase the bitter taste of Friday's Cotton Bowl — could lead his quarterback to forgo the NFL's riches for another year.
Last year's top pick, defensive lineman Myles Garrett, got a $20.25-million signing bonus.
"It may be one of those things where we made it to the Cotton Bowl, we did great. But can we do better? Can I play better?" Martin said of Darnold. "If that's the case, then you'll see him coming back. If he feels that it's the right situation and the right timing and the right organization on the next level he may leave.
"I don't know. It is his decision. But I'm biased, obviously."
One thing that won't be a factor is the fact the woeful Cleveland Browns will have the first pick in the draft.
"It's been such a dream of mine to play in the NFL," said Darnold, who is seven classes shy of a degree in communications. "Whether I go or whether I stay at USC, to be able to have the opportunity … to achieve that dream of mine is something that I've always looked at.
"For an organization to put their trust in me play to football for them would be amazing."
That was Darnold, wide-eyed and excited, speaking before the game. Afterward he was downcast behind a microphone at the news conference, staring into space in a room so quiet you could hear $20 million drop.
"We're going to watch the film," he said. "But it's tough."
Follow Kevin Baxter on Twitter @kbaxter11
Get the latest on L.A.'s teams in the daily Sports Report newsletter.
You may occasionally receive promotional content from the Los Angeles Times.