USC fires offensive line coach Neil Callaway; Clay Helton to take over play-calling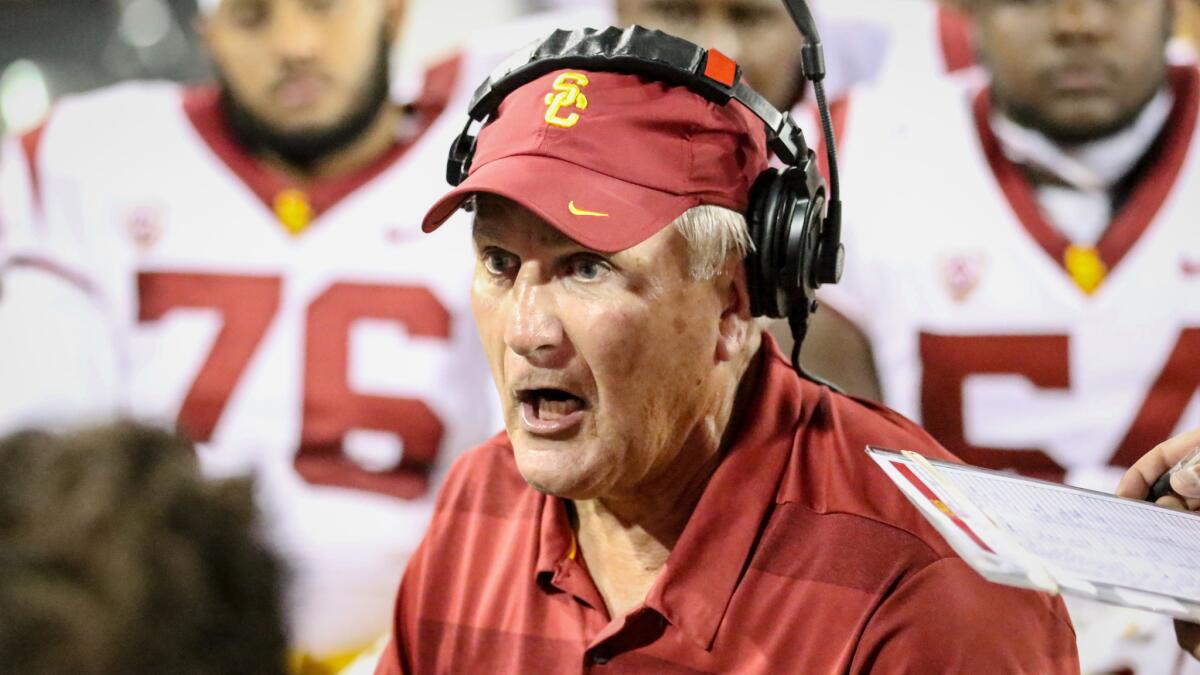 As USC's football season turned darker and darker this fall, the most vocal of the Trojans fan base never hesitated to demand action from Clay Helton. These fans were part angry, part heartbroken, and they took to social media and all corners of the internet, pushing for a sign that the leader of their beloved program saw what they saw — that USC's performance, particularly on offense, had become unacceptable.
Sunday night, a day after the Trojans lost their fourth game of the season and fell out of pace in the Pac-12 South Division standings, Helton was asked on his weekly call with reporters whether it was time for significant change.
"I think we're really close," Helton said. "We lost a close battle with some depleted personnel, and you know, right now I'm focusing on this game, how we get better each game. When we get done with these last four games, I'll evaluate everything and see what we need to do."
That message did not bring comfort to some. But Monday came, and with it, perhaps, the freshness of a new dawn. Helton announced in a news release that he will call offensive plays for the rest of 2018 and that he had relieved offensive line coach Neil Callaway of his duties.
Suddenly, the status quo was no more.
Helton kept Tee Martin in the role of offensive coordinator, but the ultimate responsibility of play-calling will fall on Helton's shoulders for the first time since 2015, when he was offensive coordinator under Steve Sarkisian before taking over the interim head coaching position. Running backs coach Tim Drevno, who coached USC's offensive line in 2014, will return to that role while maintaining control over the running backs with the help of offensive graduate assistants.
"I felt it was an appropriate time to become more involved in the offense as we continue to develop our team for the future," Helton said in a statement. "Tee and I have had conversations about this decision, and he was supportive. He has done a tremendous job here. He will stay involved with the offense as he remains the offensive coordinator, helps put together our practice and game plans and serves as my offensive eyes during games."
What happened between Sunday night and Monday afternoon? Helton said earlier this season that he meets every Monday with athletic director Lynn Swann.
Helton is as loyal as they come, and Callaway is a longtime family friend who coached under Helton's father, Kim, at Houston from 1993 to 1996. But USC's offensive line has been unable to generate a consistent running game this season, and even loyalty had to take a backseat with the Trojans 116th nationally at 120.88 rushing yards per game.
Drevno resigned from his post as Michigan's offensive coordinator after last season in part because the Wolverines' offense struggled in 2017, finishing 105th in total offense. But he has built successful offensive lines in the past, at Stanford during 2009-10 and with the San Francisco 49ers during 2011-13.
Even though the USC offense hasn't found its rhythm with true freshman quarterback JT Daniels under center, Helton has remained consistently laudatory of Martin's work. Martin joined the USC staff in 2012 as wide receivers coach under Lane Kiffin and was promoted to offensive coordinator when Helton became permanent head coach entering 2016.
Now, it appears the direction of the offense will become more of a collaboration between them, and Helton will have to devote less time to defense and special teams.
For Helton, will this be a case of too little, too late?
The experiment's first results will come Saturday at Oregon State.
Get the latest on L.A.'s teams in the daily Sports Report newsletter.
You may occasionally receive promotional content from the Los Angeles Times.