'Tailback U' called to USC's Malepeai, who chose not to follow family footsteps to Oregon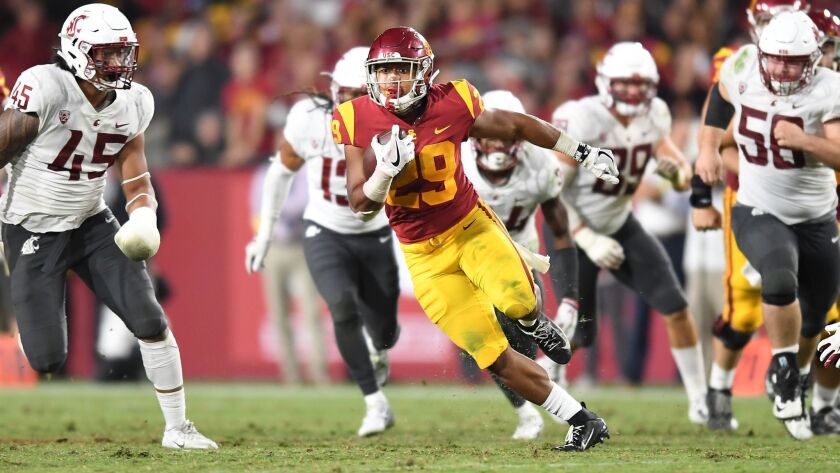 Vavae Malepeai did not have time to pack a bag. He waved down a family friend in the neighborhood and asked for a ride to the airport in Honolulu. Funny, the only other times he had left the island had been to attend Oregon Ducks football games with his family, and now that he was taking his first solo flight, it was to Los Angeles for a visit to USC.
Malepeai had been praying on his decision for months. On one side, there was family, and family was everything. His uncles — Silila, Tasi and Pulou Malepeai — all played for Oregon. Vavae grew up wearing green and yellow, attending football camps in Eugene and dreaming of playing college football on the banks of the Willamette River. But as his prolific high school career at Mililani High progressed, doubts emerged. He got the feeling that Oregon wanted to possibly use him on defense, which helped him open his heart to the only other school that continued to recruit him after he committed to the Ducks.
USC is "Tailback U," and Vavae was going to be a college tailback. The program's recruiting coordinator, Johnny Nansen, stayed on him, selling him on a chance to carry the ball at a world-class academic institution. Vavae told his mother, Tali, that he was deeply conflicted over it. He almost didn't want to listen to what his higher power was telling him because he didn't want to face his uncles.
"I was just worried about what they would think," said Vavae, who goes by "Vae."
That late January day, as signing day 2016 approached, he had made up his mind, but first he had to call Silila — a captain on the 1994-95 Oregon Rose Bowl team.
Silila had watched Vae give to the family his entire life. Vae's younger brother by a year, Loa, is autistic and has needed 24-hour care since the day he was born.
While Vae's mother worked a graveyard shift at a hotel, Vae helped watch Loa at night, and Loa rarely slept. Vae's father, Amako, had been in and out of prison throughout his childhood, and, that year, as Vae grappled with the biggest decision of his life, it was known Amako would be incarcerated again soon for his involvement in a drug ring charged with distributing large amounts of methamphetamine.
So when Vae asked Silila if he had his blessing to attend USC, his uncle didn't have to think.
"It's not about us," Silila told him. "It's about you."
That was all Vae needed. Nansen had booked him a flight to come out and get a glimpse of the future he had chosen. Vae called his parents to tell them, but they were out shopping and didn't answer. He finally got a hold of them at the airport before takeoff.
"Everything he did was always in proper order," Tali said. "When that happened, it was shock."
Vae was obedient, the ultimate pleaser. As much as she couldn't believe her son was on the verge of leaving for the mainland without telling her, she was proud of him.
"He did everything we asked him to do all his life," she said. "We were happy he made his own decision."
Today, 21/2 years later, the whole family — and, Tali says, all of Hawaii, it seems — is rejoicing with every cardinal and gold carry. Vae is the state's all-time leading rusher, having combined with Central Florida star quarterback McKenzie Milton in 2014 to lead Mililani to its only state championship, so his fast start to his redshirt sophomore season with the Trojans is what has been expected.
Malepeai carried 13 times for 78 yards and two touchdowns — including the game-winner — in USC's 39-36 victory over Washington State on Friday night. He's got a team-leading five touchdowns in four games and has established himself as, at minimum, the Trojans' go-to short-yardage back.
"I told him, I have a smile in my heart that no one can ever erase," Tali said. "I feel like I have a hanger in my mouth. Just hearing his name, just seeing him, is amazing."
As excited as Tali is, she acknowledges she's not Vae's biggest fan.
"Loa is," she said. "Loa cries for his brother, asks for him on a daily basis. Vae worries about Loa all the time."
Loa's form of autism is intense. He has to be bathed and have his clothes changed for him. Communication with those outside the family can be tough. At times, he can be a physical harm to himself and those around him. Without Vae at home and Amako in a Texas federal prison — they hope he will be released in 2019 — the biggest load now falls on Vae's brother, Kilifi, Mililani's starting running back as a senior. Kilifi handles nights with Loa while Tali works.
But somehow, Vae is constantly available. Tali says Vae will answer Loa's FaceTime calls even when he's in class or asleep in the middle of the night.
"He just keeps calling until I answer," Vae said, "so I have to answer it."
This summer, when Kilifi needed to leave home for a football camp for a few days, Tali was worried about how she could handle Loa on her own. Vae came home and surprised her.
"I cried," Tali said. "That's just the type of person he is."
Through his faith, Vae takes life as it comes. It has been a strain on him not being able to see his father, but they write each other, and Vae says Amako still tries to watch his games.
"Usually when you have someone who's been in and out of prison, it's kind of like you don't have a great relationship," Vae said, "but I have a great relationship with my dad. That's my dad. Him and my mom are my heroes. I try to comfort my mom as best I can, but she's the rock of the family. I don't know how she does it."
Looking back on the wild circumstances of her son's visit to USC, Tali says it was the first time in Vae's life that he put himself before the family. Taking every day before and every day after into account, it was extremely out of character.
Remembering it Tuesday after USC practice, Vae did not attempt to explain it.
"That's just the way God works," he said.
Etc.
USC coach Clay Helton said the following players were held out of practice Tuesday or limited due to injury: Jay Tufele (illness), Porter Gustin (knee), Andrew Vorhees (bruised sternum), Velus Jones Jr. (elbow), Amon-ra St. Brown (shoulder sprain). None of the injuries appears to be serious.
Twitter: @BradyMcCollough
---
Get the latest on L.A.'s teams in the daily Sports Report newsletter.
You may occasionally receive promotional content from the Los Angeles Times.