What are the biggest issues facing USC's offense?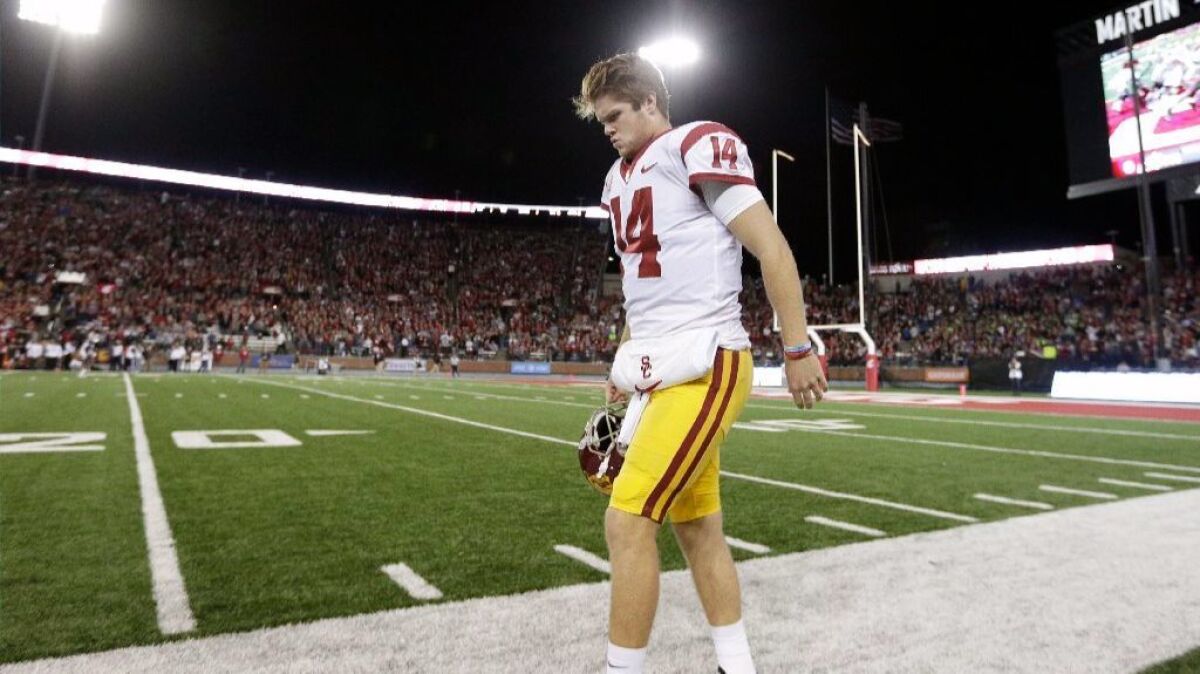 Reporting from PULLMAN, Wash. —
The quarterback sneak made a strange comeback for USC in the fourth quarter of a 30-27 loss to Washington State on Friday evening.
After Ronald Jones II was tackled right at the sticks on second down, USC hurried to the line. Quarterback Sam Darnold squatted under center. The play, previously abandoned even in short yardage, worked the way it was supposed to. Darnold burrowed into the line and gained a yard.
There was one problem: It was actually first down. USC hadn't seen that the officials had moved the chains.
The play was a fitting addition to an evening when USC's offense was already disheveled, disoriented and, in its play calling, disorganized.
The offense has not improved from the start of the season in several key areas: In the chemistry between Darnold and his receivers, on third downs, in short-yardage and in play calling. USC had been able to sneak by against lesser competition or at home, but festering unfixed, these mistakes resulted in offensive ineptitude at Washington State.
USC gained only 327 yards, its worst output since a blowout against Alabama in last season's opener. USC showed some explosion, with an 86-yard run by Jones, but little of the consistency that sustains long drives. Take out that run, and USC averaged only 2.8 yards per carry. Darnold's 164 yards passing were the lowest of his career.
"We just didn't do good enough to consistently make the plays," offensive coordinator Tee Martin said. "So we'll watch the tape. I haven't seen it yet. We'll see what happens."
The problems were not new. But a more competent opponent exposed them fully. Darnold has spoken of "impatience" in the passing game this season that has led to interceptions. Friday showed he has little recourse. Darnold waited, patiently and under duress, for an open receiver. He scarcely found one. Washington State blanketed Deontay Burnett, daring USC to find another option. Tyler Vaughns had six catches for 89 yards, but there was little help.
Martin said he thought the receivers found open space and that Darnold played well.
"He did good," Martin said. "I thought he did a really good job. He made some good reads, put us in position to win the game. We just fell short."
On third downs, USC's continued to falter. Coach Clay Helton vowed to make conversions a priority against the Cougars. He mentioned it repeatedly as the key to the game. But USC finished only two of 11. Partially, USC did not give itself easy conversions.
"You've got to look at the down and distance, how long third down is," quarterbacks coach Tyson Helton said.
But the Cougars converted on twice as many third downs from 10 yards or longer (four) than USC did total.
"It ends up costing us a lot of plays defensively," Clay Helton said. "Eighty-one total plays in the game [on defense] to 58 offensively."
Martin found few answers in his play calling. USC lost the possession time battle by 11 minutes. USC's average distance on third down was more than nine yards, limiting his options on second and third downs and allowing Washington State to deploy different blitzes and coverages at Darnold. On one crucial goal-line series, USC opted for a quick pass to freshman tight end Josh Falo, who has yet to catch a collegiate pass.
"They did a nice job of stopping us," Clay Helton said for the goal-line sequence. "Thought we had two good play calls. I'll have to watch the tape. But obviously that was a very big series in the game, in a very close game."
Matin said it was difficult to settle into a rhythm because Washington State played well on defense. He said his play calling wasn't good enough because USC didn't win.
The visitors' locker room at Martin Stadium sits in an old building set apart from the stadium. Postgame news conferences are held in a dark weight room nearby. After the game, Darnold sat beside Clay Helton in the dim light, both looking glum.
The questions they faced there, and the questions they will be asking themselves as they survey the damage of their first loss, were familiar ones.
USC has staked its offensive line depth on the performance of gifted but inexperienced freshmen.
Friday showed their promise — and also laid bare the thin line USC is treading with its line depth. USC suffered heavy losses on the line. Left tackle Toa Lobendahn (skin infection), right tackle Chuma Edoga (ankle) and right guard Viane Talamaivao (chest) either did not play or did not finish the game. Helton did not reveal the severity of each injury.
So USC used Clayton Johnston and freshmen Austin Jackson and Andrew Vorhees. They quickly opened up the massive hole that sprung loose Jones for 86 yards.
But the running game struggled for much of the rest of the game, and Darnold was under duress often. He was sacked twice and hurried five times.
Running back Stephen Carr hobbled to USC's bus with a significant limp Friday. He left the game with what Clay Helton said was a lower-body injury. … Cornerback Greg Johnson did not travel with the team after undergoing shoulder surgery, Clay Helton said. … Defensive tackle Marlon Tuipulotu did not travel because of a back injury. … Defensive tackle Malik Dorton left the game because of a knee injury.
Follow Zach Helfand on Twitter @zhelfand
Get the latest on L.A.'s teams in the daily Sports Report newsletter.
You may occasionally receive promotional content from the Los Angeles Times.