After a lost season, USC's recruiting machine has taken plenty of hits too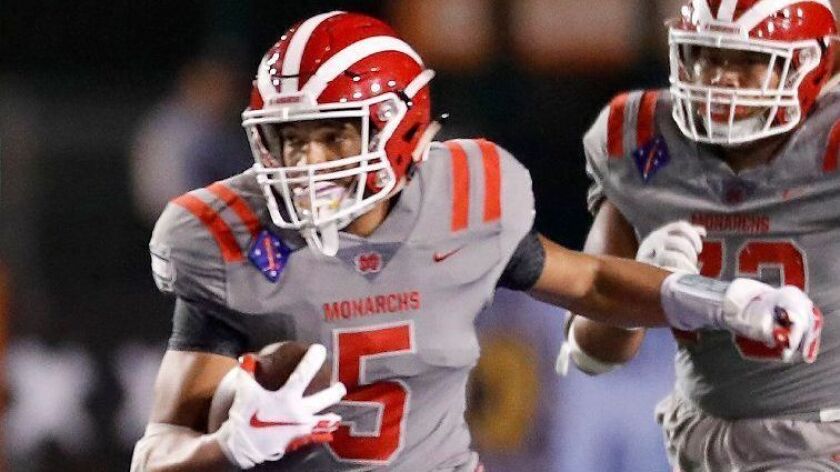 Months before Bru McCoy, the five-star Santa Ana Mater Dei wide receiver, shocked the college football world by transferring from USC to Texas, signs of trouble with coveted Southern California recruits had already begun to surface for the Trojans.
In mid-October, four-star cornerback Chris Steele of St. John Bosco decommitted from USC. A few days later, after the Trojans lost their third game of the season at Utah, Bosco teammate Kris Hutson, a four-star wide receiver in the class of 2020, also decommitted from USC.
On Oct. 27, four-star defensive end Stephon Wright of Cathedral High watched in the Coliseum as two of his top schools, USC and Arizona State, duked it out. The Trojans lost a heartbreaker to the Sun Devils. Wright noted the result, USC's fourth defeat in what would be an excruciating seven-loss campaign.
The next week, USC athletic director Lynn Swann called into his department's weekly radio show, "Trojans Live," and gave coach Clay Helton a hearty public vote of confidence — a precursor to his decision to keep Helton as head coach despite Swann acknowledging deficiencies across the program.
The Trojans had struggled with opponents on the field, sure, but they had also given them ample ammunition in the perception-driven world of recruiting. USC did not help itself the week after the season when it fired assistant coaches who had been building relationships with the top players in the 2019 class.
Defensive backs coach Ronnie Bradford visited Steele and his family, trying to convince them to come back to USC. The next day, Bradford was fired. Defensive line coach Kenechi Udeze visited Wright and his family. The next day, Udeze was fired. Steele signed with Florida, Wright with Arizona State.
By early signing day Dec. 19, Helton was left to defend questions about the fact USC did not have a five-star signee. (McCoy had silently signed with the Trojans to leave intrigue for his announcement at the U.S. Army All-American Bowl, a decision he would reverse in January after then-USC offensive coordinator Kliff Kingsbury left to become the head coach of the Arizona Cardinals).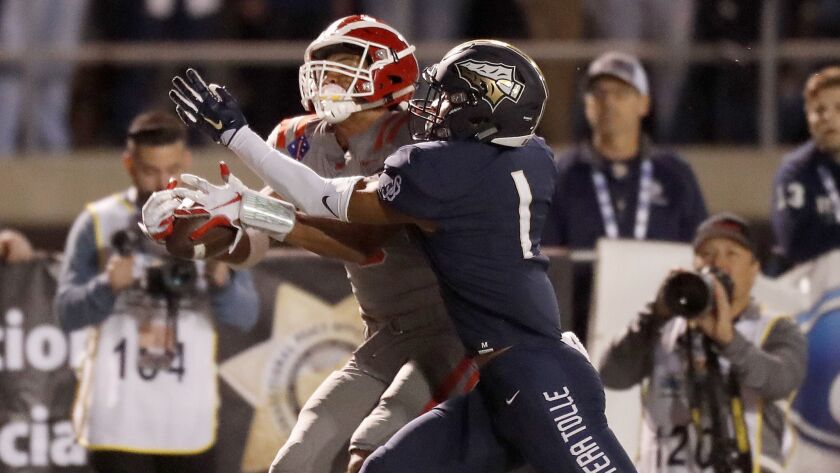 Sign up for our daily sports newsletter »
Then, on Christmas Day, another Mater Dei future star, five-star cornerback Elias Ricks of the 2020 class, decided he was ready to commit. Ricks' mother was a USC graduate, and he was long considered a near-lock for the Trojans. But Ricks announced he was going to attend Louisiana State.
"That was bigger to me than seeing Bru leave," said Greg Biggins, national recruiting analyst for 247Sports.
A few days before Wednesday's national signing day, USC boasts the No. 18 class in the country according to 247Sports and the No. 3 class in the Pac-12. Of the top 20 players in California, USC has just two, one of which, five-star wide receiver Kyle Ford of Orange Lutheran, could decide to sign elsewhere.
Oregon grabbed five of the top 20. Washington took three. With McCoy's defection, Texas has two. With a few decisions still to be made, it appears likely that more of the top players in the state will head to Southeastern Conference schools than USC, the school that is supposed to be immune to recruiting disappointment no matter what happens on the field.
"For whatever reason, the kids at my school aren't intrigued by USC," said Calabasas coach Chris Claiborne, a former All-American linebacker at USC, "and I'm their coach, and I talk about being a Trojan all the time. My offensive coordinator, Curtis Conway, is a Trojan. We talk about loving being a Trojan. But they don't see it in their eye, that same thing we see."
Claiborne said that Calabasas four-star wide receiver Mycah Pittman, the younger brother of USC wide receiver Michael Pittman Jr., never discussed USC before choosing Oregon.
The Ducks plucking five top players out of USC's backyard is alarming on its own. But, talk to players, coaches and analysts, and there is possibly even more buzz about SEC schools working to plant a flag in the Southern California hotbed, which has never been more open for business.
"Now, it's a Clemson, it's a Georgia, it's an LSU, the excitement kind of rises," Mater Dei coach Bruce Rollinson said.
Rollinson is a USC graduate who played for the Trojans under John McKay. He says his players still value the USC brand and that "they know when an SC coach is on campus," but there's simply more competition for top talent than there ever has been and more money for schools — especially from extra-flush conferences such as the SEC and the Big Ten — to spend on their recruiting budgets.
"In the last three years, I've seen Alabama on this campus," Rollinson said, "and I don't think I ever saw Alabama on this campus when we were rolling in the '90s. And I had some great players in the '90s."
Rollinson paints a picture of the average SEC assistant he encounters at Mater Dei:
"They come in and they're earmarking the best of the best players at schools," Rollinson said. "They're polite and courteous, but you know they're there to see one, maybe two kids. These guys are pretty good in a short amount of time to gauge interest. They're not going to spin their wheels. They start out with the No. 1 question: Would you travel East if the opportunity was afforded to you?"
The answer, more and more it seems, is yes. Take Hutson, the one-time USC commitment for 2020, who takes great pride in his multiple scholarship offers from the SEC, including LSU and Georgia.
"I'm in love with the SEC," Hutson said. "I could always fall back on USC. I feel like there's more competition down in the SEC. You're going against the best of the best every day during practice. There's not one game that you can let off and just relax. Others like the Pac-12, the Big 12, some games it's going to be easy. All the Southern kids, they're nice and physical, and that's what I'm like as a football player."
There's a growing feeling, as Alabama and Clemson faced off for the national championship for the third time in four seasons, that recruits are not going to be developed as a player out west.
"It's almost like you lose street cred if you go to the Pac-12," Biggins said. "It's like big boy football is in the South. Right now, the Pac-12 has a black eye from a national perspective."
Still, USC was in pole position to land Steele, despite him receiving interest from Florida and Big 12 power Oklahoma. Steele committed to the Trojans last summer and was actively trying to recruit other top players to join him at USC. Yet, as this season unfolded, Steele could not shake the feeling that he had better options to consider than his hometown school.
"I just think there's a lot of uncertainty right now in the program," said Norman Steele, Chris' father. "The main thing was, you want some kind of continuity, and you want to be developed."
Under first-year head coach Dan Mullen, Florida went from 4-7 to 10-3, finishing the season with a win over Michigan in the Peach Bowl. Norman Steele had grown to appreciate Helton, and telling Helton that his son wasn't coming to USC tugged at his heart.
"Clay Helton is one of the few dudes that is going to honor his word, not going to lie to anybody," Norman Steele said. "You almost wonder if a guy like that even has a place in the shark tank. Coach Helton is a nice guy in a land of bad people."
Being a nice guy wasn't enough, though. And now, Chris Steele's parents have to deal with their son going to college 2,500 miles away in Gainesville, Fla.
With every recruiting process that ends with an agonizing decision, another one begins. The hustle for the next kid never stops, and neither does the chatter. How can USC better compete given everything that is swirling around it?
Obviously, the Trojans need to win games in 2019, Biggins says. But they also can work harder and smarter to identify talent earlier in the process. With so many players electing to sign in the December early signing period, USC can no longer afford to play the waiting game and assume its class will fill up late with top players.
"Just talking to some parents," Biggins said, "they're saying, 'I'm recruiting my kid harder to USC than USC is.' In years past, USC was able to come back late on kids, kind of circle back to their Plan B choices. Those Plan B guys are off the board. USC needs to be a little more aggressive earlier and get on kids, don't rely on, 'We're USC, we can always make up ground later on.' "
Claiborne agrees with that assessment. He sees Oregon and Washington identifying talent before USC and Southern powers hovering more often.
Claiborne is ready to see the Trojans start to fight back.
"You get disappointed," he said. "But you know, if you make some changes, things can get fixed. We are still SC. I don't get paid by the university to tell you what the changes are. But there's got to be something."
Twitter: @BradyMcCollough
---
Get the latest on L.A.'s teams in the daily Sports Report newsletter.
You may occasionally receive promotional content from the Los Angeles Times.