USC's Clay Helton says his focus for 2019 football season is to be a total team coach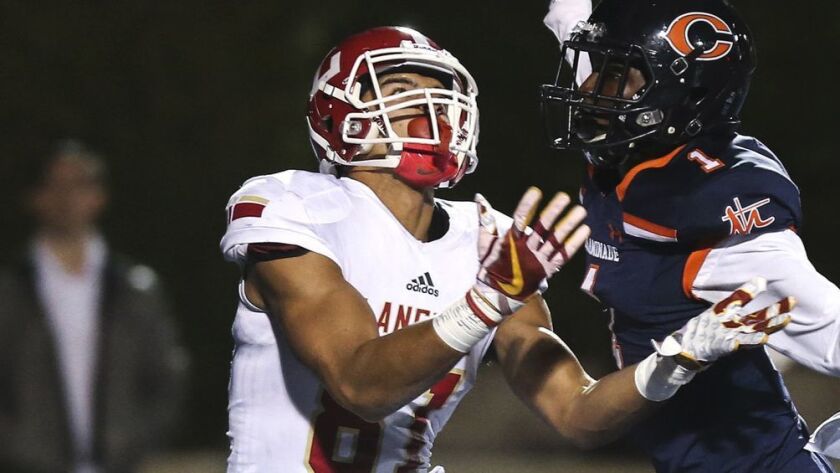 On early signing day Dec. 19, Clay Helton stood proudly at the lectern and talked up his prized offensive coordinator and quarterbacks coach, Kliff Kingsbury. If Helton had an extra pep in his step that afternoon, it was probably because he was carrying a signed letter of intent from five-star Santa Ana Mater Dei receiver Bru McCoy in his back pocket, a signing he could not announce because of the player's intention to reveal his decision to much fanfare in January.
Seven weeks later, on Wednesday's national signing day, Kingsbury was gone and McCoy had bolted, too, in Kingsbury's wake. Helton's eternally positive vibes, however, remained. He again wished Kingsbury well as coach of the NFL's Arizona Cardinals and said McCoy "loved his time here at USC. He loved his teammates. The personal relationship I'll have with that young man will be for a lifetime with him and his family."
Helton lives on the high road, and he was not going to admit to any extra hurt or frustration coming from this offseason compared to the program attrition that inevitably occurs every offseason. He had a new offensive coordinator and quarterbacks coach, Graham Harrell, to discuss, plus the addition of another five-star receiver in McCoy's place, Orange Lutheran's Kyle Ford, who was impressed enough with Harrell's pitch to stick with the Trojans.
From here until the Trojans open the 2019 season in a renovated Coliseum against Fresno State, the look of the USC offense will continue to be the dominant storyline. Reading too much into any comment this early is risky business, but here is an attempt to strip Helton's plan down to the essential points:
First, and perhaps most important, this will not be Helton's plan at all. It will be Harrell's. There appears to be no confusion about that point.
"For me," Helton said, "it's about putting the best product on the field. And for us to be the best product, I need to step away from the Xs and O's and focus on what's truly important for this team, which is the accountability, the discipline of the game, not turning the ball over and understanding situational mastery. That will be my emphasis as the head coach."
Helton said the Trojans' poor attention to detail last season cost the team a chance at another Pac-12 Conference championship. As hard as it may be for him as a former offensive coordinator to stay out of the game planning and play calling, he appears devoted to dividing his time between the offense, defense and special-teams meeting rooms going forward.
Still, Helton has a philosophy of how he likes offense to be played. Harrell may be in control as Kingsbury would have been, but Helton can always nudge. Wednesday, Helton brought up an issue related to the labeling of the new USC offense as "Air Raid," the pass-happy offensive system Mike Leach runs at Washington State.
"Not necessarily 'Air Raid,' I want that to be said," Helton said. "One of the things that really struck me both with Kliff and Graham is they're different than coach Leach, who is true 'Air Raid.' You look at Graham's offense, not only did they have the 10th-leading quarterback in the country, but they also rushed for 2,000 yards.
"At some point in time, I don't care how good the quarterback is at any level, the quarterback is going to have an off day and if you can't run the ball you're going to lose a championship. … That's what truly intrigued me. It wasn't the true 'Air Raid.' It was the ability to have an elite passing game that still can emphasize a running back."
The more Helton talked Wednesday, the more it seemed as if USC fans who are hoping for a consistent helping of sets with four or five receivers should brace themselves for disappointment.
Helton said one of the reasons he feels Harrell is a good fit is because he often employs packages with two tight ends and that Harrell's "lead" personnel grouping at North Texas was three receivers and one tight end, which is what USC has most often used.
Helton expressed excitement about the Trojans' tight ends possibly getting more looks in the passing game than they had. USC added two talented tight ends in Orange Lutheran's Ethan Rae and St. John Bosco's Jude Wolfe in this recruiting class.
"At one point in the system, there was 106 catches by the tight end by one guy," Helton said, referring to Jace Amaro's 2013 season at Texas Tech under Kingsbury.
Because Helton was forced to hire an offensive coordinator later in the offseason, he said it was important that Harrell work well with the assistants already in place. The way Helton viewed it, he wanted a coach with passing-game expertise to pair with offensive line coach Tim Drevno and running backs coach Mike Jinks, who are "influential" in the running game. Jinks, as a former Texas Tech assistant under Kingsbury, staying with USC should be a key.
Harrell, Helton said, "has the ability to capture everybody in the room, both staff and players, and I think there is a comfort level, too, to having coach Jinks who had been in Kliff's system. I think that's special, too, because there's another gentleman that knows the system inside and out."
Etc.
Helton said that, with the new offensive system, all starting positions will be open in spring practice, which begins March 5. That includes quarterback, where Helton said JT Daniels, Jack Sears, Matt Fink and freshman Kedon Slovis will begin the spring taking equal repetitions to learn the offense. … Helton said Ford should be nearing recovery from knee ligament surgery by the end of August but that he would not rush to play the receiver. A redshirt year could be an option. … Helton said that USC's signing of defensive backs Dorian Hewett of Houston, Kaulana Makaula of Honolulu, Adonis Otey of Murfreesboro, Tenn., Jaylen Watson of Ventura College and Jayden Williams of Corona Centennial was to address a major need for the program. USC lost five defensive backs to graduation. … Helton said signee Tuasivi Nomura of Corona Centennial will play outside linebacker for USC, not defensive back. … Helton said running back Stephen Carr appears to be at full strength heading into spring.
Sign up for our daily sports newsletter »
Twitter: @BradyMcCollough
---
Get the latest on L.A.'s teams in the daily Sports Report newsletter.
You may occasionally receive promotional content from the Los Angeles Times.