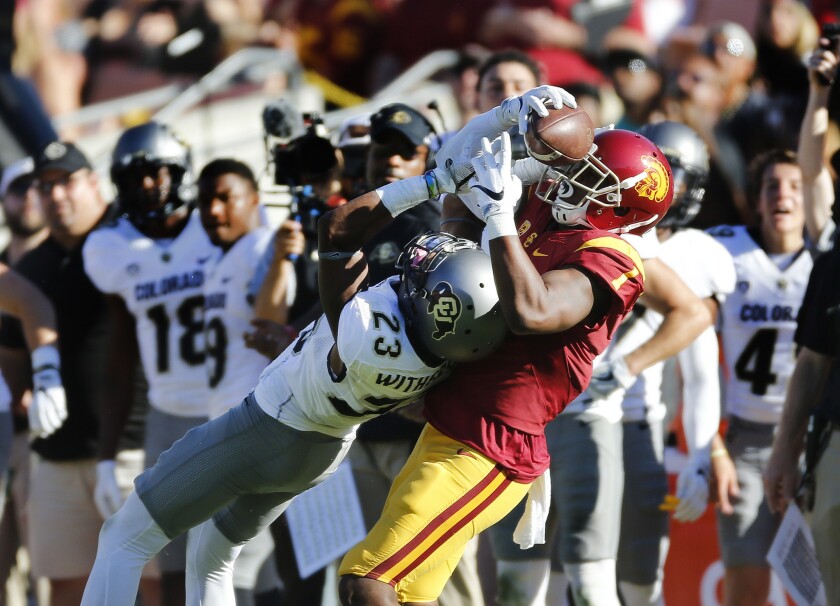 All week long, USC's players have been trying to explain how a team that started 1-3 ended up winning eight straight games and qualifying to play in the Rose Bowl game.
There was an important players-only meeting after the third loss. That helped. There was Coach Clay Helton's steady guidance. That was necessary, too. Much of the credit is thrown to freshman quarterback Sam Darnold.
All good reasons. But none has been bigger than the man who was fiddling with his phone in a hotel ballroom on Friday.
Darreus Rogers.
It was Rose Bowl media day downtown, and his more famous teammates were surrounded by a coterie of reporters. Rogers was mostly ignored.
Asked about the play that saved USC's season, Rogers brightened. He stood, his eyes fixed on a point far across the room, as if he was trying to picture the play.
"I don't know how I did it," Rogers said.
What he did was produce one of the more athletically impressive plays of USC's season — at the most important time. On Oct. 8 at the Coliseum, USC was tied with Colorado in the fourth quarter when Darnold lofted a severely underthrown pass in the vicinity of Rogers.
Darnold and most of his teammates immediately anticipated the pass would be intercepted. Colorado's big, talented cornerback, Ahkello Witherspoon, was camped under the ball.
"It was short," Rogers recalled. "Witherspoon is about 6-3. I'm only 6-2. It was just who wanted it more. I felt like if I wanted this victory, I'm going to have to do something incredible."
Witherspoon jumped and caught the ball around the laces, leaving the back nose of the ball exposed.
"I had an opportunity to take it out of his hands," Rogers said. "Took it. It connected to my helmet like it was a magnet. From there, the rest was just history."
The play went for 46 yards, USC scored the go-ahead touchdown about 90 seconds later in what would become a 21-17 victory, and hasn't been in a tight, fourth-quarter game since.
It was, Darnold said, a "huge" play. An interception could have meant a Colorado win.
And if Colorado had won, and USC dropped to 2-4 . . .
"I don't even want to think about it, to be honest with you," Helton said.
Rogers enjoyed a few hours of adulation. Teammates gawked at the play on film. "Probably one of the best plays I've seen," receiver JuJu Smith-Schuster said Friday. Seeing the replay, even Rogers had to admit he was impressed — he hadn't realized the degree of difficulty.
Then he and the play retreated into relative anonymity.
A question during a radio interview this week got Helton thinking again about Rogers and that catch.
"It just stuck out to me about how important Darreus has been," Helton said. "He's been the workhorse. JuJu gets a lot of the spotlight, but you look at the guy that has made really dynamic plays for us in key situations …"
Helton rattled off a list of plays, such as a one-handed catch Rogers made for a first down against Washington.
"He just makes the biggest plays at the biggest times," Helton continued. "He's really been one of the key reasons we're sitting here today."
When players reflect on a season, as USC's players have been asked to do repeatedly this week, success can appear inevitable. But college football is often contested on a razor's edge. A Rose Bowl berth can be decided by chance, or by a bad pass being thrown in the right direction.
"That's why those kind of plays change games. People don't really realize at the time," said tight end Tyler Petite, who was a few yards away from the catch against Colorado. "The most important thing is that we have guys that can make those plays."
Rogers says he hasn't thought of it like that, or about how the season hinged on that play. He says he went back to work and put the catch mostly out of his mind.
"I just look at it now, anything could've happened if I didn't make that catch," he said. "It's crazy."
He laughed, shook his head and sat back down.
Quick hits
Smith-Schuster appeared at the media day event sweating and wearing a coat indoors. He said he came down with a fever on Thursday evening. … Several USC seniors have committed to postseason showcase all-star games. Offensive tackle Zach Banner will play in the Senior Bowl. Safety Leon McQuay III, defensive tackle Stevie Tu'ikolovatu, running back Justin Davis and tight end Taylor McNamara will play in the East-West Shrine game. Not every USC senior has announced his post-Rose Bowl plans.
Follow Zach Helfand on Twitter @zhelfand
---