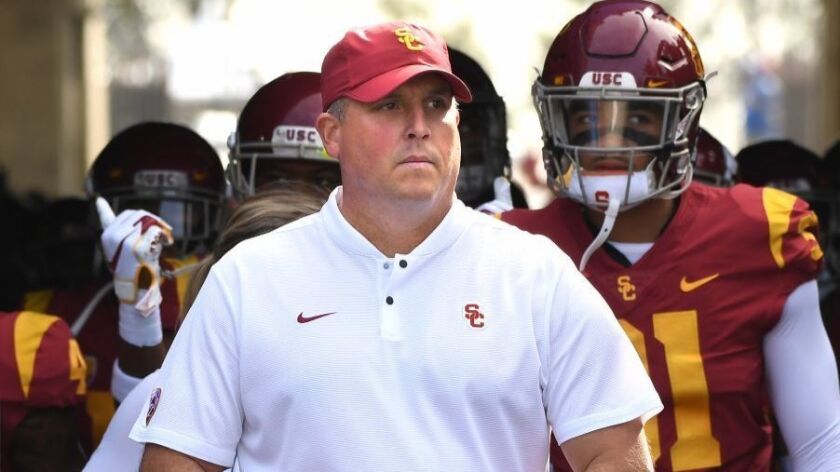 After becoming the first USC head coach to win at least 10 games in his first two seasons, Clay Helton entered 2018 with plenty of security coming from where it matters most — athletic director Lynn Swann and, to a lesser extent, the university administration.
Fans may not have been convinced by Helton's 21-6 start, a Rose Bowl victory and the program's first Pac-12 championship since 2008, but Swann gave him a contract extension last February and was determined to honor that pledge throughout a brutal third season in which USC went 5-7, its first losing season since 2000.
Swann confirmed his commitment Sunday when he announced that Helton "is our head coach and he will continue to be our head coach."
All of which means Helton's fourth year will be his true hot-seat season. The burners will be on from the start as USC opens its renovated Coliseum on Aug. 31, 2019, against Fresno State, and they won't turn off until the Trojans resemble a championship-caliber outfit.
The scary thing for the legions of Trojans followers is how far away they seem from competing at the highest level of the sport, which, 15 years after USC's back-to-back national championships under Pete Carroll, is dominated by a stout Southern bloc of Alabama and Clemson. If USC looked remotely close to becoming a team that could feasibly make the College Football Playoff soon, fans would not have pooled their money last week to have a plane fly over the Coliseum on Saturday with the message "LYNN SWANN — PLEASE FIRE CLAY HELTON!"
Swann, the former USC wide receiver and NFL Hall of Famer with the Pittsburgh Steelers, did not listen, and so those fans are left to face this reality for a long nine months ahead:
USC beat just one team with a winning record this season, 10-2 Washington State by three points. The Trojans were blown out at Texas and at Utah, surrendering 34-0 runs in both losses after taking 14-3 and 14-0 leads, respectively.
The season's last four defeats all came by a touchdown or less, and USC led in the second half in all of them: 28-24 late in the third quarter against Arizona State; 14-0 early in the third quarter against California; 27-21 early in the fourth quarter at UCLA; and, finally Saturday night, 10-7 early in the third quarter against No. 3 Notre Dame.
It should never have gotten to this point.
"We acknowledge and understand our deficiencies in areas that include culture, discipline, schemes, personnel and staff," Swann said.
Swann, however, was unwilling to make a move to placate the donors who have pledged tens of millions of dollars to fund the Coliseum's $300-million renovation project and simply want to witness some competent football for their generous gifts.
"One season does not define a coach," Swann said. "Remember, Coach Helton inherited a program in turmoil. He won 10 games, including the Rose Bowl, in his first year in 2016. He won 11 games and the Pac-12 title in 2017. He runs a clean program, he graduates his players, he recruits well, he produces NFL players."
Helton has a full off-season to search and find answers for what ailed his team as it dropped its final three games and five of its last six. USC didn't find new ways to lose each week either, keeping a consistent formula: start strong, showing promise and improvement on offense, then self-destruct with penalties and turnovers and poor execution on both sides of the ball in the later moments when games are won.
"I'm going to sit back and let it soak in a little bit," Helton said Saturday night after USC's 24-17 loss to Notre Dame. "Everybody I know will want immediate changes. Tomorrow starts the first day of recruiting, and I have an opportunity to sit down with Mr. Swann and discuss everything we need to get moving forward, and it's a bunch. We've got a big task ahead of us."
Throughout the last two weeks, as Helton's job security was up for public debate, the coach talked and acted as if he knew he was likely to return no matter what happened down the stretch. Maybe the Trojans knew their coach was safe, too, because they did not do a very good job of playing for Helton's job if they believed those were the stakes.
Culture is hard to critique from outside a program's walls, but senior captain Cameron Smith had some harsh assessments of how this season felt from the inside on Saturday night after his final game at the Coliseum.
"I think any time you're 5-7, you question the buy-in," Smith said. "That's the easiest [thing] to look at is how much people really were into it. … You can't teach a team to be competitive and want to compete. But it's something that you would hope your entire team has.
"There's a lot of young guys on this team and we all felt sometimes like it was tough to reach some of the young guys. I think being in Los Angeles, whether you're from here or not, it's a tough place to come in with the distractions and stuff. Sometimes you feel like it's … whether people enjoy the game of football or not. That's what I think we questioned."
Many would argue it is a head coach's job to instill competitive fire within his team. Instead, the Trojans struggled this season to harness their emotions, leading to undisciplined penalties in key moments, like when senior cornerback Iman Marshall's unsportsmanlike conduct penalty kept USC from getting the ball back at the end of the Cal game. The next week, after Helton pointed out Marshall's mistake and Marshall apologized to his teammates for it, defensive tackle Brandon Pili threw a punch at a UCLA player, leading to a Bruins touchdown.
USC finished the season 123rd nationally in penalties, averaging eight a game for 73.6 yards.
There will be much for Helton and Swann to analyze in schemes, personnel and staff. USC's offense continued to sputter after Helton took over play-calling duties from offensive coordinator Tee Martin. The Trojans produced more yards and executed more crisply the last month, but in their final three losses combined for just 10 points in the second half.
Defensively, Clancy Pendergast's system allowed too many big plays. The Trojans were 81st nationally in plays allowed of 40-plus yards with 15.
The defense was undermanned most weeks because of injuries and program attrition. Porter Gustin was on his way to an All-America type season before breaking his ankle Oct. 13. Safety Marvell Tell III and Smith spent as much time in the training room as the practice field the second half of the year. The Trojans were racked with so many injuries at safety that freshman walk-on Jordan McMillan was playing — and making a key interception — against Notre Dame.
That excuse, while valid, won't hold any weight in 2019, when Helton's hot seat heats up again. The Trojans did themselves no favors in scheduling, with two of their three out of conference games on the road at Brigham Young and Notre Dame. Nine of USC's opponents won at least six games in 2018, and Washington and Oregon replace Washington State and Oregon State from the North Division.
USC will have talented skill players returning offensively in quarterback JT Daniels, wide receivers Michael Pittman Jr., Tyler Vaughns and Amon-ra St. Brown and running backs Vavae Malepeai and Stephen Carr. But the root of any substantial improvement will come from the offensive line, which will replace three starters from a sub-par unit.
As Helton said, it is a big task. And, as he seemed to know already Saturday night, it will be his task for one more season.
Twitter: @BradyMcCollough
---