Iman Marshall, former seven-way player, has become a cornerback specialist for USC
Before USC cornerback Iman Marshall entered high school, a time when some parents talk with their children about smart choices, Marshall's father Tony sat in Marshall's bedroom to deliver his own version of The Talk. Instead of discussing birds and bees, Tony told his son about DTs and QBs.
They devised a seven-year plan for Marshall to become an elite cornerback. It covered the typical, like academics to college visits.
But it was designed around an unusual pillar. Marshall, they decided, would tour every position on a football team.
USC coach Clay Helton often targets two-way recruits, players who play a position on offense and defense. Marshall offered something rare: a seven-way player. Before Marshall played cornerback, he was a quarterback. Before he was a quarterback, he played linebacker … and running back ... and defensive tackle … and defensive end ... and offensive tackle.
Marshall, who starred at Long Beach Poly, has played at every position group other than kicker and punter. His football tour functioned like a college's general-education requirement, Marshall's own liberal arts football education before he specialized at defensive back.
"I feel like it gave me all aspects," Marshall said. "It taught me how to be more disciplined playing offensive line on the side of the ball. Being physical playing nose guard and linebacker growing up in high school gave me that aspect of it. Playing quarterback a little bit, stuff like that, understanding how to read and how to dissect certain things, look for certain tendencies, it all helped."
Helton said Marshall sometimes asks him about a quarterback's read in certain situations. The cross-training, Helton said, "helps you with your football instincts because you can anticipate what they're gonna do offensively. You've played it before."
Tony, who works in construction, was always big on plans and organization. Marshall couldn't leave the house as a boy until he'd made his bed. The seven-year plan wasn't Marshall's first. They developed football road maps when Marshall was 8, 10 and 12 years old, with the blessing of Marshall's mother, Turkessa Lewis.
Tony did not tolerate laziness. When Marshall said he wanted to play football, Tony told Marshall that if he was going to play, he was going to play the right way. That meant Tony's way.
At first, Marshall shrunk from contact. So Tony had him play offensive line.
"It taught him the grunt work," Tony said. "It taught him how to be tough. That's why he doesn't — even though he plays a diva position, he doesn't have a diva attitude. You know what I'm saying? Because he started in the trenches."
Marshall would loaf through drills, so Tony videotaped him. They'd review the tape.
"It was just embarrassing to see," Tony said. "And the drills, he wasn't familiar with the drills so he looked like a fish out of water, he just looked like a baby giraffe learning how to walk."
Tony re-created the drills in his backyard, using cups and shoes in place of cones. When Marshall returned to practice, he played like a veteran.
There was always something to work on. When they ran out of ideas, there was always the big hill in the backyard. Three days a week Marshall ran the hill. Sometimes, he vomited. Then he'd run again.
Tony rode Marshall hard because he had no one to ride him, he said. He grew up in Long Beach the son of a single mother who worked as a nurse. His father wasn't around. Tony played at Long Beach Poly but shrugged off school. He had to go to a junior college before earning a scholarship from Division II Texas A&M Kingsville. He wishes he had someone to push him to earn good grades.
"There's a correlation when dads are active in children's life, whether it's football, whether it's academics, whether it's ballet, if the father shows interest in a child's life, the children are more apt to be successful," Tony said.
As Marshall grew older, Tony learned to ease up. He applied his structure to the college recruiters and reporters who beckoned. He set up a schedule. Reporters could call Marshall one night a week. Coaches could call another. After that, Marshall was not to be pestered.
Now, as Marshall enters a crucial season, he must put together all of his training. He always shed blocks like a former defensive end, Tony observed. He understood leverage because he was a former lineman. As a freshman, Marshall manhandled receivers, but often excessively so. He was flagged constantly.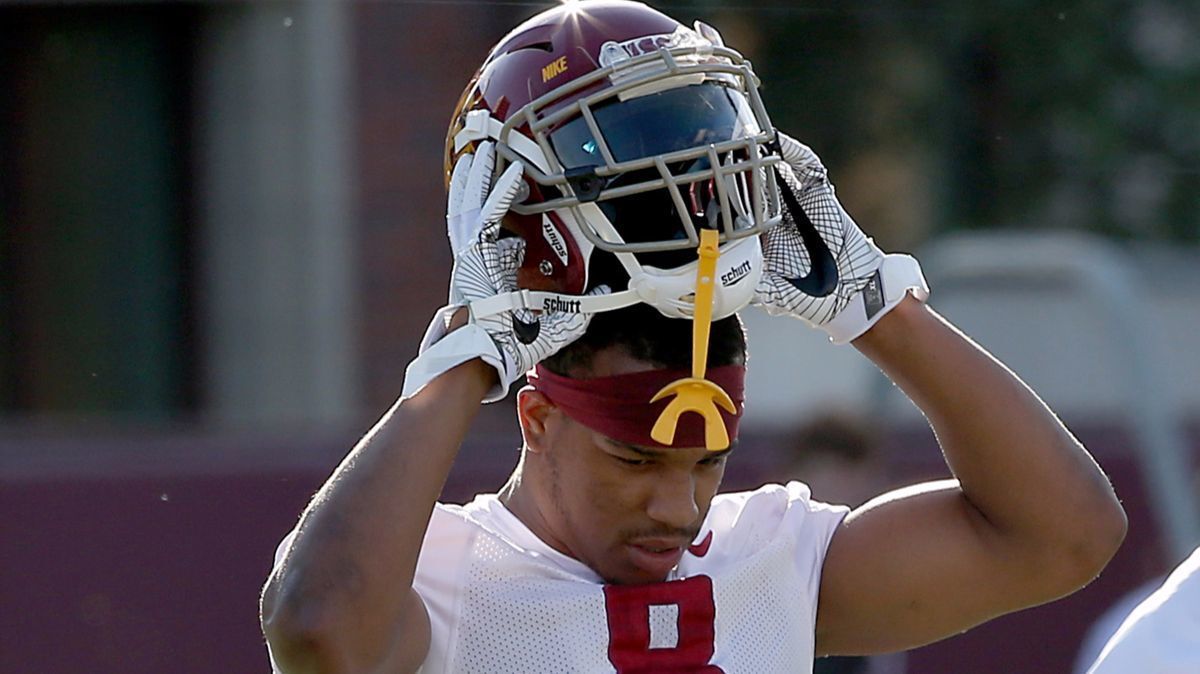 His time as a quarterback, Marshall said, meant "I can get a good sense of what they're looking for, what they're reading." When his USC career began, he got himself in the right position, but he usually struggled to finish plays.
Helton believes Marshall has become a complete cornerback this season. The Associated Press agreed: It named Marshall to its preseason All-American second team.
It has left Marshall in an odd position. He has outgrown the plan.
"I feel like we need to go about that again and have another plan because I feel like it's long overdue," Marshall said.
Tony said the next plan would cover life off the field. Marshall handles football now just fine.
He lingers after every practice, sometimes after all his teammates have left, running through one more drill, on his own.
Quick hits
Walk-on freshman Chase McGrath will start at kicker against Western Michigan on Saturday, Helton announced Thursday. Redshirt freshman Mike Brown will handle kickoff duties. … Reid Budrovich won the starting punter job over the incumbent, Chris Tilbey.
Follow Zach Helfand on Twitter @zhelfand
Get the latest on L.A.'s teams in the daily Sports Report newsletter.
You may occasionally receive promotional content from the Los Angeles Times.