Chase McGrath, USC's hero against Texas, rarely tried field goals in high school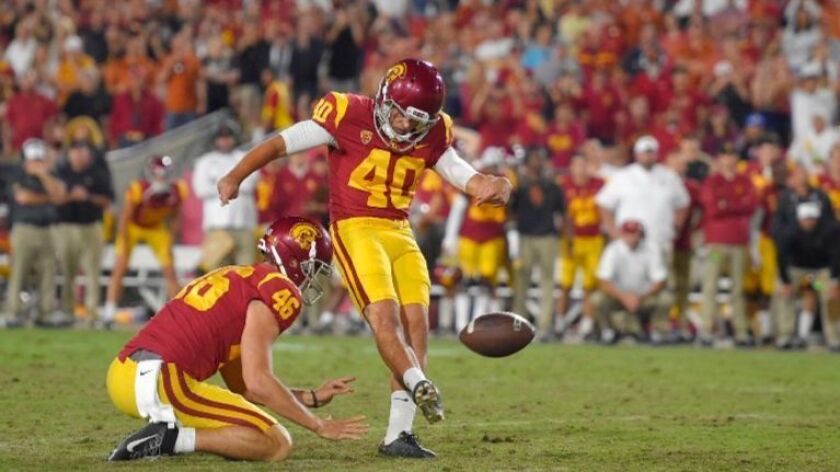 Jana and Greg McGrath watched their son, Chase, stare at the goal posts before the biggest moment of his young football career. Jana trembled and prayed. Greg had a lump in his throat.
Chase paced back to line up for the third field-goal attempt he had tried in college, from 43 yards. It was late into Saturday night and USC and Texas were in a second overtime.
Make it and the Trojans win.
And then … Texas called a timeout. The McGraths had to wait.
Of course they did. McGrath's game-winning field goal was a monument to patience. He waited in high school, at Santa Ana Mater Dei, where the offense scored so often his senior year that he tried only five field goals. He waited to go to USC, spurning other offers even though Trojans coaches had shown no interest in him.
He waited through fits and starts in the competition for the starting job. He waited two games for his first field-goal chance. And he waited for a shot at redemption after hooking his first try, from 46 yards, well left and short.
"I'm used to it," McGrath said of the waiting
McGrath was the last significant addition to USC's roster this season. The Trojans didn't offer him a spot until April.
But McGrath had held out for a chance to play for the Trojans. He dreamed of playing for USC as a boy. He went to the Rose Bowl in 2004 and attended a practice when Pete Carroll was the coach.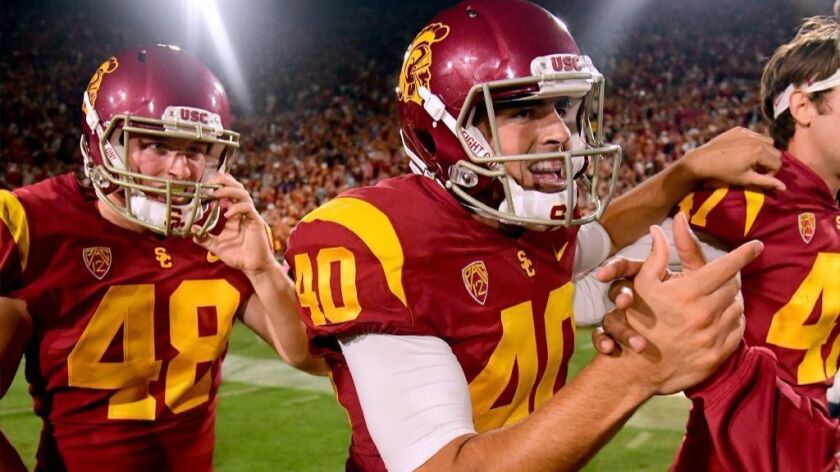 At Mater Dei, he showed off a strong leg on kickoffs and made 10 of 13 field-goal tries as a junior. But his senior season, he had only five tries and made three, including a long of 51 yards.
That was enough to earn him one scholarship offer, from Army, and scattered preferred walk-on offers from Texas Tech, Virginia, South Carolina and Utah State, Jana said. Mater Dei coach Bruce Rollinson checked in often with USC coach Clay Helton and special-teams coach John Baxter to gauge interest.
"But John's an honest man and so was Clay," Rollinson said. They said thanks but no thanks. They told Rollinson, "Don't pass a scholarship up."
McGrath did anyway. He wanted to go to USC.
His parents told him that would mean he wouldn't play.
"And Chase is like, 'Well, I don't care if I have to sit on the bench, I just want to go to SC,' " Jana said. "This is what he wanted."
When Matt Boermeester was suspended from the team during an investigation into an assault allegation, USC found itself in need of a kicker. In April, Baxter invited McGrath and his father to campus. There, Baxter extended a preferred walk-on offer — no scholarship, but a place on the team if he wanted it.
"I talked with my dad beforehand, and I've always been an SC fan growing up, and this is my dream school, so right when they were to offer me a spot, I accepted it," McGrath said.
McGrath battled with Mike Brown for the starting job during training camp. At times, neither looked particularly sharp. But McGrath emerged as the starter.
Then he waited. USC, like Mater Dei, didn't have a need for field goals in its first two games.
And when the Trojans gave him a chance in the second quarter of Saturday's game, McGrath muffed it. When Texas took a three-point lead in the final minute of the game, his parents worried from the stands that Chase would blame himself.
Then they watched their son hit a 31-yard field goal as time expired in regulation to send the game into overtime. After he made the game winner, his mother cried.
"It's answered prayer, in my opinion," she said. "Because it's his dream."
McGrath's teammates chanted "Give him a scholarship" in the locker room.
Helton chuckled during his postgame news conference and said, "I need to find one."
USC has one left to offer this season.
McGrath kept mum on the topic. He said it was up to the coaches. He was just going to wait.
Oh no, o-line
USC's rushing production nosedived from 307 yards against Stanford to 71 against Texas.
What happened? Confusion, center Nico Falah said.
Falah said Texas "brought a lot of unique blitzes that the offensive line's never seen before. We've never seen anything on the film they showed today. So we kind of made adjustments in between series, which is pretty tough."
Helton said the line had difficulty picking up Texas' zone blitzes, which the Longhorns disguised well. Texas sacked Sam Darnold three times, the most in his career.
California, USC's next opponent, used a mix of blitzes to shut down what was then the nation's best passing attack, Mississippi, in the second half of its game Saturday. The Golden Bears sacked Shea Patterson five times with four different players.
Follow Zach Helfand on Twitter @zhelfand
---
Get the latest on L.A.'s teams in the daily Sports Report newsletter.
You may occasionally receive promotional content from the Los Angeles Times.