USC mailbag: Will USC be Dr. Jekyll or Mr. Hyde against Stanford? And which is better, anyway?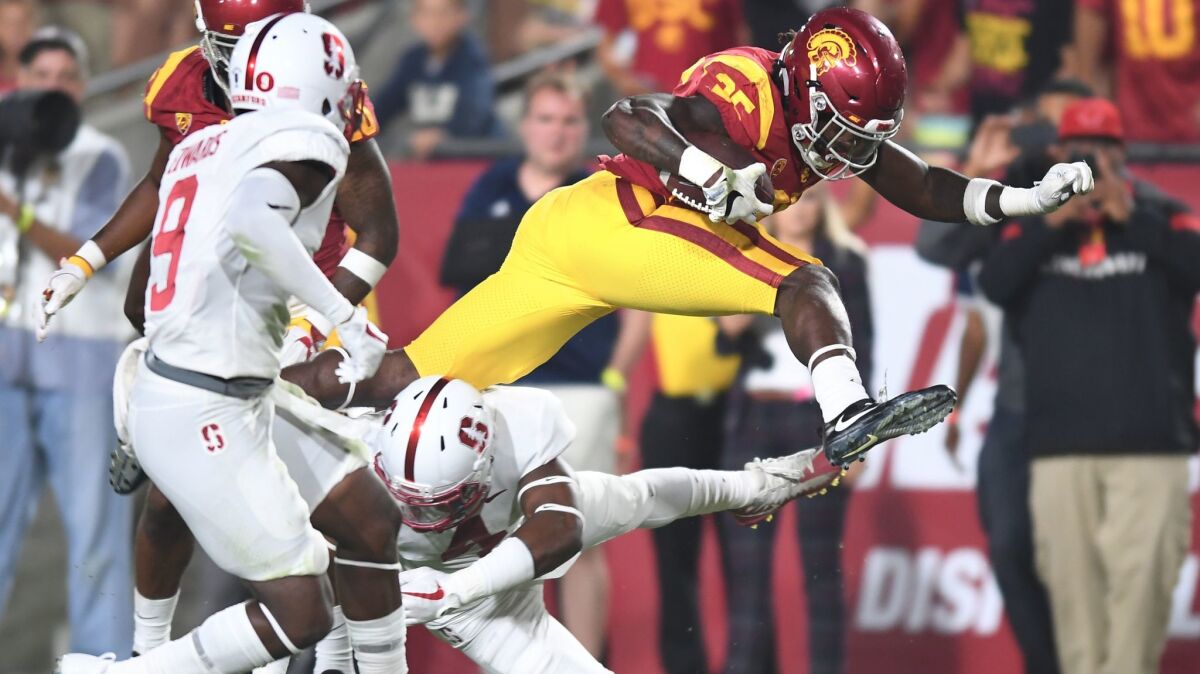 Every week*, The Times' USC beat reporter, Zach Helfand, will answer your questions. Tweet yours to @zhelfand or email them to zach.helfand@latimes.com. And after every USC game, you can leave a voice message on the USC Overtime hotline, at (213) 357-0984, for a call-in podcast posted the day after every game.
The longest two weeks of the season are over. No, I'm not talking about the wait for the Pac-12 championship game. I'm talking about the wait through the sad and lonely bye week for the next USC mailbag. Let's not delay! To the questions:
This, of course, is the big question of the week. And I will answer it. But first, a more pressing matter: Would you rather see Dr. Jekyll? Or Big Ed Hyde? I know Jekyll is an upstanding Victorian gentleman, and Hyde leans more to the homicidal side of the spectrum. But we're talking football here. And ideally if you're a USC fan, you want USC to run the ball like it did last time against Stanford. So Hyde is the guy you want.
Now for the question: Did USC spend the bye week taking the metaphorical serum that'll turn their Dr. Jekyll into a permanent Mr. Hyde? (Note: I somehow never read the book, so I'm basing this analogy off of internet searches here.) I predicted "yes" in this week's staff picks, which followers of this space will recall may be a bad thing for USC fans, because I am empirically bad at picking.
Here's the reason for the pick: One of the lasting images of USC's season, for all of its inconsistency, came after that Week 2 USC win. Stanford coach David Shaw was in his post-game news conference. He wasn't angry. He wasn't frustrated or confused. What he mostly did was shrug. USC just played to its potential, he said. What can you do to stop that?
In other words, USC at its best is better than Stanford at its best. The Trojans haven't played up to their potential in many games this season, but I'm predicting that playing a repeat opponent actually helps them here. They have already seen what it takes to defeat Stanford. They already have proof of their talent advantage. That indicates that a confident USC will show up. And a confident USC is a scary USC.
This question is speculative, slightly rigged and almost guaranteed to get people to yell at me for one reason or another. Which is why it's a great question. It's slightly rigged because of the "**DEFINITELY**" and because of the stipulation "better than 10-2," which removes all but the best coaches in the country.
If Mr. Buck's point is to tell the fans freaking out about Clay Helton, now that Chip Kelly is at UCLA, to relax, then it's a fair point. It's also fair for those fans to point out that USC has been underwhelming in many of its wins. But wins are wins.
That's it. Urban Meyer was on the list, but he got taken off because Ohio State lost 55-24 to Iowa. Can you really say he'd definitely lead a USC team to a win on a short week at Washington State with three offensive line injuries? Dabo Swinney was also on the list at one point, but replacing "Ohio State" and "Iowa" with "Clemson" and "Syracuse" means Swinney is out too. David Shaw? Lost to Washington State. And San Diego State. Chris Petersen ... what if you gave him USC's talented roster? He is unquestionably an excellent coach … who happened to lose this season to Arizona State. Arizona State. He's out. Gary Patterson is a great coach, but he also is 10-2 right now. Chip Kelly could probably join Saban. But at Oregon he had a regular season better than 10-2 only two times out of four. Very good. But can't qualify for "definitely."
Now, there are many coaches who probably would've gone at least 10-2 with USC this season. But there are almost no guarantees of an upgrade from 10-2. Aside from Saban. Who, despite last week, is very good.
One option for USC is to simply play Melton — at least until the school or the NCAA finds concrete evidence that Melton or an associate took money, if such evidence exists. But that's risky. If evidence emerges later, the NCAA could slap USC with penalties for playing Melton, including forcing USC to forfeit the games in which Melton played. Is that likely? It is difficult to say. The NCAA's enforcement of violations, and the resulting penalties, has not always been consistent.
If that option is unpalatable, could USC still be more proactive? Melton's attorney, Vicki I. Podberesky, thinks so. She said that USC's Office of the General Counsel suggested that Podberesky herself should contact the NCAA on Melton's behalf to seek a waiver so he wouldn't miss more games.
USC, for its part, said in a statement to the Times' Dylan Hernandez that the school "continues to work vigorously gathering information to resolve De'Anthony Melton's potential eligibility issue" and is "is diligently seeking similar cooperation from others in order to determine whether any NCAA rules were violated."
Helton values consistency in his staff, so don't expect a big shakeup after a 10-win season, unless coaches get promotions elsewhere.
Tyson Helton would certainly be a possibility to move up to offensive coordinator, and probably the favorite because he'd be the in-house move, but it's not a sure thing.
As healthy as it has been. UCLA stacked the box against USC, which gave USC some trouble. But USC having any trouble with UCLA's run defense under any circumstances is cause for some concern.
That's usually the sign of a missed assignment — i.e. someone blocking the wrong person, or no one at all.
That would be cornerback Jamel Cook, who missed practice. Helton said it was to focus on academics to make sure that he is eligible for the bowl game.
A version of student-body right still exists in the playbook, and USC runs it on occasion. But that's just not USC's offense. Could it work? Sure. But running it consistently, and effectively, would require a big offensive overhaul.
Eat here
Assuming you are staying in San Francisco instead of Santa Clara, go with the House of Nanking. Get the crispy noodle tower. Crispy noodles forever.
Excitement level
8.9/10. Enjoy the game, everyone.
Twitter: @zhelfand
Get the latest on L.A.'s teams in the daily Sports Report newsletter.
You may occasionally receive promotional content from the Los Angeles Times.