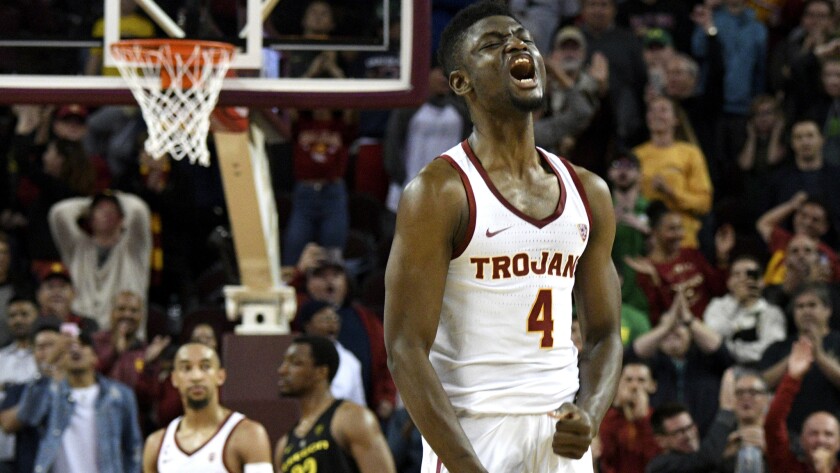 First things first when it comes to the NBA draft prospects of USC's players.
Forward Chimezie Metu would probably be taken in the first round if he decided to forgo his senior season and enter the draft, one NBA Western Conference scout told The Times on condition of anonymity because he was not authorized to publicly discuss college players.
"To me, it's kind of simple with him," the scout said of the 6-foot-11 standout who is averaging a team-leading 15.9 points and 7.4 rebounds a game. "He's got the physical tools, but he's also added skill every year to become more well-rounded."
That's not to say there aren't things Metu could improve upon.
"I think kind of the knock on him is the motor and consistency of effort," the scout said.
Far less certain are the prospects of junior forward Bennie Boatwright, who will be sidelined for the rest of the season after he injured his left knee Thursday against Oregon.
Boatwright had already missed four games because of an infected callus on his foot and the scout was projecting him as a second-round pick before his latest injury.
"The injuries definitely play a part," the scout said when asked to evaluate where the 6-10 Boatwright might be selected. "He's always kind of been on the radar with his size and shooting ability, and I think he's a better shooter than what he's shooting right now percentage-wise. He can really stroke it and at that size, there's probably always going to be an opportunity for him."
Boatwright averaged 13.6 points and 6.4 rebounds this season while making 41.5% of his shots and 34.6% of his three-pointers.
Senior guards Jordan McLaughlin and Elijah Stewart are fringe NBA prospects who might have to make a team through a training camp invitation, the scout said.
"To me, he's kind of in that Thomas Welsh boat where he's on the outside looking in," the scout said, comparing McLaughlin's situation to that of UCLA's 7-foot center "If he got invited to a training camp and made it that way, not a huge shock but again, someone I'd probably bet against. He's highly productive at the college level, that's for sure."
Follow Ben Bolch on Twitter @latbbolch
---