USC bemoans missed opportunity in loss to No. 5 Nevada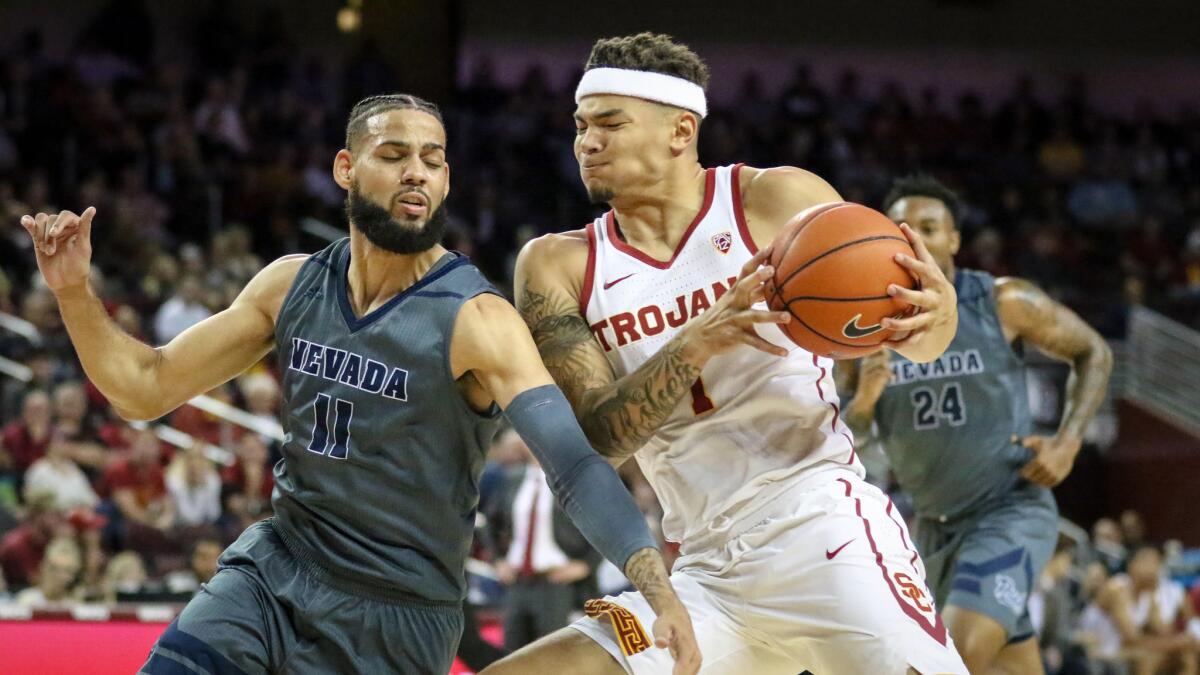 Could a bad five-minute stretch of basketball played on the first day of December matter in March? After a 73-61 loss to No. 5 Nevada on Saturday afternoon at Galen Center, the USC Trojans are rightfully wary.
Last season, they were 12-6 in the Pac-12 Conference, finishing second in the regular season and in the conference tournament but were left out of the NCAA tournament because they didn't have enough quality victories as determined by the selection committee's metrics. In the spring, during a long, searching offseason, USC agreed to play Nevada, a Sweet 16 team with a ton of returning talent, to give itself another chance at one of those marquee victories that jump off the page months down the road.
For nearly 20 minutes, it was going according to plan. USC led 35-29, and Galen Center felt unusually alive. Then Nevada scored the last five points of the first half, taking momentum into the locker room. USC brought in hip-hop artist Jay Rock to perform a couple numbers at halftime. He kept the mood upbeat, but the Trojans could not find their rhythm in the second half. They missed their first four shots, three by senior star forward Bennie Boatwright, and the Wolf Pack suddenly led 47-37 after an 18-2 run stretching back to the end of the first half.
The Trojans (5-3) haven't won a game against a top-five opponent since 2008 at UCLA when O.J. Mayo-led USC upset a Bruins team featuring Russell Westbrook and Kevin Love. That win was wiped from the record books because of NCAA violations.
USC did not add a historic victory Saturday, and the Trojans are again struggling to grab resume-building victories in the season's first month.
"Last year we got snubbed, so we go into games like this, we need them," guard Shaqquan Aaron said. "We can give the selection committee an excuse to have us in the tournament."
USC has not beaten a team from a major conference but still has two Big 12 opponents on the schedule — Texas Christian at Staples Center on Friday and Oklahoma in Tulsa on Dec. 15.
"The early-season games matter," coach Andy Enfield said, "and we understand that. Hopefully, we can become a better team like we did last year throughout the season."
The Trojans played well enough defensively to beat Nevada, which averaged 90 points per game coming in but scored its lowest total of the season. Enfield called out the veterans for their poor shot selection during the crucial minutes when the game got away from them.
"We expect more of our upperclassmen," Enfield said, "to understand when the other team has scored four, six, eight, nine points in a row that at that point you have to take a great shot. That's a big part of leadership and understanding the time and score and what's happening within the game."
Boatwright, USC's top returning scorer, made only three of 13 shots, including one of seven three-point shots, finishing with seven points.
He was outshined by Jordan Caroline, who had 24 points and 11 rebounds for the Wolf Pack (8-0).
Asked about Boatwright's off night, Enfield said, "We need our best players to play well if we're going to be a very good team this year."
So far, Nick Rakocevic has emerged as USC's most consistent player. He had 20 points and 12 rebounds Saturday. Junior point guard Derryck Thornton was the only Trojan to join him in double figures with 10 points.
"The first half was a really good sign that we can be one of the top teams and compete," Rakocevic said. "This would have been a huge win for March selections and things like that. We've got a long season ahead. It's not the end of the world."
USC lost to Vanderbilt on Nov. 11 without Boatwright, who was recovering from an offseason knee injury. Saturday, the Trojans did not have standout freshman wing Kevin Porter Jr. at full strength because of a quad bruise, and sophomore wing Charles O'Bannon Jr. sat out because of a finger injury. Porter did not play in the first half because USC was doing well without him, but Enfield put him in the game early in the second half as Nevada made its move. He played only four minutes before Enfield decided Porter wasn't ready.
When healthy, there is no doubt USC has a much higher ceiling than what it has shown.
"We just can't keep blaming it on health," Rakocevic said. "I feel like that's been our thing since game one. We have to continue to get better no matter what. Basketball is life. Things happen, you just have to move past that."
USC next
Friday vs. Texas Christian, 6:30 p.m., Staples Center, FS1 — The Trojans (5-3) will take on the Horned Frogs (5-1) in the Hoophall L.A. Classic and hope to pick up their first win against a major conference team. The Horned Frogs' defeat came against Lipscomb 73-64 on Nov. 20.
Twitter: @BradyMcCollough
Get the latest on L.A.'s teams in the daily Sports Report newsletter.
You may occasionally receive promotional content from the Los Angeles Times.