USC defense steps up to clip Oregon 66-49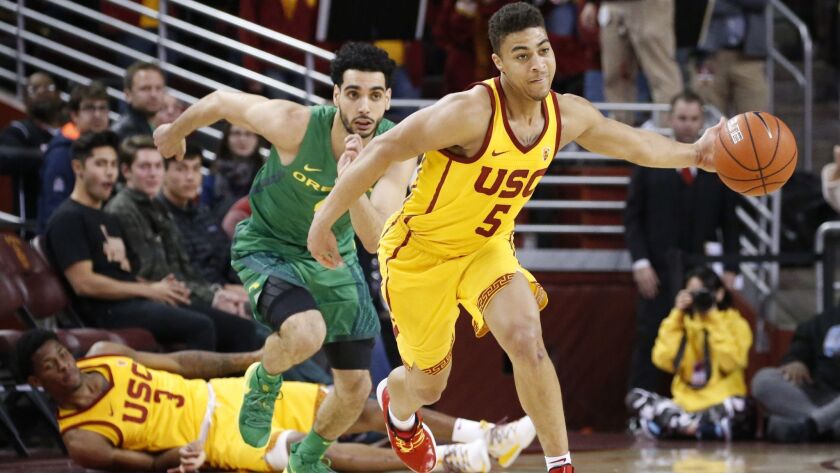 The USC Trojans had been here before this season, collecting a double-digit win over a traditional Pac-12 power at Galen Center, but this quiet, methodical 66-49 clipping of the Oregon Ducks felt different than the back-to-back thwacking of UCLA and Arizona.
Maybe it's the time of the year. A month ago, USC's momentum appeared to be soaring after a seasonlong stagnation, and there were so many games ahead to keep building. Those victories, which led right into to a scintillating Bennie Boatwright buzzer-beater to beat Arizona State, were joyful, rollicking affairs that provided hope that something special may actually be happening after all.
Entering Thursday night, though, much more evidence had been compiled pointing to the contrary. The Trojans had gone through a stretch of losing four of six games, including two baffling defeats at Galen against Utah and Colorado that stripped Andy Enfield's team of all pretense that it had emerged into a better version of itself as the season wore on.
Among many issues, Enfield had focused his ire on Nick Rakocevic, who was called for two flagrant fouls in the loss to the Utes that cost the Trojans and signaled to Enfield that the junior center had lost control of his emotions one too many times. Despite Rakocevic's strong season overall, highlighted by two Pac-12 player of the week awards in January, Enfield decided to prove a point, making Rakocevic come off the bench during USC's Bay Area trip last week.
Enfield painted the decision as a reward for Rakocevic's little-used backup, Victor Uyaelunmo, but his real intent was obvious.
Thursday, Enfield inserted Rakocevic back into the starting lineup, and the Trojans' spark plug got them moving early in the second half with an alley-oop finish from a Derryck Thornton lob and followed it up with a block on the other end.
For a stretch, it was Rakocevic at his best, and, for the gregarious Chicagoland native, it set up a perfect opportunity for him to reflect on what he had learned from not starting.
Only, Rakocevic had no interest in getting into it.
"It was just his decision," Rakocevic said.
Asked what Enfield told him was the reason for his benching, he said, "I am not sure. You have to ask him on that one."
It was that kind of night, and perhaps it could be viewed as refreshing that the Trojans, who improved to 15-12 and 8-6 in the Pac-12, were not strutting around like world-beaters. Oregon, like the rest of the league, is in a down year. But holding the Ducks under 50 and dishing out 20 assists against a Dana Altman team is also nothing to brood about.
Rakocevic had 17 points on an efficient eight-for-11 shooting and played wing man to the continued three-point assault of Boatwright, who led USC with 20 points and made six of nine from beyond the arc.
Boatwright has made 16 of 22 threes in the last two games and is third on USC's career list with 220 — 25 behind former teammate Elijah Stewart's high mark of 245.
But Enfield was more in the mood to talk defense, particularly that of his big man.
"Nick's had a good offensive year, but I thought tonight he had a good defensive game," Enfield said. "When he makes up his mind to be physical and move his feet on defense and wall up … the problem we've had is, when we lose games, we get outscored in the paint significantly, and their starting and backup big men dominate the paint. Tonight, we outscored them in the paint ... Nick was a big part of that."
After further prodding, Rakocevic acknowledged Enfield had expressed this point last week.
"He had two blocks, he was sliding, he tried to take two charges tonight, and then he got his hands on some balls in the lane," Enfield said. "That's what we expect of him."
It may be late February, but there is still time for USC. The Trojans are tied for fourth place in the Pac-12, so a string of consistent games could vault them into the crucial first-round bye in the league tournament.
But at this point of the season, they seem to know better than to worry about all of that.
"In order for us to be good," Rakocevic said, "we have to be good defensively. That's just a main part of what we have to do collectively as a team."
USC next
Saturday vs. Oregon State, 3 p.m., Galen Center, Pac-12 Networks — On Jan. 10, the Trojans and Beavers needed overtime to decide their game in Corvallis, with Oregon State prevailing 79-74. Bennie Boatwright had a career-high 37 points, but missed what would have been a game-winning shot in regulation.
Sign up for our daily sports newsletter »
Twitter: @BradyMcCollough
---
Get the latest on L.A.'s teams in the daily Sports Report newsletter.
You may occasionally receive promotional content from the Los Angeles Times.