For USC, the Pac-12 championship game offers a chance for a title and a case for calm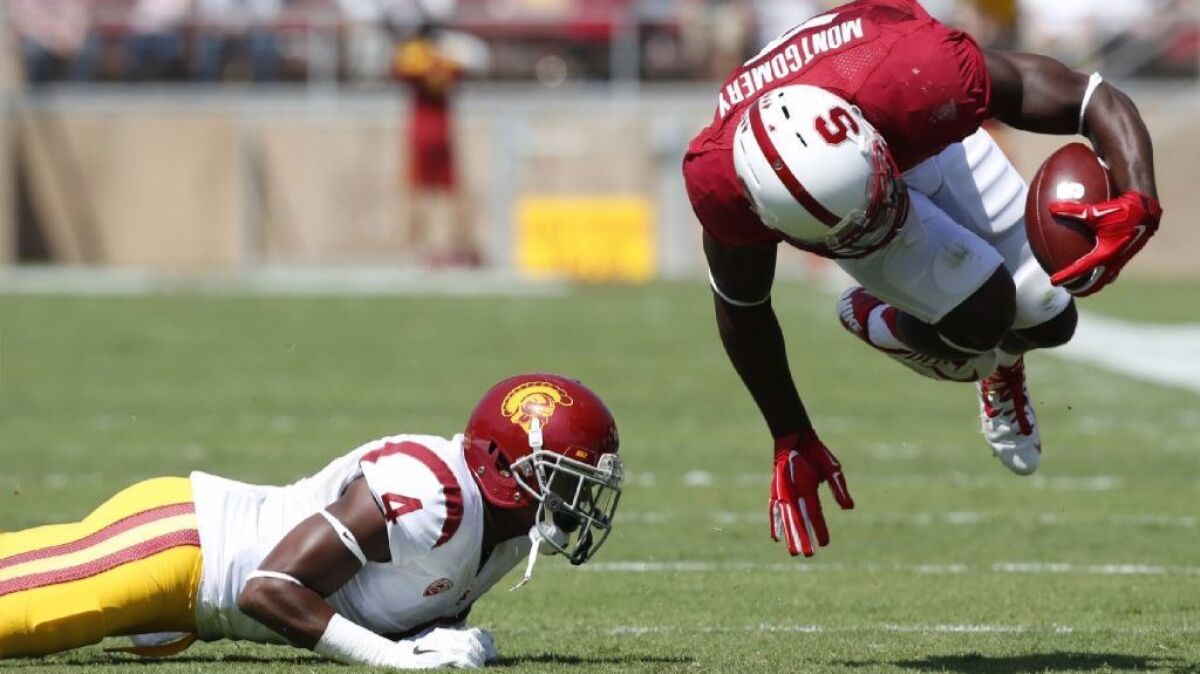 Reporting from SANTA CLARA —
Chris Hawkins pulled up his Twitter feed earlier this week, expecting to see some excitement for USC's date in the Pac-12 championship game on Friday against Stanford.
Instead, the senior safety said, he found USC fans in a state of agitation triggered by rival UCLA's hire of Chip Kelly as its new head coach and the ever-diminishing odds that USC would sneak into the College Football Playoff. Hawkins observed that most of the angst was focused on coach Clay Helton.
"Somebody said something about replacing Helton," Hawkins said. "I almost had a heart attack on Twitter. I think I had to delete what I said. You're not going to come at my coach. We're 10-2. He has two, back-to-back 10-win seasons. Rose Bowl champion."
For good measure, Hawkins added to Helton's list of accomplishments, "Pac-12 going-to-be champion and then a New Year's Six bowl."
Those, of course, will require USC (10-2, 8-1 in the Pac-12) to win on Friday against No. 12 Stanford (9-3, 7-2) at Levi's Stadium.
As Hawkins observed, more is at stake than the chance for USC's first Pac-12 Conference title in the conference's expansion (and the first for any Pac-12 South team). The Trojans and Helton find themselves in a strange sort of limbo.
They have 10 wins and are ranked No. 10 in the country, a season after finishing No. 3. And yet, they know they are graded on a different scale at USC. They must win championships.
The last time he met with local media members, in October, athletic director Lynn Swann reiterated the criteria he uses to judge the program.
"Our goal is to always win the Pac-12 championship and if you have aspirations for a national championship or anything else, you've got to first win the Pac-12," Swann said. "That's the only guaranteed path. You can't expect that you're going to have what we had last year where we didn't play for the Pac-12 championship and yet we've got a chance to be in the Rose Bowl. That's not gonna happen every year."
The urgency is compounded by the fact that USC hasn't shown the obvious, linear progress that it did a season ago. This season has progressed in fits and starts.
So the game against Stanford will provide a neat measuring stick. USC turned in arguably its best performance of the season the last time it played Stanford in Week 2. Stanford, USC coaches and players have said this week, has improved markedly since then. A game against the Cardinal 12 weeks later will, in the eyes of many fans, show evidence of USC's own improvement — or prove that there hasn't been enough.
Few other programs would be frustrated by a 10-win season and a division crown. Still, Helton said, the mandate at USC was a fair one.
"The expectations when you're at USC are championships," Helton said. "I know that going in. That's our goal each and every year."
But, he said, "it doesn't mean that you haven't progressed as a football team."
He cited USC's accomplishments over the past two seasons: two 10-win seasons, an undefeated record at the Coliseum and in November and "providing consistency in a program."
"Do I want to win a championship every year? Yeah. That's ingrained in you as a Trojan," he said. "But I am proud of the steps that are being taken over the last two years moving forward. There is progress that has been made."
USC dominated the first meeting with Stanford in a 42-24 win. USC rushed for 307 yards. Quarterback Sam Darnold had only five incompletions. The Trojans were physically dominant.
USC has weathered a slew of injuries since then but is as healthy now as it has been since that game. Guard Viane Talamaivao and outside linebacker Porter Gustin are the only starters who played in the first meeting who will miss the rematch. USC also gets the advantage of a bye week, which the Trojans used to rest, prepare and let their anticipation grow.
"Everyone's ridiculously excited," linebacker Cameron Smith said.
Hawkins said he hasn't "felt this good about us in a long time," despite the concern from elsewhere.
"I feel like USC fans are tripping right now," Hawkins said. "They just need to relax. We're good."
And how could he get the fans to relax?
"Watch us go to work on Friday night," Hawkins said.
Twitter: @zhelfand
Get the latest on L.A.'s teams in the daily Sports Report newsletter.
You may occasionally receive promotional content from the Los Angeles Times.