USC's Porter Gustin called for targeting and will miss first half of next game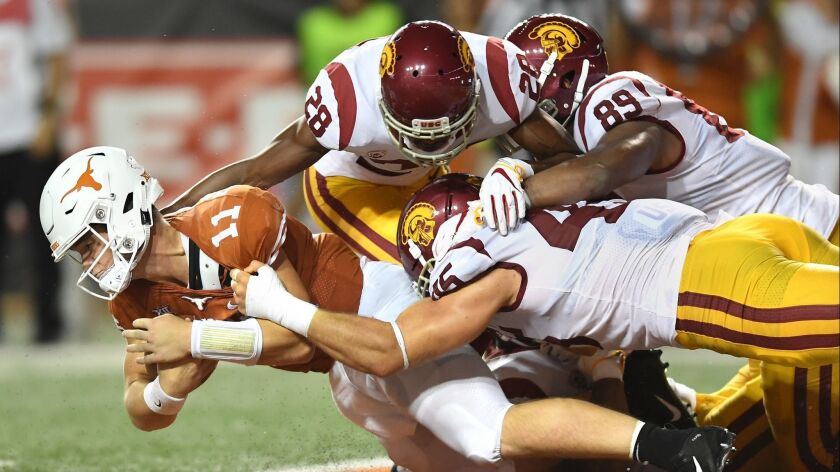 Reporting from Austin, Texas —
USC outside linebacker Porter Gustin was on his way to a dominant performance on Saturday night with two sacks in the first half.
But early in the third quarter, Gustin got loose in pursuit of Texas quarterback Sam Ehlinger and hit Ehlinger so hard his helmet flew off after he had delivered a completion to Collin Johnson.
Officials called Gustin for a personal foul roughing the passer, and, upon further review, determined that he had led with his head. He was called for targeting, leading to an immediate ejection.
Because the punishment for a targeting ejection is missing one game, Gustin will also have to sit out the first half of Friday night's game against Washington State at the Coliseum.
Special teams mistakes hurt
USC had plenty of chances to create some space between it and Texas in the second quarter, but two special teams blunders gave the Longhorns extra life and deflated the Trojans' chance at grabbing the momentum.
With Texas punting from the back of its own end zone and USC leading 14-13, freshman safety Talanoa Hufanga broke through the line and seemed headed for a game-changing punt block. Instead, Hufanga narrowly missed the block and made contact with Texas punter Ryan Bujcevski. Hufanga was called for a personal foul roughing-the punter penalty.
The USC defense, thanks to a sack by Gustin, forced a punt on the next set of downs. But the Trojans' offense went three and out, setting up USC punter Chris Tilbey with a chance to pin the Longhorns back for what would be their final drive of the half.
Tilbey began the season as USC's backup punter to Reid Budrovich. In the opener against Nevada Las Vegas, Budrovich punted four times with an average of just 28.8 yards. USC used Tilbey and Budrovich against Stanford. While Budrovich averaged 27 yards on his two punts, Tilbey averaged 40.8 on his four punts, signaling a clear improvement. That earned Tilbey the starting role against Texas.
But Tilbey's punt went 13 yards, setting up the Longhorns with good field position at their own 49. Texas would capitalize with a 46-yard field goal by Cameron Dicker to take a 16-14 lead to halftime.
Replays go Texas' way
Two reviews went the way of the Longhorns in the first half. Both were questionable, but, because the plays were initially called in Texas' favor, they were unable to be overturned once sent to the replay booth.
The first came when JT Daniels threw an interception to the Longhorns' Kris Boyd. It appeared that Amon-ra St. Brown mighty have come down with the ball or that he might have been out of bounds while touching the ball before it was grabbed by Boyd. The review kept the interception, and Texas would drive for a field goal.
The second came when Gustin sacked Sam Ehlinger in the end zone for a possible safety. The ruling on the field was that the ball was out of the end zone when Ehlinger's knee hit, and the review was not definitive enough to overturn that call.
Carr gets first score
Stephen Carr scored his first touchdown of the season on a 23-yard burst up the middle to give USC a 7-0 lead.
On Carr's five other carries, though, he lost 10 yards, as USC's run blocking was consistently blown up by the Longhorns.
Falo plays
USC tight end Josh Falo made his 2018 debut after sitting out the first two weeks with a hamstring injury. Daniels looked his way in the first quarter and hit him for a five-yard completion.
Injuries for USC: guard Andrew Vorhees (knee), defensive tackle Malik Dorton (thigh bruise) and running back Aca'Cedric Ware (knee).
Twitter: @BradyMcCollough
---
Get the latest on L.A.'s teams in the daily Sports Report newsletter.
You may occasionally receive promotional content from the Los Angeles Times.