USC's Porter Gustin will be sacked against Washington State, at least for a half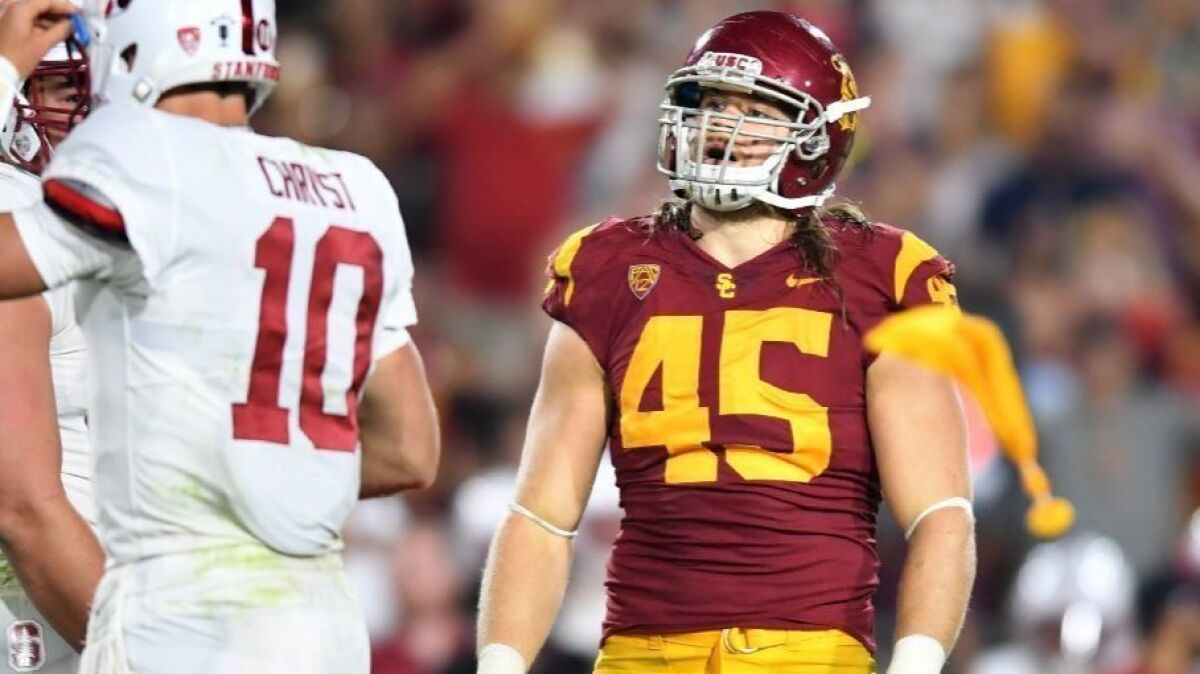 Porter Gustin did not leave his feet when his helmet made contact with the helmet of Texas quarterback Sam Ehlinger in the third quarter of USC's 37-14 loss Saturday. In his mind, he had not intended to make a dirty play in the milliseconds after Ehlinger delivered the ball.
"In fact, I didn't even think it was going to be a roughing-the-passer [penalty]," Gustin said this week. "I looked back and saw the call and was like, 'Ah, wow.' Then I heard they were going into review for targeting, and one thing led to the next, and then I was gone."
Gustin was well on his way to a monster day befitting of his "predator" position in the Trojans defense. He had two sacks in the first half and was undoubtedly headed for more disruption of the Texas attack. If Gustin hadn't been called for targeting, leading to his immediate ejection, it's at least feasible that his presence alone could have kept USC's defense from wilting in the third quarter when the Trojans were outscored 21-0.
As if that wasn't enough punishment for the Trojans, by rule Gustin must sit out the first half of Friday's night's game against Washington State at the Coliseum. Having to face Mike Leach's air-raid passing game, which thrives on quick passes and putting relentless pressure on defenses, there may not be a game on USC's schedule in which Gustin's skills would be more necessary.
In 2½ games, Gustin has 5½ tackles for loss, 3½ sacks (10th nationally), one fumble recovery and one deflection.
On the other side, Washington State has thrown 176 passes in three games and has been sacked only twice.
Even when Gustin returns for the third quarter, USC may have to think differently about what constitutes a successful pass rush against the Cougars.
"The biggest thing is, maybe it won't be sacks as much, but affect the quarterback," Gustin said. "Make him get off his spot, make him uncomfortable, make him slip up and not make those accurate throws that he's used to making when he's sitting back there in the pocket all comfortable."
Washington State's Gardner Minshew has been plenty relaxed after transferring as a graduate of East Carolina. Minshew has completed 71% of his passes for 1,203 yards and eight touchdowns, with three interceptions.
"The play of the quarterback really stands out to me," USC coach Clay Helton said. "I was such a huge fan of Luke [Falk] last year, obviously the all-time passer in our conference, and you thought there might be a dropoff, and there has been none. The one thing coach [Mike] Leach has always done a good job of is finding a quarterback that fits his system, and he's found one."
As a senior captain, Gustin has emerged as an irreplaceable part of the USC defense. As they did last year when Gustin was injured, the Trojans will depend on defensive end Christian Rector to make an impact, along with younger players who have shown promise in practice like Hunter Echols.
It will be an opportunity to get players some big-game experience, but it's still one more thing this USC team will have to overcome on a short week.
Gustin will watch the first half from the locker room and wait for his chance to spark USC (1-2) to a much-needed victory.
"It's frustrating," Gustin said. "At this point, it's really out of my control. I'm going to stay warm, make sure I'm keeping loose and keep an eye on the game."
Aca'Cedric Ware plays through knee pain
Helton said that running back Aca'Cedric Ware has been dealing with knee pain for a few weeks.
"It flared up earlier in the week, so we limited his reps," Helton said. "He looked better today. We'll see where he's at tomorrow. He got good work today, though."
Twitter: @BradyMcCollough
---
Get the latest on L.A.'s teams in the daily Sports Report newsletter.
You may occasionally receive promotional content from the Los Angeles Times.