USC tight end Josh Falo will need to use his instincts when the Trojans take on Colorado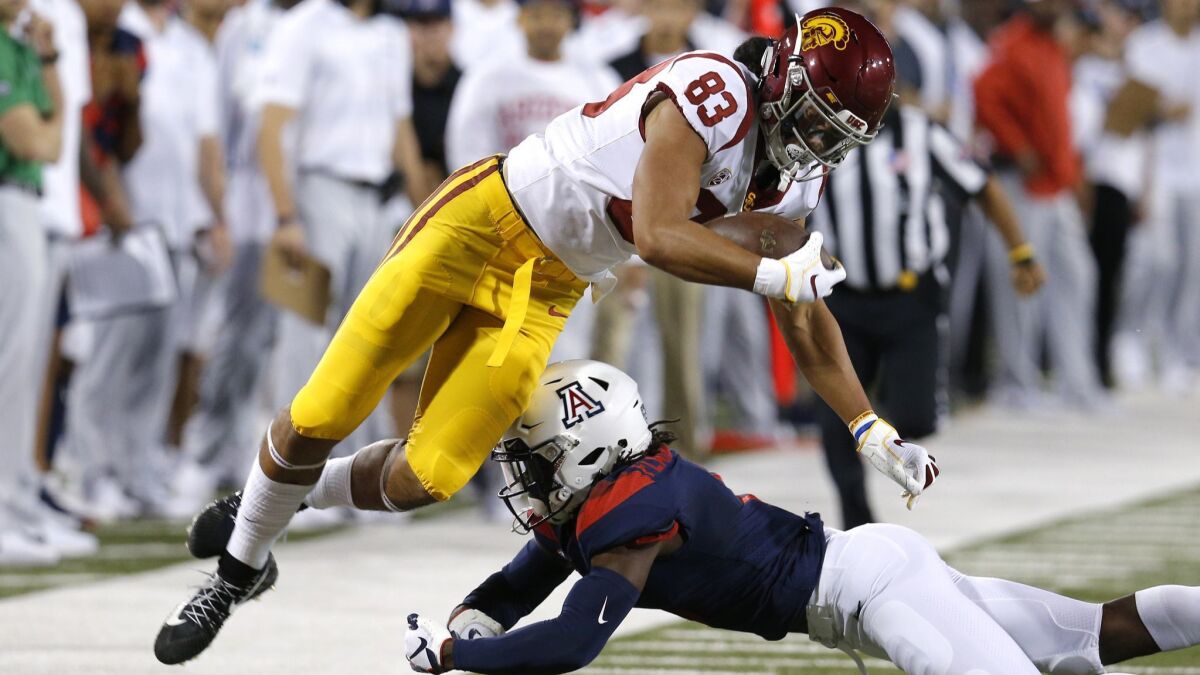 USC tight end Josh Falo was out in the open with the ball in his hands, building momentum with his 6-foot-6, 230-pound frame down the right sideline in the first quarter against Arizona. The Trojans had not yet scored, and, the way he saw it, Falo only had one man, Demetrius Flannigan-Fowles, standing between him and a touchdown.
But as the defender made his approach, Falo went down easy — easier than he would have liked, anyway.
"If I would have just hurdled him or something like that," Falo said. "I think I was just thinking too much. I need to just pick a move and stick with it."
Falo would settle for a 37-yard completion on the way to a three-catch, 54-yard game — the best showing of the season for a USC tight end in the passing game. In three games since returning from a hamstring injury that kept him out of the first two games, the promising sophomore from Sacramento has five of the Trojans' 10 total receptions from tight ends this year. Senior Tyler Petite has struggled out of the gate with a few key drops.
Falo believes with more game experience his playmaking instincts will kick in. His teammates agree.
"He's a passing threat, and he's a blocking threat," receiver Tyler Vaughns said. "He's a big dude. He's a very aggressive player in how he runs his routes and how he blocks down field. I think he can really contribute to our team."
Any contribution from the tight ends would be a boon to quarterback JT Daniels, who is still developing his rapport with receivers and could use more check-down options he trusts as he works through his progressions.
With Daniel Imatorbhebhe still out because of a hip injury, Falo is the most likely guy to step into that role.
"He's still relatively a young player who needs the reps," offensive coordinator Tee Martin said. "It was good to see him go out and have a good game against Arizona. He had a good week of practice last week, and we're going to continue to use not only just him but work to get the tight ends the ball in different ways."
Falo expressed urgency to continue to show what he can do when given the opportunity. This week, he will have even more motivation. His older brother, Nu'umotu Falo Jr., is an outside linebacker for Colorado. Josh said the Buffaloes recruited him, but he had to make his own decision.
"It's pretty big," Falo said. "I talk to him almost every day. He's my brother and everything, but once it becomes game time, it's just a whole different world."
Especially when he considers the stakes Saturday.
"This game right here is for first place in the South," he said. "Whoever wins this is going to the Pac-12 championship."
Linebacker health a question
Coach Clay Helton said that inside linebacker Cameron Smith, the team's leading tackler with 47 stops, was pulled from practice Wednesday because of a tight hamstring.
"Just being preventative," Helton said.
Smith sat out a few weeks of fall camp because of a tight hamstring. Helton said that any time it has gotten tight since then they have held Smith out for a day and he has been able to come back strong. USC would rotate freshman Palaie Gaoteote, senior Reuben Peters and junior Jordan Iosefa in place of Smith if he is limited or unable to go Saturday, Helton said.
Outside linebacker Porter Gustin has been nursing a sore ankle since the Arizona game. Gustin said he expects to play Saturday.
"If there was ever a time for an off week it was last week," Helton said. "I don't think he would have been able to play last Saturday, but he looks it now. We'll see where he's at Thursday and Friday and make a decision."
Etc.
Helton said defensive tackle Brandon Pili had a toe stepped on and lost a nail. He had an X-ray to be cautious. … Running back Stephen Carr sat out practice because of a stomach bug. … Center Toa Lobendahn was held out because of back spasms. … Linebacker Levi Jones worked out after sitting out Tuesday because of illness. … Third-string quarterback Jack Sears has lower-back soreness.
Twitter: @BradyMcCollough
Get the latest on L.A.'s teams in the daily Sports Report newsletter.
You may occasionally receive promotional content from the Los Angeles Times.