USC defensive back Jonathan Lockett is finally getting his moment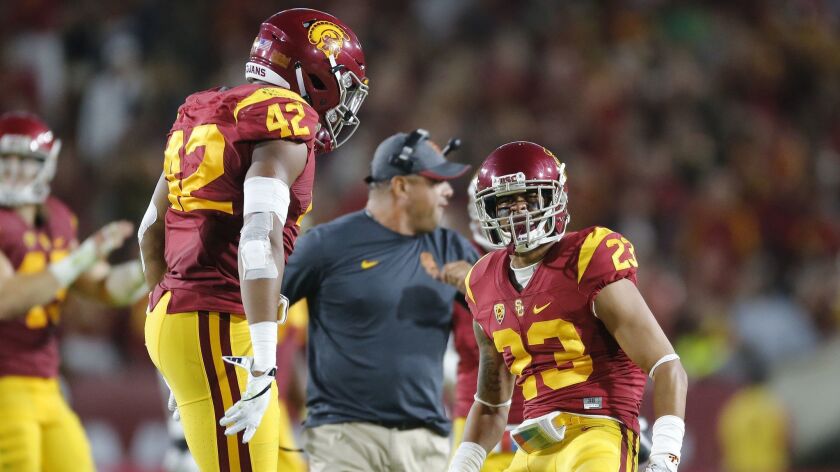 Jonathan Lockett was USC's starting nickel back in 2016. His college career was going exactly as he would have thought as a highly touted recruit out of Santa Ana Mater Dei High until a hip injury in the eighth game of the season set his plans on hold.
Ajene Harris stepped in for him and showed promise. Then Lockett had hip surgery after the season, which kept him out of the entire 2017 campaign, forcing him to redshirt. When Lockett came back healthy for spring practice in 2018, Harris was established in his old role, and the Trojans at that point still had Jack Jones penciled in at the cornerback spot opposite Iman Marshall.
Given today's climate in college football regarding graduate transfers, Lockett had people around him that weren't shy about encouraging him to pursue other options before choosing to play his senior season for the Trojans.
"I'm a competitor, and it's SC," Lockett said. "I don't want to leave this place. People were in my ear, transfer here, transfer there, but I didn't want to do that. I wanted to stay here and grind it out and hopefully when my time comes I would be ready."
Lockett played sparingly during the Trojans' first seven games. USC defensive coordinator Clancy Pendergast said that he prefers continuity in his defensive backfield and it was hard to take Harris off the field. But with Harris moving to safety because of injuries to Marvell Tell before the Arizona State game and Talanoa Hufanga before the Oregon State game, Lockett got his shot to return as starting nickel.
This week, with Marshall questionable for Saturday because of a sprained foot and sprained ankle and Olaijah Griffin still not guaranteed to play with his shoulder injury, Lockett could spend time on the outside at the starting cornerback spot opposite Isaiah Langley. At minimum, he'll start his third straight game at the nickel and provide depth at corner when USC plays with four defensive backs.
"It was tough being on the sideline, coming from being a starter," Lockett said. "But that's how things worked out. I'm just excited to be in this moment right now. It's my senior season so I'm happy to be out there for my last couple games."
As a fifth-year senior, Lockett has been around so long that Pendergast watched him play in high school in 2013 during his previous stint as USC's defensive coordinator.
"I thought he was a really talented player at Mater Dei," Pendergast said.
Pendergast said he wishes he could have gotten Lockett more repetitions earlier this season to help him begin to shake off the rust of the last two years.
"I just told him to be patient," Pendergast said. "He's been the consummate pro in the defensive back room. It's nice seeing him out there. He's getting caught up to the speed of the game. Anybody, particularly him, the more he plays the better he's going to get."
Stepp gets chance
With tailback Stephen Carr probably out for a few weeks with a high ankle sprain, USC coach Clay Helton said that true freshman Markese Stepp will function as a third running back.
Stepp could be in line for his first college carry at some point during the next two games against California and UCLA. Because of the NCAA rule change that allows a player to play in up to four games without losing a redshirt, Stepp can play in two more games this season and keep his redshirt, Helton said.
Stepp, a big, bruising back, could bring a different element if used.
"Two hundred thirty pounds of grown man," Helton said. "I was doing some running back individual drills with him locking up a push-pull drill, and my arms are about as bruised as you can get right now. When he grabs hold of you, he's a bull."
Etc.
Helton said right tackle Chuma Edoga was limited Wednesday with a sore knee but will play Saturday. … Helton feels good about the availability of Griffin but has to wait until the end of the week to be certain. … Helton said that sophomore wide receiver Randal Grimes will redshirt this season and is purely focusing on academics.
Twitter: @BradyMcCollough
---
Get the latest on L.A.'s teams in the daily Sports Report newsletter.
You may occasionally receive promotional content from the Los Angeles Times.