USC's Michael Pittman Jr. gives Trojans fans something to hope for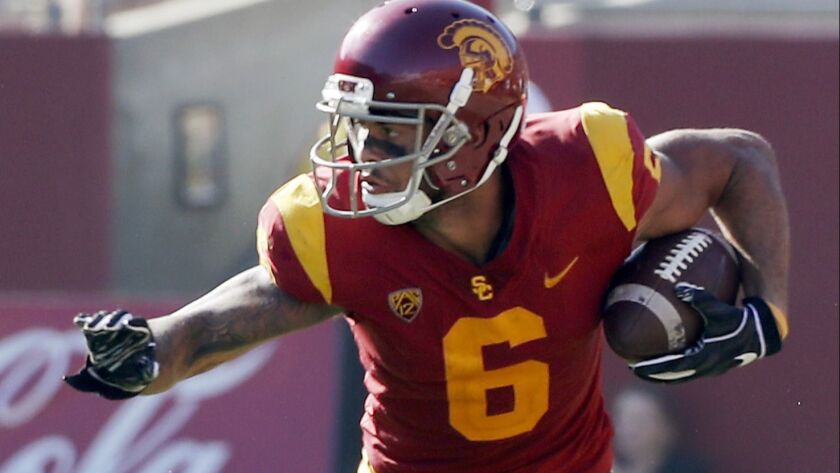 With so much uncertainty hanging over the future of the USC football program, any bit of positive news is welcome to the Trojans and their frustrated fan base.
Michael Pittman Jr. tried to do his part after practice Tuesday. Pittman, a junior wide receiver, would not fully commit to returning for his senior season, but he made it abundantly clear that is the most likely scenario.
Pittman, who leads USC with 667 receiving yards and six touchdown catches, seemed surprised that he was being asked about entering the NFL draft after this season.
"I kind of appreciate that everyone thinks I'm playing that well," he said, "but I have a lot more left here. If I get a good evaluation, that might make me look at it, but if I had to make a decision right now, it would be easy."
The Los Angeles Times interviewed two NFL scouts last week who requested to remain anonymous. Each scout said Pittman would benefit from another year in college.
Pittman already has goals for what he would want to accomplish with his senior season.
"I just feel like I could raise my stock so much higher than what it is now," he said. "And then I want to be a captain here. I want to get my name on the board with the guys in that room. I want to solidify myself in this school so that people can remember my name and when they think of USC, they think Michael Pittman, Marqise Lee, Robert Woods, JuJu [Smith-Schuster], like those guys."
USC coach Clay Helton said he would meet with the Trojans who are eligible to declare early for the draft and have displayed the capability to play at the next level after the Notre Dame game. Schools can ask the NFL for information as soon as their regular season is complete. Helton said 10 players from last year's team asked for information. He doubts it will be such a high number this season.
"I've talked with Pitt a little bit," Helton said. "You are talking about a special individual that I think is just starting to tap into his potential. He's a kid that is learning the position, was a two-way player in high school and is really a kid that reminds me of a JuJu, a kid that has a defensive mentality, that has just unbelievable explosiveness and an ability to garner the ball. He's a kid that in another year is going to be well on his way to being something truly special on Sundays."
Pittman wants to be a captain next season, and USC will have four spots open with Cameron Smith, Porter Gustin, Marvell Tell III and Toa Lobendahn graduating.
Pittman said he prefers to lead by example, but he was outspoken in support of Helton last week and was again Tuesday.
"He can't play the game for us," Pittman said. "I just see a man that is up there, like, he goes home once a week for seven hours to see his wife and then he's back. I see a man who is busting his tail. I feel like us as players, we just got to want it more. We just have to get after it harder. I feel like it's what it comes down to. He's the most fired-up person on this whole team, and we just have to change that."
Olson honored
USC long snapper Jake Olson was awarded the Walter Camp Football Foundation "Award of Perseverance" on Tuesday.
Olson, a redshirt junior, was born with retinoblastoma, a cancer of the retina. He lost his left eye when he was 10 months old and, despite numerous procedures, he had his right eye removed when he was 12 in 2009.
After long-snapping in high school, he received a scholarship in 2015 to attend USC from Swim With Mike's Physically Challenged Athletes Scholarship Fund.
In the 2017 season opener against Western Michigan, he got into the game to snap the final point after touchdown and did so again against Oregon State. This season Olson snapped a PAT in the opener against Nevada Las Vegas.
Etc.
Injuries: Defensive linemen Jake Lichtenstein (shoulder, held out of practice) and Jay Tufele (foot and ankle sprain, practiced), linebacker John Houston (hamstring strain, held out), tailback Aca'Cedric Ware (shoulder, practiced), tight end Josh Falo (knee, limited), receiver Trevon Sidney (illness, held out), offensive lineman Alijah Vera-Tucker (knee, practiced). … Cornerback Greg Johnson will have shoulder surgery that will end his season. … Offensive tackle Chuma Edoga (knee) returned to practice after missing two games.
Twitter: @BradyMcCollough
---
Get the latest on L.A.'s teams in the daily Sports Report newsletter.
You may occasionally receive promotional content from the Los Angeles Times.