USC Coach Steve Sarkisian, called 'not healthy', placed on indefinite leave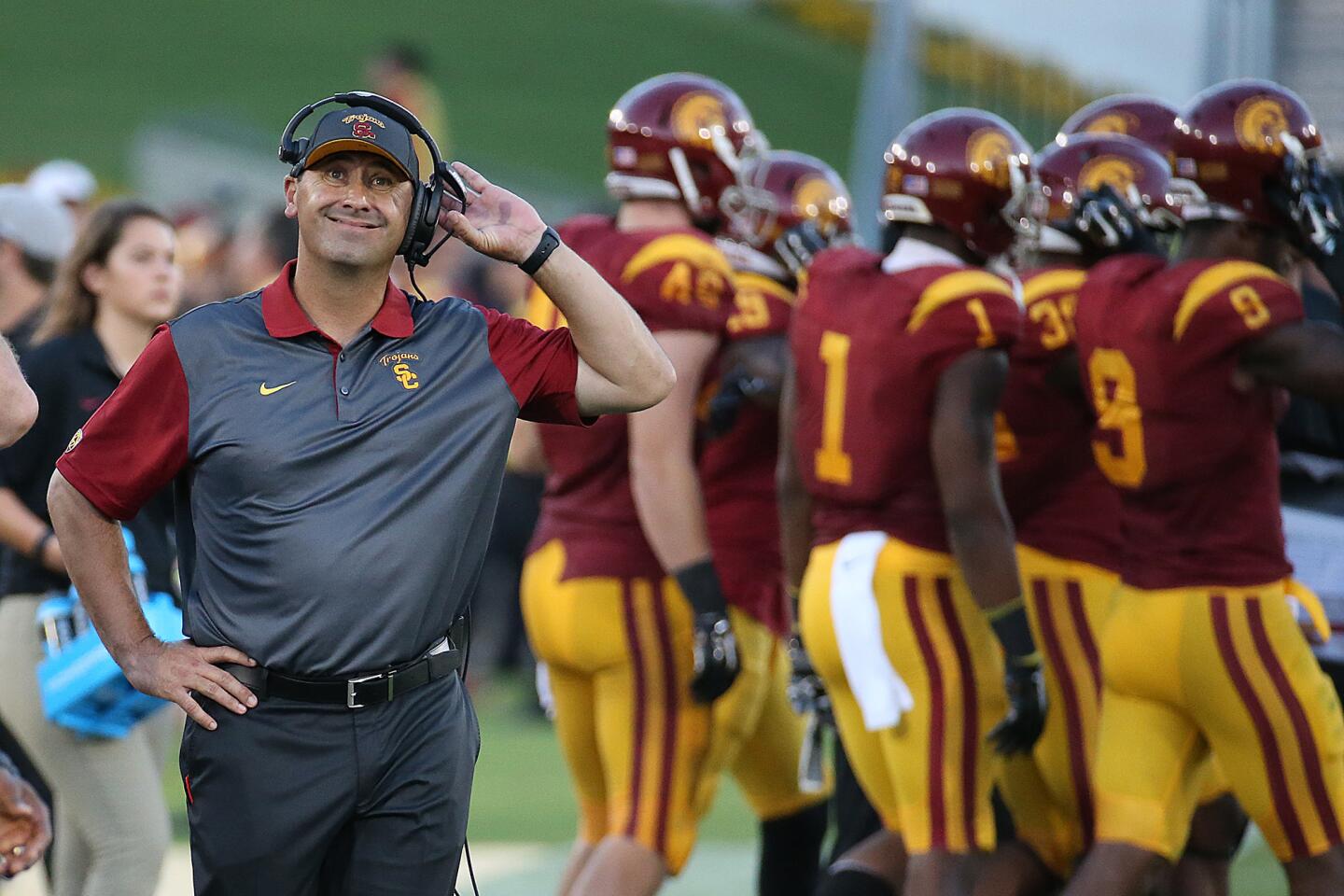 USC Coach Steve Sarkisian looks at the scoreboard after Stanford scored a touchdown on Sept. 19, 2015.
(Robert Gauthier / Los Angeles Times)
USC football Coach Steve Sarkisian addressing the media on Aug. 25, 2015, about his behavior and language during a booster event on campus days earlier.
(Al Seib / Los Angeles Times)
USC football head Coach Steve Sarkisian looks on during action against Utah at Rice-Eccles Stadium.
(Robert Gauthier / Los Angeles Times)
USC Coach Steve Sarkisian leads practice at Howard Jones Field.
(Robert Gauthier / Los Angeles Times)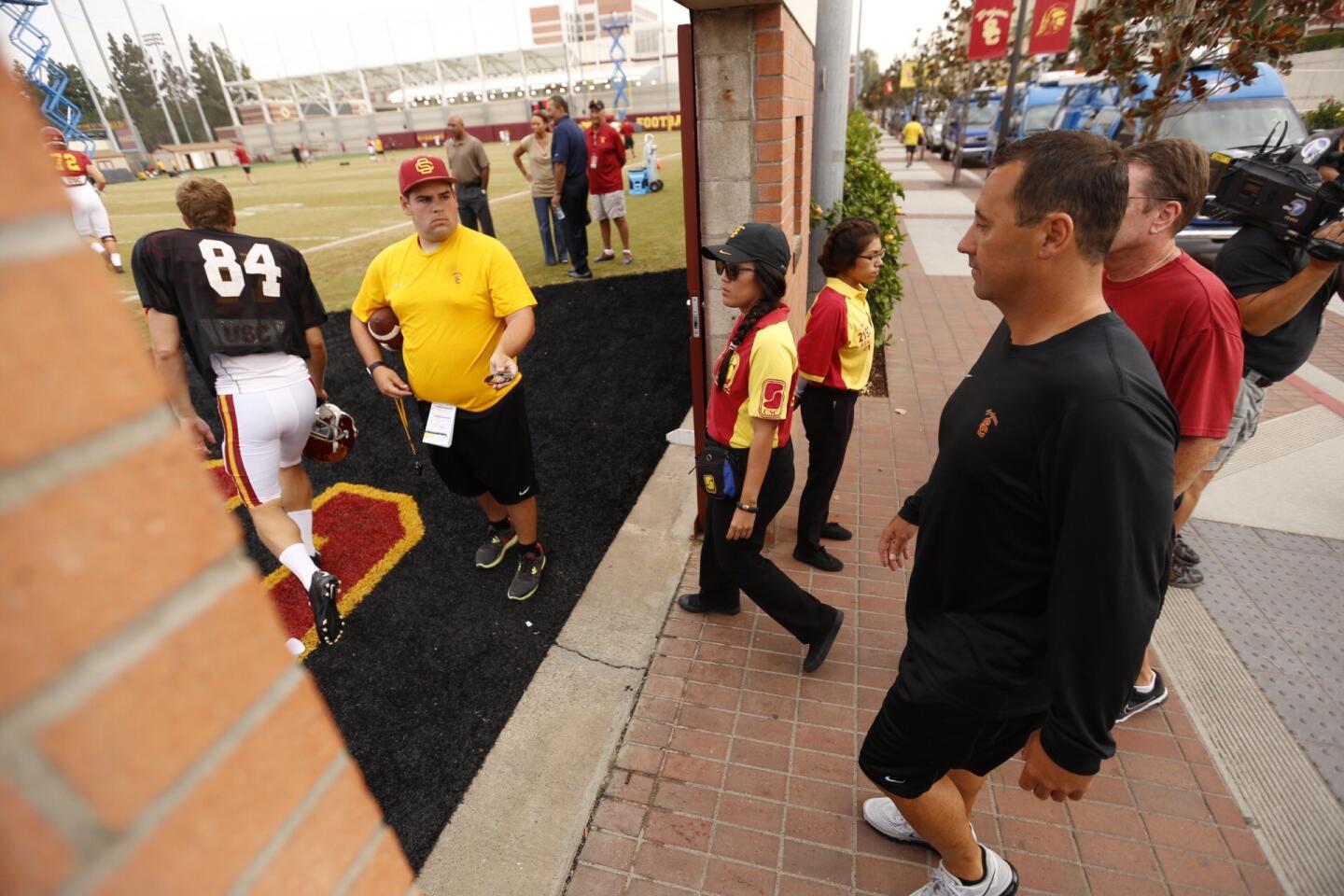 USC football Coach Steve Sarkisian takes to the practice field after addressing the media about his behavior and language during a booster event days earlier.
(Al Seib / Los Angeles Times)
USC football Coach Steve Sarkisian addresses the media on Aug. 25, 2015, about his behavior and language during a booster event on campus days earlier
(Al Seib / Los Angeles Times)
USC Coach Steve Sarkisian watches his Trojans squad warm-up before the game against Idaho on Sept. 12, 2015.
(Luis Sinco / Los Angeles Times)
Football Coach Steve Sarkisian, who has been under scrutiny since August for his sometimes erratic behavior, was put on indefinite leave Sunday, once again throwing USC's powerful program into turmoil.
Athletic Director Pat Haden announced the move, saying he made the decision after calling Sarkisian when the coach failed to show up for a midday practice.
"It was very clear to me that he is not healthy," Haden said of the conversation. "I asked him to take an indefinite leave of absence."
Get the latest in sports with our free newsletter >>
The workout, in preparation for USC's game Saturday against Notre Dame, was the Trojans' first since Thursday's 17-12 upset loss to the University of Washington. USC, which started the season ranked eighth in the nation in the Associated Press media poll and as the favorite to win the Pac-12 Conference championship, dropped out of the rankings as a result.
Sarkisian coached at Washington for five seasons before USC hired him to replace the fired Lane Kiffin. He took responsibility for the loss, saying he and his staff had not coached well enough.
On Sunday, Sarkisian presided over an 11 a.m. team meeting, but he was not on the field for a 12:30 p.m. workout. Haden, who was on campus at a basketball event, called Sarkisian after learning he wasn't at practice, he said.
Haden, speaking Sunday afternoon following practice, did not reveal details about the conversation, and he did not take questions from reporters. Attempts to reach Sarkisian were unsuccessful.
Offensive coordinator Clay Helton has been named interim coach — his second such temporary assignment since Kiffin was fired during USC's 2013 season.
On Sunday, about 45 minutes into practice, J.K. McKay, a senior associate athletic director, arrived at the facility. Haden then arrived, followed by Steve Lopes, USC's chief operating officer. The officials huddled on the field.
When practice ended, Helton instructed players to return to the McKay Center for a team meeting.
Haden told players that Sarkisian would be taking a "temporary leave of absence and Coach Helton will be our interim head coach," said a player who spoke on condition of anonymity because of the sensitivity of the situation.
Another player said that Sarkisian "just didn't seem right" during the meeting before Sunday's workout.
Others close to the program said the coach had also not seemed himself during a game two weeks ago, when USC defeated Arizona State.
Less than two weeks before USC's season started, Sarkisian's behavior drew scrutiny at the annual "Salute to Troy" event. When Sarkisian spoke to the gathered Trojans faithful on Aug. 22, he slurred his words, insulted several opposing teams and shouted an expletive before the rallying phrase "Fight On!"
Sarkisian appeared to be intoxicated, witnesses said. The event was closed to the media.
A day later, Sarkisian issued an apology on USC's athletic department website, which also carried a statement by Haden.
"Pat Haden talked to me after the event about my actions and I assured him this will not happen again," Sarkisian said.
Said Haden: "I am confident he heard my message loud and clear."
The following day, Sarkisian held a news conference and said the incident was the result of him mixing alcohol — "not much" — with medication he did not specify. He said he would seek counseling to see if he had a drinking problem.
Haden, citing privacy issues, has declined to offer specifics. In a September interview with The Times, he said, "He understands he let us all down. It isn't the Steve Sarkisian I've known for a long time or certainly the guy I hired. ... The counseling he's gone through, from what I've heard — I don't talk to counselors — but what he's told me [is] he feels like it's gone well for him. And I think that's kind of where we are."
Haden's decision not to discipline Sarkisian after the August incident drew criticism. It continued Sunday.
Former USC linebacker Riki Ellison said in an email that the situation involving Sarkisian, and Haden's handling of it, was "an embarrassment to our University, our legacy, our tradition, our history, our players, our student athletes, our alumni. Inexcusable and complete inability to lead, let alone lead young men from the University of Southern California or any from any University, high school or professional organization.
"Both are responsible, both need to have consequences and both should not be representing the University of Southern California. People responsible for the hiring and for the continuation of their employment need to have consequences."
The situation involving Sarkisian had an immediate negative impact on recruiting, which is regarded as one of his strengths.
Linebacker Daelin Hayes, a linebacker from Michigan who last month signed a non-binding financial-aid agreement with the Trojans, announced on Twitter that he was reopening his recruitment.
Trevon Sidney, a senior receiver from La Puente Bishop Amat High, said the situation involving Sarkisian did not affect his verbal commitment to USC.
"He is going through a lot right now, so I think it's just time for him to settle down and just get it together," Sidney said.
Students on campus offered differing opinions about Sarkisian's leave of absence.
"I was happy to hear it at first, to be honest, because based on what I've seen the last two games, I feel like most of our faults come from coaching errors," said Brian Powers, a freshman majoring in biomechanical engineering.
Osagie Ero, a sophomore in computer science, cited Sarkisian's health.
"I'm concerned for his well-being as a fellow Trojan," he said. "But I just wish he didn't have to step down."
Helton, the interim coach, is no stranger to strange circumstances.
In 2013, after Kiffin was fired, Ed Orgeron was named interim coach. When Haden announced he was hiring Sarkisian as Kiffin's permanent replacement, Orgeron left the program and Helton took over as interim coach, leading the Trojans to a victory over Fresno State in the Las Vegas Bowl to complete a 10-4 season.
USC has had four head coaches since Pete Carroll left after the 2009 season. The Trojans enjoyed unprecedented success under Carroll but have not maintained those heights since USC was struck by NCAA penalties that were a product of that era. Kiffin and Sarkisian are both Carroll proteges.
"Fortunately, or unfortunately, I've been in this situation before," Helton said, adding, "We'll take the approach as we did the last time we were in this. It's all about the kids, and it's all about the Trojan family."
A USC player who asked not to be identified predicted older, more experienced Trojans players would not be affected by the coaching change.
"We've been in this exact position before with Coach Helton," he said. "The locker room mood is shocked, obviously. But the locker room is focused on what we can kind of make this season into. Like the older guys were saying, this season could be a complete disaster, or turn into an epic run like we had in 2013."
Gary Klein tweets @LATimesKlein, follow Lindsey Thiry on Twitter @LindseyThiry
Times staff writer Alex Shultz contributed to this report. Thiry is a Times correspondent.
MORE USC
USC gets 'back to the drawing board' ahead of Notre Dame game
USC loses second in a row at home, this time to Washington, 17-12
Coach Steve Sarkisian says of USC football team: 'We're going to be OK'
Get the latest on L.A.'s teams in the daily Sports Report newsletter.
You may occasionally receive promotional content from the Los Angeles Times.