Setting a higher standard is USC coach Clay Helton's goal on first day of spring practice
USC football coach Clay Helton talks about heading into the 2019 season.
On the first day of his second life as USC's football coach, the new Clay Helton wore all black. Ominous dark gray clouds shielded the sun for most of the afternoon at Howard Jones Field, befitting of the man's mood. Practices for the Trojans used to be bright and blessed affairs, and Helton made sure everybody knew it.
"Happy Tuesday," he'd say routinely to visitors.
Tuesday was not going to be happy, at least not in the same old syrupy way. That much was made clear during the special-teams period of practice, a time that once functioned more like a break for many of the Trojans.
Helton was glued to a punt-coverage drill that featured five players sprinting down the field to mimic the decision-making process involved with downing the ball or forcing a fair catch. Officials were present, as they will be for all of USC's 15 spring practices, and Helton was yelling deep from his gut to remind the Trojans this was important.
Ben Griffiths' punt sailed toward the right sideline, and Jack Webster, a redshirt sophomore walk-on, interfered with the catch. An official tossed a flag, and Helton ran toward Webster. He pulled the player over to the sideline and ordered him to complete a set of up-downs — perhaps a sign that no USC player is too small or too big to be held accountable.
When Webster completed his set, Helton put his hands on his helmet and gave him a pat for encouragement. He made the same move moments later with junior running back Stephen Carr, who had just misjudged the fielding of a punt. Carr did not have to perform up-downs because he did not commit a penalty or turn the ball over, but Helton gave him personal instruction.
"Just being able to let them know that we are setting a standard," Helton said, "and that standard is the only thing we will accept. Anything less I'll address with you immediately. As soon as a yellow flag is [thrown], that player is out and he will suffer the repercussions of what it means to make a mistake whether it's pre-snap, post-snap or in between."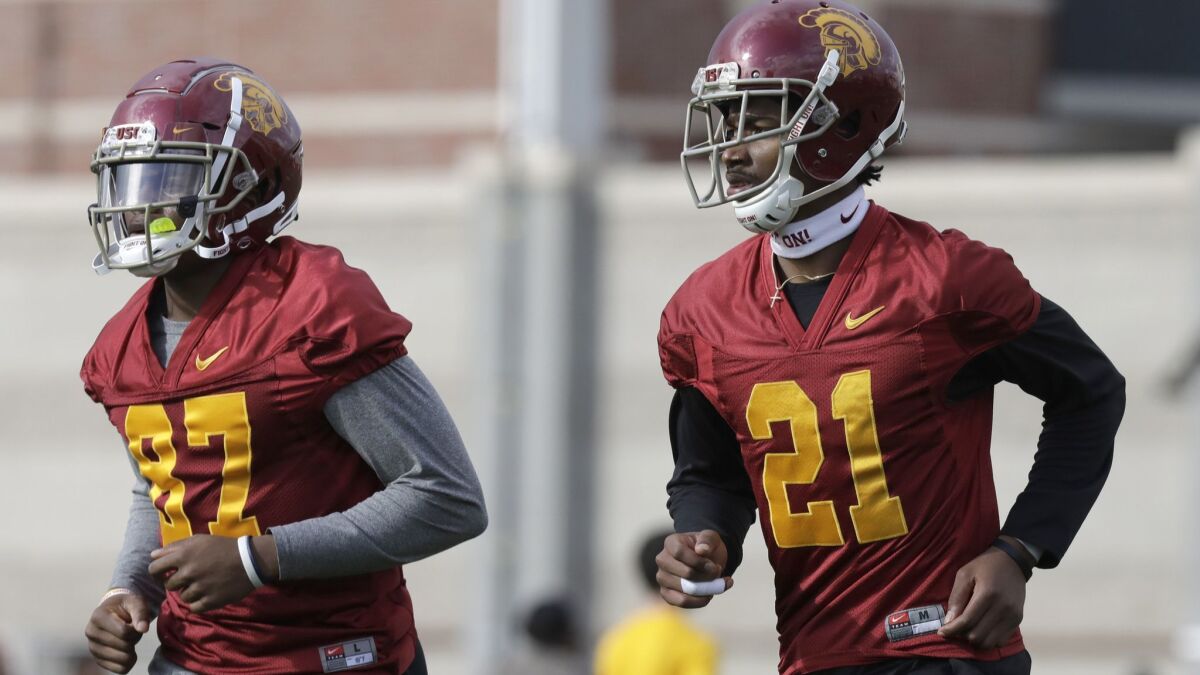 This was what Helton meant during the offseason by coaching the "discipline of the game." He acknowledged Tuesday that also meant challenging himself to be disciplined, stepping away from installing offensive schemes and game planning and trusting his coordinators to adequately perform their jobs.
Helton brought in offensive coordinator Graham Harrell because he wanted a coach who could demystify the USC offense. Helton revealed Tuesday that, while choosing to keep defensive coordinator Clancy Pendergast, he asked for a less complex plan on that side of the ball too.
"We created simple, effective schemes to allow our kids to play faster," Helton said. "I want us to focus more on the fundamentals and techniques of the game because I think we're as talented as anybody that we'll play next year or at least equivalent if not better. As you saw today, a lot more emphasis was on our individual drills, almost 45 minutes of individual drill work before we got into our team work."
The Trojans, coming off the program's first losing season since 2000, were ready to move on from a 5-7 campaign and an offseason that has felt just as long as the season.
"Offseason is rough, man," senior wide receiver Michael Pittman Jr. said. "It's been rough. We hear and see everything that's been said, and we're just ready to prove everybody that was saying the bad stuff wrong."
Said senior inside linebacker John Houston Jr., "Twitter and social media is a lot of fake news sometimes, and you may get a misperception. All we've got to do is stay focused on what we've got in this building and the sky is the limit."
Players say they are putting more emphasis on accountability among themselves and depending less on the coaches to discipline them. Yet, they took notice of Helton's demeanor Tuesday as he took numerous players out of practice for up-downs.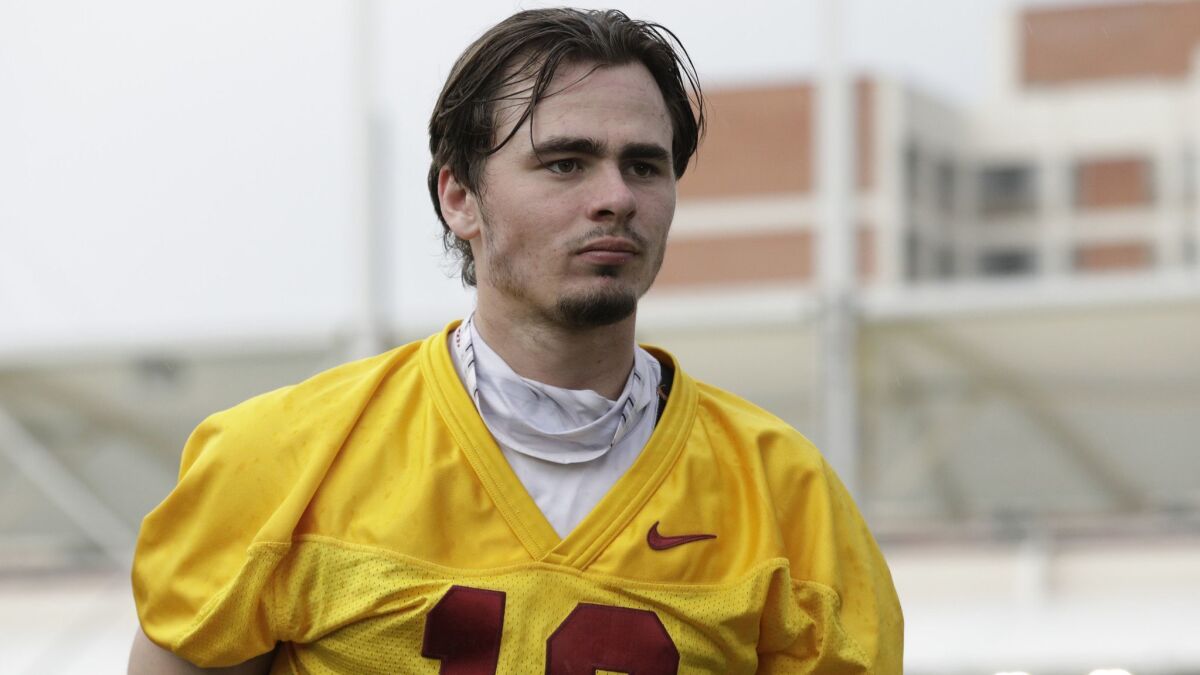 "When he pulls guys out for making a mistake, that's something we're not used to," sophomore safety Talanoa Hufanga said. "If a guy made a mistake last year, we'd just leave him in and continue to keep going. But for him to take guys out and punish them, it's going to help us make smarter choices day in and day out."
Helton said Tuesday would be the last time he would address 2018. He felt as though he had to be forceful about that point, because he has sprung forward to 2019, a season that will be defined by his ability to improve a failed culture that he helped create.
"It will be about competition," Helton said. "I don't want any player on this football team to feel comfortable with his position. He's always fighting for a job. So every Friday, I will release a two-deep, and whoever is playing the best at that moment will step out there first on Saturdays."
Sign up for our daily sports newsletter »
Etc.
Helton said he plans to tell his quarterbacks where they stand after spring practice, but the situation will remain fluid with each Friday depth chart release during the season. … Helton said that sophomore cornerback Olaijah Griffin is still recovering from offseason shoulder surgery and is likely to miss spring practice. Safeties Hufanga and redshirt sophomore Isaiah Pola-Mao are also recovering from surgeries and are likely to remain in noncontact mode. … Senior linebacker Jordan Iosefa has moved inside in place of Cameron Smith, while sophomore Palaie Gaoteote IV is practicing on the outside. … Helton announced that Aaron Ausmus, who was a part of USC's strength and conditioning staff under Pete Carroll and returned as head strength and conditioning coach in 2010, has been hired as head strength and conditioning coach again. He replaces Ivan Lewis, who left to join Carroll with the Seattle Seahawks.
Twitter: @BradyMcCollough
---
Get the latest on L.A.'s teams in the daily Sports Report newsletter.
You may occasionally receive promotional content from the Los Angeles Times.