St. Brown brothers prepare for some on-field combat in USC-Stanford game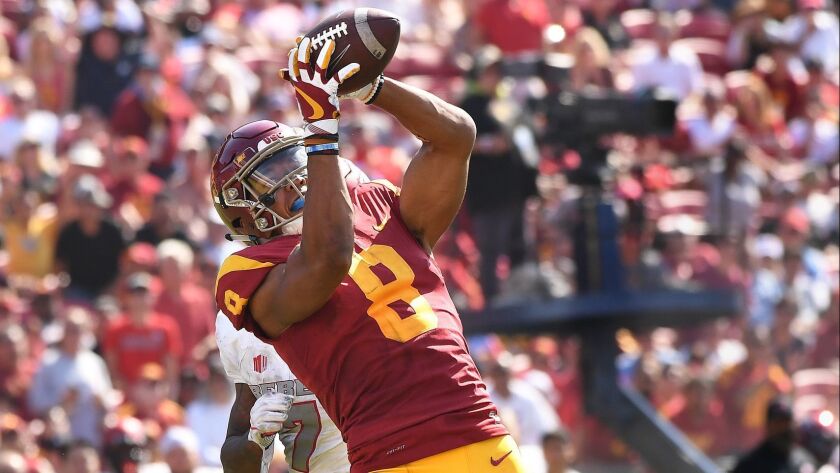 With their season opener on a Friday night, the Stanford Cardinal had the chance to sit down the next day and watch USC's game against Nevada Las Vegas for some live early scouting. For one Stanford player, that task was a little more complicated.
When JT Daniels hit Amon-ra St. Brown for a 43-yard touchdown pass in the fourth quarter, Osiris St. Brown found himself pumping his fist with pride. There was Daniels, who had tossed him 19 touchdowns in Osiris' senior season at Santa Ana Mater Dei High, connecting with Amon-ra, his younger brother by one year, for their first college touchdown pass and reception, respectively.
"It was just vintage high school Amon-ra and JT," Osiris said. "Vintage."
While his Cardinal teammates may have felt unease seeing the well-executed play by the rookie Trojans, Osiris, the Stanford redshirt freshman wide receiver, felt genuine happiness. Then, reality set back in.
"I'm like, 'All right, now we gotta go against these guys next week,' " he said.
By Sunday, Osiris and Amon-ra were catching up as they usually do, by remotely hooking up via the Xbox video game "Fortnite." The brothers don't call each other to talk anymore. Why would they, when they can put on their headsets and chat while engaging in virtual combat meant to test each other's survival instincts?
It seems the popular game must have been invented for kids just like the St. Browns, who live for competition. Their father, John Brown, is a former Mr. Universe who raised them and their older brother, Equanimeous St. Brown, to be metaphorical killers in the forum of football. Brown had them lifting weights in their elementary school years and stressed over every calorie that did not make it into their bodies. Work was entered into the boys' DNA as a source of fun, and the point of waking up in the morning was to grind.
John Brown basically created a new normal for his sons.
"I didn't know it was different until I started hanging out with other kids," Osiris said. "At the same time, it did set us apart from our peers."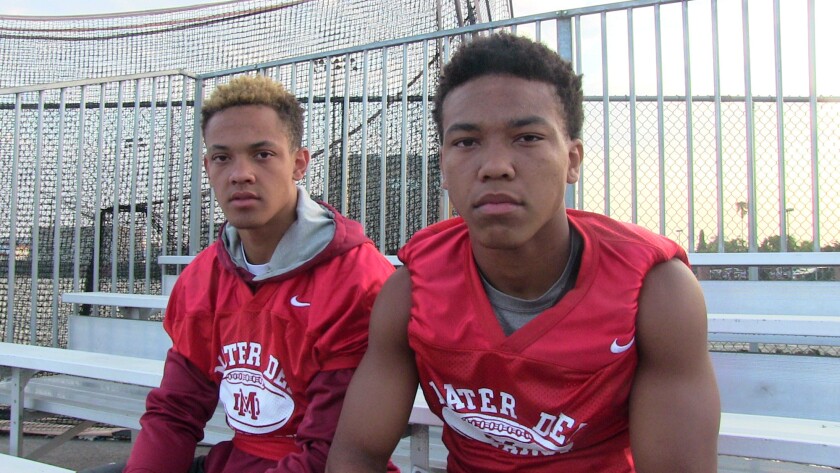 It will be a busy fall for John and his wife, Miriam.
Last weekend, they traveled to Palo Alto for Stanford's 31-10 victory over San Diego State, in which Osiris caught his first college pass. That felt extra big because he missed last season dealing with a lingering issue with his toe, which required multiple surgeries, and there was some doubt as to whether he would be able to play again. Saturday morning, the parents flew back to Los Angeles and headed straight for the Coliseum, where Amon-ra set a USC first-game record with 98 yards on seven catches. Later, John and Miriam found out that Equanimeous, a Green Bay Packers rookie receiver, had made the team out of camp.
"Last week was probably the highlight of my life other than them being born," John Brown said. "Because I got to see Osiris run, which was a big thing. I wanted to see him run like he used to run. I didn't know if his foot was career-ending. I saw him run, and I thought, 'Thank God.' Then I saw Amon debut, had a great game. And my other son made the 53-man roster. So that was a great weekend."
Brown has always imagined it this way — Equanimeous in the NFL, Osiris and Amon-ra poised to become dominant college receivers. During the summer, in an interview with the Los Angeles Times, Brown predicted that Daniels and Amon-ra would be immediate stars at USC. Yet, now that Brown's vision is playing out in real time, the whole thing still feels like a dream.
"It's surreal," Brown said. "Even though you plan for it, it's another thing to witness it. The hard part is to be in the middle of it and to enjoy it. I live vicariously through other people as they talk about how amazing they are. Then, I can kind of see it. But it's like being in the eye of a tornado; you don't see it well."
To be a St. Brown — John added the saint to their surnames to help them stand out — is to be perpetually living with tunnel vision.
Reached by the Times on Wednesday, Equanimeous had just come out of a meeting with the Packers. He swore he did not know his brothers were playing against each other Saturday.
"It's news to me," he said. "I don't really care which team wins. I'm a Notre Dame guy. I hope they have good games and are satisfied with their performance."
Amon-ra's tunnel kept him from knowing he had broken a USC record against UNLV until a reporter asked him about it Tuesday. He was aware, however, that the Trojans were playing the Cardinal this weekend.
"I've never really played against him I don't think ever in football," Amon-ra said. "To go against my brother is going to be pretty fun. I'm not literally going against him because we're both on offense."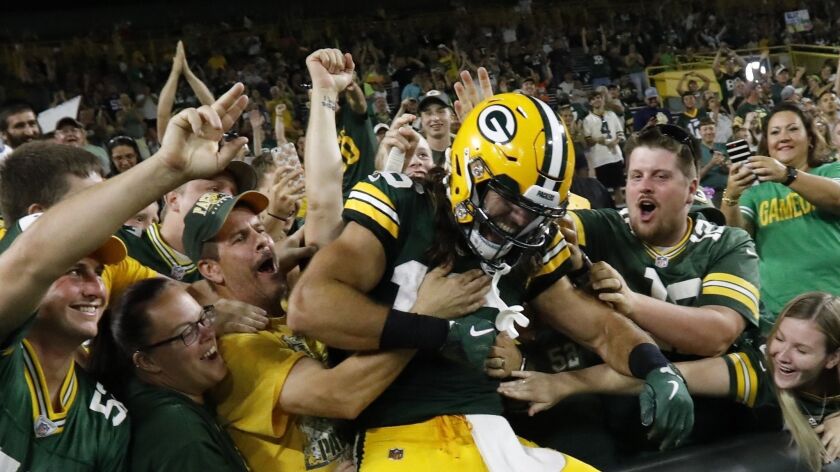 Equanimeous did not watch Amon-ra's first touchdown live because he was at the Notre Dame-Michigan game. He saw highlights, though, none of which were surprising to him, knowing the chemistry his brother has with Daniels.
Equanimeous has been so busy with game prep this week that he hasn't been able to join Osiris and Amon-ra on "Fortnite." He offered this advice for Amon-ra from Wisconsin: "Never forget what got you to where you're at. Keep on that training, keep on that path that got you that far. Don't lose your way, don't get distracted."
College football fans now know what Equanimeous and Amon-ra are capable of. Osiris waits more patiently for his star turn than his father.
Brown, the extremely extroverted dad of three introverts, does not hesitate to air his feelings. And, entering Saturday's top-20 showdown, he would like Stanford coach David Shaw to call Osiris' number more often.
"Let him show the world what he can do," Brown said. "For me, my two [younger] sons are almost like twins in terms of their ability to play football. I want the world to see that. He's the middle child. He's suffering from middle child syndrome. Trust me, it is a real thing. They always overlook him, but I'm telling you, this kid is unbelievable."
Osiris is currently backing up Stanford senior receiver JJ Arcega-Whiteside, who torched San Diego State for 226 yards and three touchdowns last week. Osiris said he could line up in the slot against USC too.
"I can't wait," Osiris said. "Once it comes, I have to seize it."
John and Miriam Brown's plan is to root for both offenses Saturday. John expects to alternate his USC and Stanford caps depending on who has the ball. Or maybe he'll wear a USC shirt and a Stanford hat.
"Either way," he said, "I'm a winner."
Etc.
USC starting center Toa Lobendahn practiced for the second straight day after missing the opener with a pectoral strain. Coach Clay Helton said "he's looking good to go right now." … Helton said defensive tackle Brandon Pili has a wrist injury and is questionable for Stanford.
Twitter: @BradyMcCollough
---
Get the latest on L.A.'s teams in the daily Sports Report newsletter.
You may occasionally receive promotional content from the Los Angeles Times.