Meet 'the LaVar Ball of college football', whose youngest son is determined to live up to the hype at USC
Amon-ra St. Brown sits in the backseat, silently flipping through his iPhone and waiting for his turn to control the music. His father makes the rules, and if he's driving, which John Brown often is, then he's sure as heck going to torture the kid while he still can.
So, Foreigner's greatest hits it is.
As John directs the family's black SUV north from Anaheim to Los Angeles, he has no problem conjuring the falsetto required for "Hot Blooded."
I feel a fever burning inside me …
John has been thinking about this moment for weeks, what it would feel like. Now that it is here, he tries to keep the mood light.
"USC!" he says. "Last one. … Oh my God, this is crazy."
Move-in day for the Trojans' highly touted freshman class awaits at the end of this drive. The anticipation grows when word reaches Amon-ra, a five-star wide receiver out of Santa Ana Mater Dei High, that Julio Jones and Terrell Owens are working out at USC's practice field on this Friday morning in June. Hopefully, Amon-ra will get a chance to meet them and get some pointers.
"How old is Julio?" John inquires about the Atlanta Falcons star receiver.
Amon-ra Googles.
"29," he says.
"Antonio Brown?"
"29."
"Dez Bryant?"
"29."
"A.J. Green?"
"29."
John is on to something.
"I didn't know those guys were close to 30," he says. "They need a new wave of young wide receivers."
There's Equanimeous St. Brown, his first son, who left Notre Dame a year early this spring, only to be drafted later than expected — the sixth round — by the Green Bay Packers. There's Osiris St. Brown, his middle son, who just redshirted his first year at Stanford. And then there's Amon-ra.
He could play in the NFL right now.
— John Brown on Amon-ra St. Brown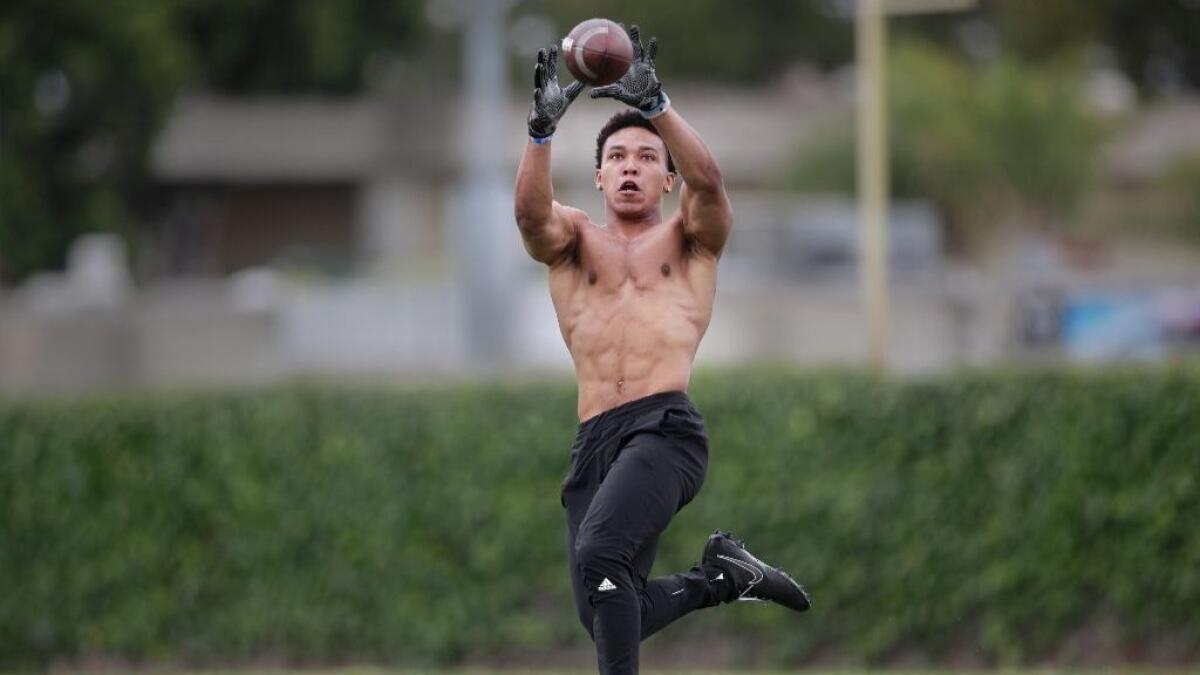 Privately, John says Amon-ra "could play in the NFL right now." But in the car, with him in earshot, John sings a different tune.
"I'm going to request Coach [Clay] Helton put his butt at the bottom of the charts and see what he's made of," John says. "Make him fight. Sharpen the knife."
During his sons' collective ascent in the recruiting rankings — the charts that matter most until they step on a college campus — it has been an all-too-natural reaction to compare John Brown to another Southern California father of three basketball players. "The LaVar Ball of College Football" is a label that stuck.
John gets it. Like LaVar, he wants fame for his boys. He wants them to stand out. That's why he added the "St." to their surnames. That's why he named the first son Equanimeous — the name John always had been so boring to him. And that's why he named Osiris and Amon-ra after Egyptian gods.
The LaVar Ball comparison makes for a catchy headline, but John Brown is his own phenomenon. Before LaVar could have imagined being the world's most notorious basketball dad, John was busy working his way out of Compton and onto the global stage as a bodybuilder. In the 1980s, a Jheri-curled John sculpted himself into a two-time "Mr. Universe" and three-time "Mr. World."
He didn't need to move his sons to Lithuania to make them worldly. He married Miriam, a native of Germany, and raised them in a bilingual household in which both parents demanded A-plusses.
"They are where they are because of John and his dedication to them," Miriam says.
This is John's first time doing what may end up being the hardest part of the job: saying good-bye after 18 years. Miriam took Equanimeous to South Bend, Ind., and Osiris to Palo Alto for their move-in days. Each time, John stayed back with Amon-ra, muting his emotions into the daily grind of their push toward greatness.
Now, it is Amon-ra's time. With the car barreling up Interstate 110, he has taken control of the music. He settles on Jason Derulo's "Colors." Amon-ra comes alive, singing and grooving to the pop beat. Like his dad, he can hit all the notes.
Look how far we've come …
John doesn't like the music. But he likes that he can listen to his son sing, if only for a little longer.
"I'm going to go home," John says, "and he's not going to be there."
::
John Brown stands in the kitchen of the family's Anaheim townhome on an afternoon in May, drawing three circles of increasing size on a sheet of white paper. There are a few weeks left until move-in day, and he's in the middle of a sermon Amon-ra knows very well.
"I can teach anybody to do anything and be the best in the world," John tells a visitor, "because I know what the work looks like."
He points at the smallest circle.
"Does it look like that?" he asks, moving to the middle circle. "Or does it look like that? You may think, 'Oh, we worked hard,' but you don't know."
John operates in the biggest circle, and Amon-ra, more so than his older brothers, best illustrates the results. He's been in the program the longest just by proximity. He started lifting weights earlier, bench pressing 135 pounds routinely by 8 years old.
I want to win the Heisman. All three years.
— Amon-ra St. Brown
He attended seven-on-seven workouts when he was in sixth grade. By the time Amon-ra was a coveted prospect, terrorizing defensive backs all over Orange County, he had been watching the recruiting process unfold with his brothers for three years.
"He's serious about everything," John says.
Ask Amon-ra what his goals are for his first year with the Trojans. With an unblinking, straight stare he will tell you, "I want to win the Heisman. All three years."
He is serious.
"He never played with toys," Miriam says. "Never. No cars, no Legos, no action figures, nothing. He didn't even watch TV. Today, he doesn't watch TV unless it's sports. He goes to the movies, and he falls asleep."
John can take only so much credit with Amon-ra. The young man's tendency toward obsession was innate. Now, it's the 18-year-old who looks more like Mr. Universe — a tightly-bundled powder keg built for high performance.
On this afternoon, John is performing his primary role as Amon-ra's personal chef. He prepares their standard meal: spaghetti with ground beef, tomato sauce and ketchup. To drink, a Kool-Aid fruit punch from a packet. To supplement, a blended peanut butter smoothie with John's personal protein mix he is now packaging and actively marketing as Cane Protein.
Under John's watch, the St. Brown boys eat red meat at each meal of the day. They chug sugar to best absorb the protein. Back in the day, this is what turned their dad into a superhero. To John, there is no such thing as "lean and mean." For three years, he fattened up Equanimeous during his brief time at home only to see him lose all the weight and more after a few weeks back in South Bend.
John is critical of the weight-training methods at college programs. He believes power lifting techniques have set players up for muscle imbalance and a higher likelihood of injury. It killed him to see Equanimeous need shoulder surgery at Notre Dame. It is killing him to see Osiris battle a lingering foot injury at Stanford. How will they take care of Amon-ra at USC?
Every kid needs one person to be brutally honest with them. I'm that guy for them.
— John Brown
Amon-ra has heard his dad go down this road so many times. He finishes his lunch and goes upstairs to take a nap.
"It doesn't stop," Amon-ra says. "It's normal for me. If I had a different dad, it would be kind of weird, but this is all I know."
Says John, "Every kid needs one person to be brutally honest with them. Every bodybuilder has a person they go to and say, 'Take a look at me.' I'm that guy for them. I told them when they were little, 'You're going to read a lot of stuff when you get older about how great you are. You can't believe all that. I'm the guy to tell you if you're good or not. Always come to me. I'll be honest.' "
Did John ever go too far? Sure, he says.
He pulls out a wooden paddle. He says each son probably met this fate three to four times. When they did, he'd make them sign and date it for posterity. Oct. 27, 2009, apparently, was not one of the family's better days.
"It broke my heart to paddle them," he says. "And I'd always act like I was mad. I was never mad. I knew I would never hit them with my hands. That's for love. I didn't want to reach for my son and he would jump."
In John's memories, the boys are climbing all over him, competing for position on his knees. They are rushing to him when he arrives at the practice field, making the other parents jealous of the bond they share. He is going to their school to surprise them, taking them out of class because it's a beautiful day for some paintball or laser tag.
He can get lost in these visions, especially now.
"When we're driving to USC, that's going to be the moment when it hits reality," John says. "What helps is he's not far away. I can go over there. It's like oxygen. If I see him, it's like a breath of fresh air. Equanimeous was here yesterday. When he's sleeping, I'll just open the door and look at him, see him there, and … ahhh, yes."
Upstairs, Amon-ra is asleep. Miriam is out. The house is quiet aside from the constant hum of the refrigerator.
"When you come home and it's like this," John says, "it's freaking horrible!"
::
The big day has arrived, and John has breakfast ready on the table.
Recently, he has been posting more often on his Instagram (@caneprotein), giving his followers tips on what to eat and how to train. He moves around the dining area, filming.
"Seven o'clock in the morning, here's what we're about to eat," he says. "Spaghetti. And then we're going to make the protein. That's how we do it."
John's muscles have gradually deflated over the last three decades, but his ego remains juiced. Several of John's posts feature pictures of him with his sons and the caption "Lavar Ball ain't got nothing on me."
Before Amon-ra can prove his dad right, John has to get him to school. As they stuff Amon-ra's belongings into the back of the SUV, they're running a half-hour late.
He never played with toys, He didn't even watch TV. Today, he doesn't watch TV unless it's sports. He goes to the movies, and he falls asleep.
— Miriam Brown on Amon-ra St. Brown
Fittingly, the ride goes right through the place where this journey began.
"See right there," John says, pointing toward Compton College to the north of Highway 91. "That's where I started lifting weights."
John was playing football at Dominguez High when a man saw him and told him he could be a bodybuilder. The Dominguez team was losing a lot of games. John wanted to win.
He had two parents at home, plus six siblings, but "I raised myself," he says. "My siblings were not like me. I'm the exception, not the rule. I had a gift. I was just different."
John remembers becoming Mr. Universe the first time and being told by a promoter the next year, "Everybody hates you."
"It's part of the program," John says. "I expect that. After you win, they're coming after you. Amon-ra, they're coming after you. You got to go harder now."
John says the coaches and players at USC are not ready for Amon-ra. He delivers a prophecy.
"Big things are about to happen," John says. "I got a feeling about it. Electric. USC had it going with Reggie Bush. We're back to the heyday."
Four years ago, neither John nor his boys could have imagined being Trojans. Not after what they did to Equanimeous. The oldest son was once a quiet commitment to USC, but, John says, Steve Sarkisian's staff later told him to go in a different direction.
Amon-ra did not like USC after that. Helton's staff mended the relationship, but if Equanimeous had decided to return to Notre Dame for his senior year this fall, Amon-ra would be playing for the Fighting Irish.
That's the goal, to bring a national championship back home to USC.
— Amon-ra St. Brown
"We haven't won anything really since Pete Carroll," Amon-ra says. "That's the goal, to bring a national championship back home to USC."
Now, USC is "we," and John is part of the Trojans family.
When they make it to the players' dorms at USC Village, Helton is there to greet them, giving hugs and handing Amon-ra his backpack and cap for orientation.
John doesn't impress easily, but he is blown away by the accommodations. He is genuinely wide-eyed.
"It's beautiful," he says. "Everything is right here."
The rest of the morning moves fast. John and Miriam get Amon-ra into his apartment, where he will share a room with a high school teammate and close friend, quarterback JT Daniels. There's little time for unpacking before Amon-ra and John are ushered onto the back of a golf cart headed for the USC practice field, where Jones and Owens are waiting for the young Trojans.
::
Four days have passed since John came home.
"It's depressing," he says. "It feels like something is wrong, like somebody got hurt, or when you get bad news …
"I can't reach out and touch him. I can't talk to him. I can't smell him. I can't put my eyes on him. And you realize, you can't do nothing. And it's almost like your universe has been rocked completely off tilt."
John has been driving aimlessly to pass the time. He went to a movie. He calls friends who have had their kids leave and asks for advice.
It helped when Amon-ra came home over the weekend for his girlfriend's high school graduation. John saw him in his bed and jumped on him. It helped when John drove up to USC to watch a players-run practice.
"I realized I'm going to have to make a lot of food runs," John says. "I'll just make food and take it in Tupperware to him. I know what he needs."
To this point, John and Amon-ra haven't discussed boundaries. It's early.
"I'm pretty good at letting them grow up and giving them space," John says. "When their friends come over, I know to leave the room. I'm looking forward to just leaving him alone.
"Even if I brought him food, I wouldn't stay long. I don't want his friends to think he needs his daddy. You've got to know when to back off. It's just part of being a father."
Twitter: @BradyMcCollough
Get the latest on L.A.'s teams in the daily Sports Report newsletter.
You may occasionally receive promotional content from the Los Angeles Times.