Lynn Swann is hired by USC to replace Pat Haden and restore luster to the football program
When former Trojans quarterback Pat Haden was hired as USC's athletic director in 2010, the university's marquee sports programs were in deep trouble, having been hammered by NCAA sanctions for rules violations.
On Wednesday, USC chose another of its former football stars, Lynn Swann, to succeed Haden. Swann's main task — to restore luster to football, USC's signature sport — will be challenging but not nearly as daunting as that faced by Haden upon his arrival.
Swann, a member of the college and pro football halls of fame, is the third consecutive Trojans football player to lead USC's athletics program; Haden's predecessor, Mike Garrett, was a Heisman Trophy-winning running back.
The storied football program, which claims 11 national championships and produces millions in annual revenue, has been in a state of upheaval since former coach Pete Carroll left just before the NCAA imposed its penalties. The Trojans have had four head coaches since Carroll's departure in 2009 to lead the NFL's Seattle Seahawks.
Now, the team has a new coach, Clay Helton, who is under a long-term contract and again has all its scholarships, plus a relatively new state-of-the-art football facility and a home field that will be undergoing a $270-million face-lift.
Swann's appointment was announced in a letter from university President C.L. Max Nikias to the campus community on Wednesday. In it, Nikias predicted Swann would "bring the heart and soul of a Trojan to his position."
Swann, 64, will be formally introduced during a news conference on campus Thursday morning. In a statement released after Nikias' announcement, Swann said his goals for USC athletes would be to "graduate, to win and to experience."
Swann was a star receiver for the NFL's Pittsburgh Steelers, but his experience in major college administration, or lack thereof, drew substantial criticism in the wake of USC's announcement. Yahoo sports columnist Pat Forde referred to USC as "The University of Self Congratulation." Another noted that he couldn't find that the former Pittsburgh Steelers star had "been doing anything the past decade."
New USC Athletic Director Lynn Swann speaks at a news conference Thursday in the John McKay Center.
(Mark Boster / Los Angeles Times)
Former Pittsburgh Steelers wide receiver Lynn Swann, shown in September 2015, has been named USC's new athletic director.
(Gene J. Puskar / Associated Press)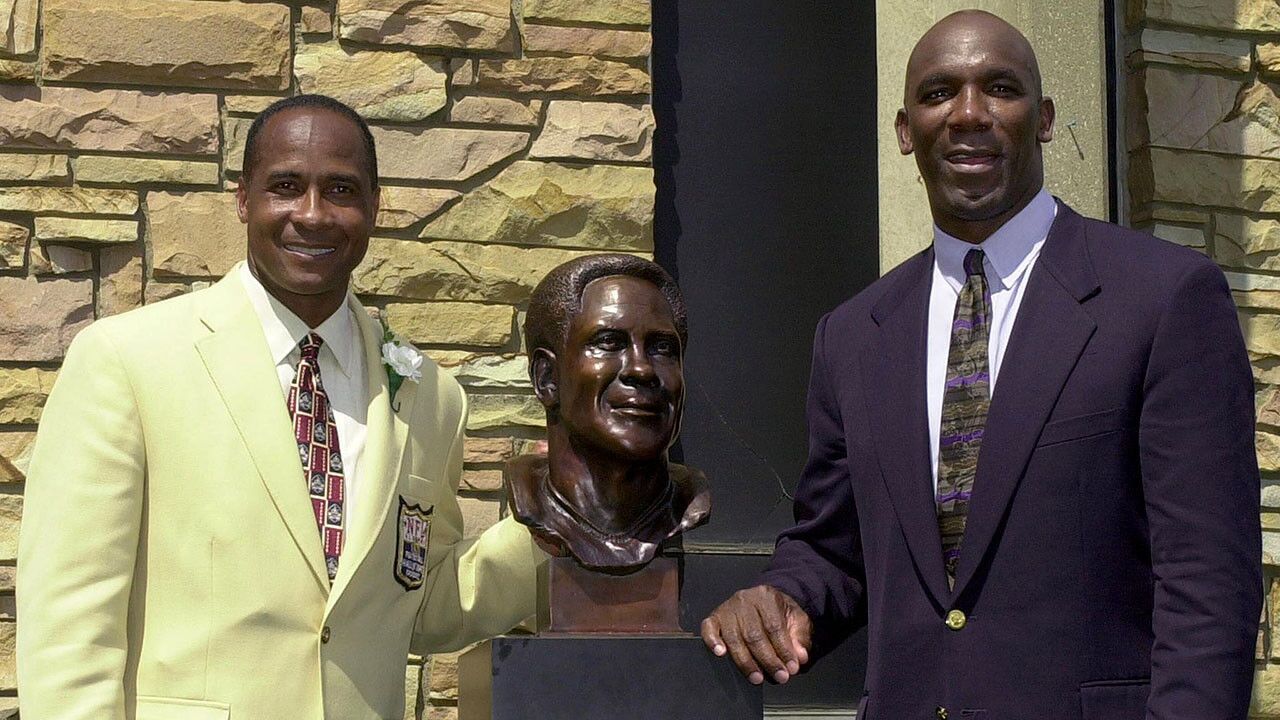 Pro Football Hall of Fame enshrinee Lynn Swann, left, stands with his presenter, former Pittsburgh Steelers' teammate John Stallworth, during the ceremony in August 2001 in Canton, Ohio.
(David Maxwell / AFP/Getty Images)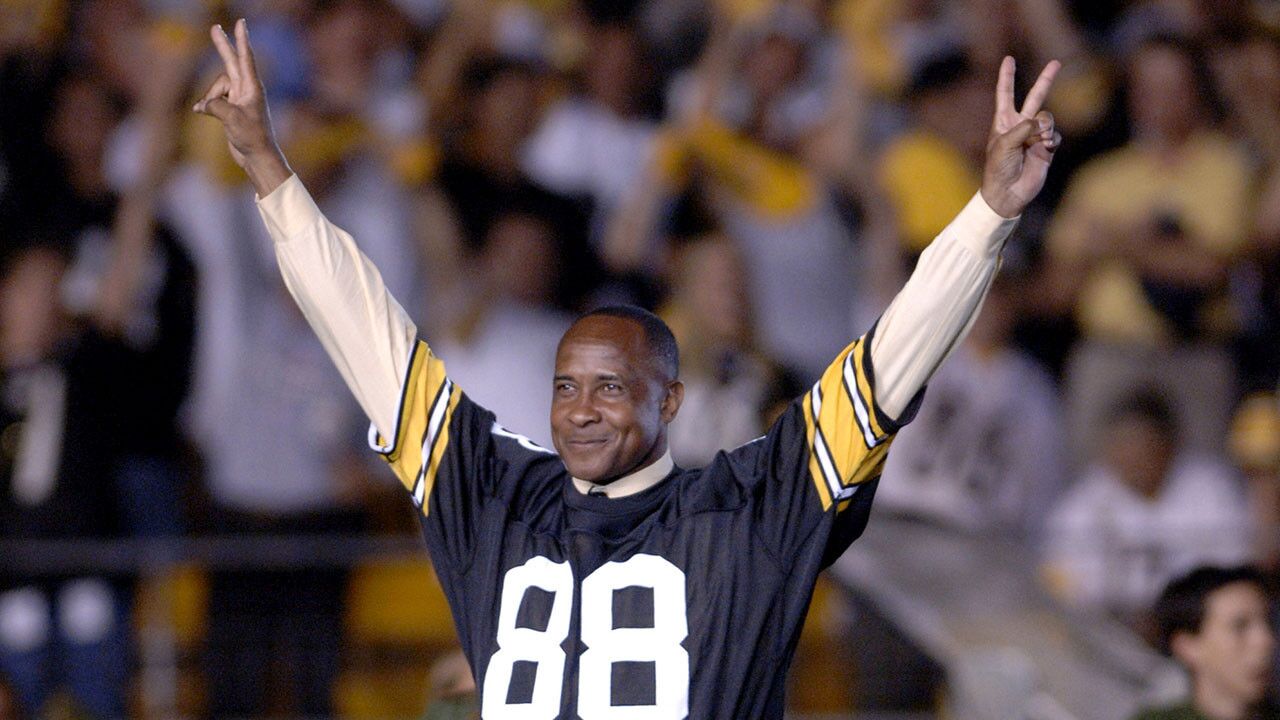 Retired Steelers wide receiver Lynn Swann at Heinz Field in Pittsburgh before the opening game against the Miami Dolphins in September 2006.
(Al Messerschmidt / Getty Images)
In May 2006, Lynn Swann accepts the Republican nomination in the race for Pennsylvania governor. Swann lost to the incumbent, Edward Rendell.
(William Thomas Cain / Getty Images)
Pro Football Hall of Famer Lynn Swann sports a Steelers bowling ball during a Super Bowl celebrity bowlling event on Jan. 28, 2009 in Tampa, Fla.
(Scott Boehm / Getty Images)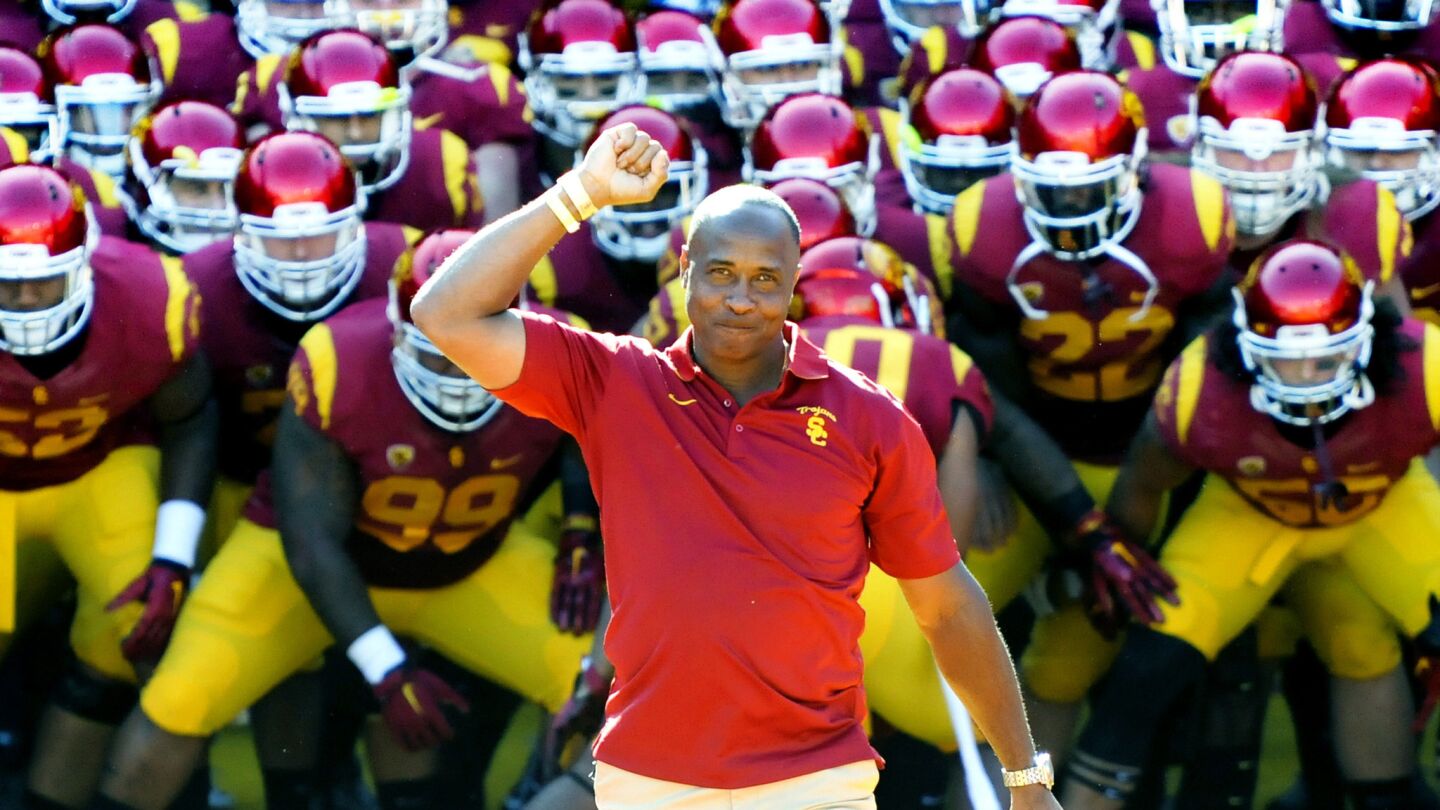 Lynn Swann prepares to lead the USC football team onto the field at the Coliseum for a game in 2014.
(John McGillen / Associated Press)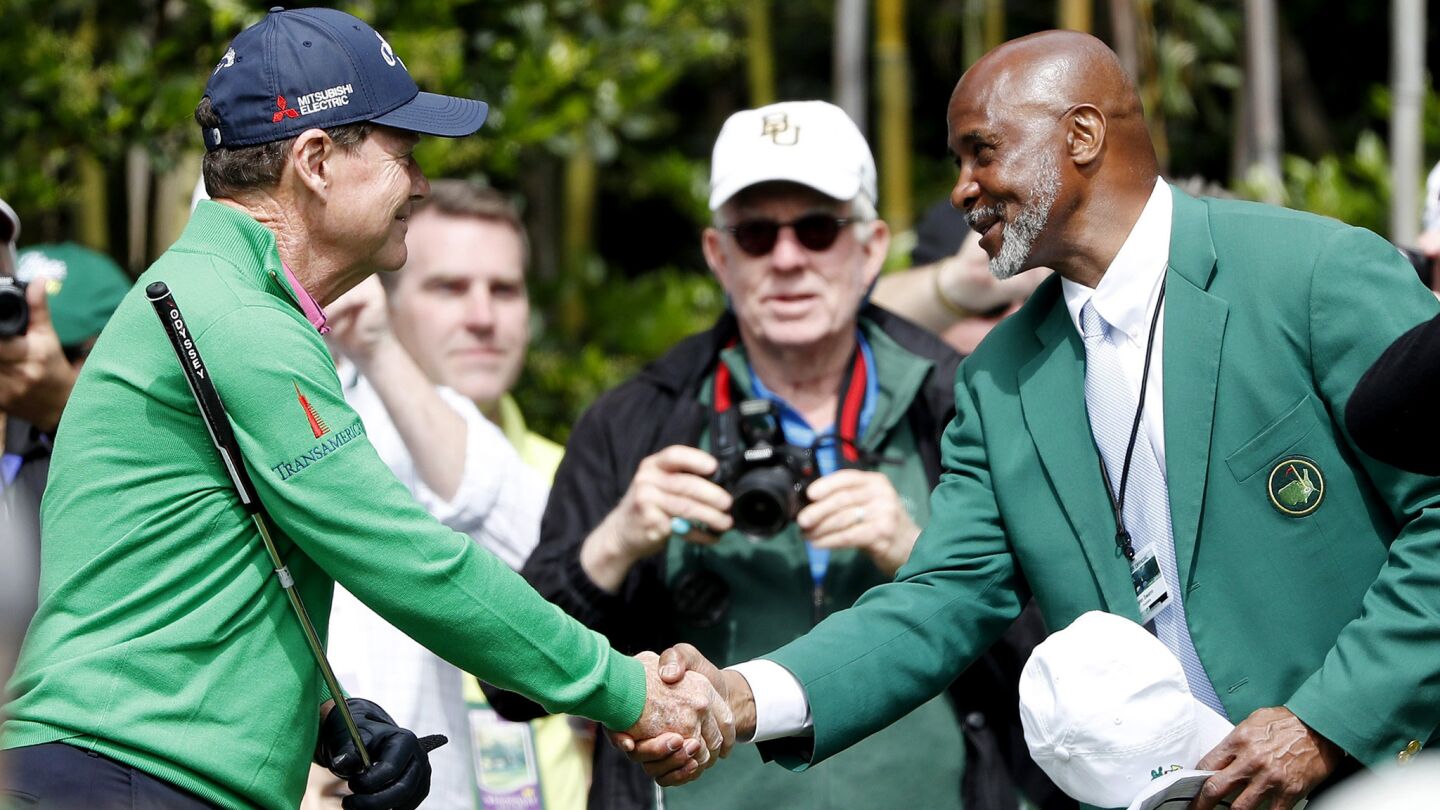 Lynn Swann, a member of Augusta National Golf Club, greets Tom Watson before the par-three contest at the Masters on April 10, 2016.
(Andrew Gombert / EPA)
Dr. Charena Swann touches the hand of her husband, Lynn Swann, he was being introduced as the USC's new athletic director April 14 in the John McKay Center.
(Mark Boster / Los Angeles Times)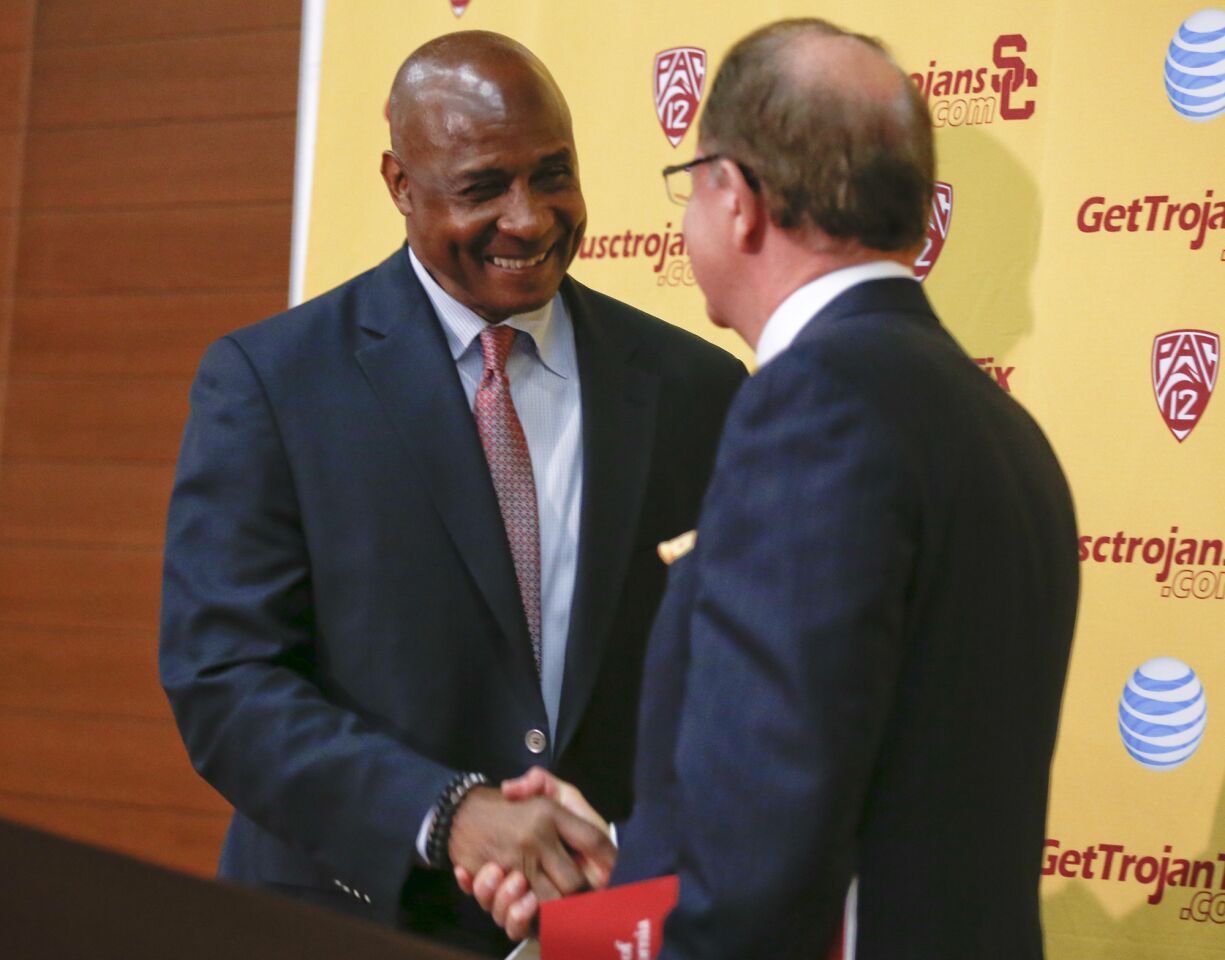 USC President Max Nikias, right, introduces Lynn Swann as the school's new athletic director on April 14.
(Mark Boster / Los Angeles Times)
When Haden revealed in February that he would be stepping down as athletic director, Nikias said USC would conduct a nationwide search for his replacement — including people with no affiliation to the university. USC has hired only one athletic director who had no background at the school, Mike McGee, who guided the sports program from 1984 to '93.
Swann has never worked in major college athletics, and he is not among the many former USC football stars who have remained closely connected with the team. After retiring from the NFL in 1983, he served on several nonprofit and corporate boards, was a broadcaster and television show host, failed in a bid to become governor of Pennsylvania, was co-owner of the Arena Football League's Pittsburgh Power and made cameo appearances in movies.
He takes over July 1, becoming USC's second African American athletic director and one of fewer than a dozen to hold the job at the major college level.
Publicly, the Trojans family celebrated Swann's hiring.
Carroll tweeted, "Excited to hear Lynn Swann is the next Athletic Director at USC! He will be an outstanding leader and great champion for the Trojan cause!"
Former USC football standout Ronnie Lott tweeted, "Lynn Swann is a Hall of Fame person and leader. This is wonderful news."
Haden had never been in athletics administration, either, when USC brought him on in August 2010 to navigate the Trojans through some of the most severe penalties in the history of college sports. However, he was a longtime member of the university's board of directors who had been in on important decisions about campus and athletics issues.
The former NFL quarterback, a Rhodes Scholar and attorney, was credited for deftly guiding the Trojans through sanctions that included the loss of scholarships and other limitations that made recruiting top-flight athletes difficult. But nearing the end of his tenure, some of Haden's decisions were criticized.
In 2013, he fired football coach Lane Kiffin on the tarmac of Los Angeles International Airport. Before the 2014 season, Haden brought on Steve Sarkisian, whom he fired in the middle of the coach's second season, after alcohol-related incidents that prompted questions about whether Sarkisian had been properly vetted before he was hired.
In December, Sarkisian filed a wrongful termination lawsuit against the school. The lawsuit claimed that instead of supporting Sarkisian through troubled times, USC had "kicked him to the curb." USC said the lawsuit contained "half-truths and, in many cases, outright falsehoods." The sides subsequently agreed the case would be settled in binding arbitration.
In development, USC had more success. During the last decade, USC has opened the Galen Center, a modern basketball arena, and a top-flight facility for football operations. Haden will remain at USC for one year to oversee the modernization of the Los Angeles Memorial Coliseum, where the NFL's Rams will also play until their own stadium in Inglewood is complete.
Swann's salary was not disclosed, but Haden is believed to be the highest-paid athletic director in the nation. His annual salary and benefits package was worth $2.5 million in 2014, according to federal tax filings. A Los Angeles Times investigation found he also held more than a dozen roles outside USC that, combined, paid more than $500,000 annually.
In his letter Wednesday, Nikias noted that Swann serves on multiple corporate and nonprofit boards. But, Nikias added, once Swann begins at USC, he would serve only on the Fluor Corp. Board and the board of the PGA of America (his term on the latter will end in November).
Swann was chosen over Steve Lopes, a longtime athletics administrator who has been chief operating officer and chief financial officer of the Trojans athletic department since 2012.
Swann is not expected to chart new courses for either of the university's largest sports. In football, Haden promoted Clay Helton from interim coach to full-time coach in November. In basketball, Andy Enfield recently received a contract extension through the 2020-21 season.
However, the football team in particular faces a challenging road ahead. After Helton was promoted, the Trojans lost their final two games of last season. And a date against defending national champion Alabama looms at the start of next season.
Born in Tennessee, Swann attended Junipero Serra High in San Mateo, Calif., and graduated from USC with a bachelor's degree in public relations in 1974.
"USC opened doors for me," Swann said in his statement. "I learned about myself, and my education created a pathway to go forward. I was always looking toward preparing for that career beyond football."
Staff writer Lindsey Thiry contributed to this report.
Follow Zach Helfand on Twitter: @zhelfand
FROM THE ARCHIVES:
Swann testifies police beat him and 3 friends
Lynn Swann, 3 kin charged with assaulting officers
---
Get the latest on L.A.'s teams in the daily Sports Report newsletter.
You may occasionally receive promotional content from the Los Angeles Times.