USC keeps winning streak at Coliseum alive with 39-36 victory over Washington State
Mike Leach's relentless Washington State offense was driving again, its precision eye fixed on the USC end zone and a game-winning touchdown drive. A third-and-seven pass went for 25 yards. A third-and-three pass went for another 14. The Cougars stood at the Trojans' 25 with a few minutes left.
For college football fans watching live nationally, this was just another ridiculously entertaining installment of what is now affectionally known as "Pac-12 After Dark." For USC, and its 50,000-plus fans who braved the Friday evening rush-hour traffic and emotional tremors from two frustrating losses to join the Trojans in the Coliseum, this was everything, exhilarating and terrifying all the same.
On first down, USC's Malik Dorton pressured Cougars quarterback Gardner Minshew into an incompletion. Leach called for a run on second down, and James Williams got four yards. On third and six, Leach called for another run, assuming USC would be playing for the pass, but Christian Rector and Cameron Smith were there to meet Williams at the line of scrimmage. Leach would have to settle for a field-goal attempt to try to tie the score.
Washington State's Blake Mazza had made a 50-yarder earlier, so this 38-yarder seemed likely to even the score. USC redshirt freshman Jay Tufele had other ideas. Tufele, a hulking mound of humanity, busted through the middle of the Cougars' line unblocked and put his hands up. His giant left paw swatted Mazza's kick away to the right, sending USC to a thrilling 39-36 victory that showed these Trojans — in classic form of a Clay Helton team — might just be getting started in 2018 after being written off.
"I've always thought that adversity defines who you are," Helton said, "and being in that second half down two scores, a bunch of great kids defined who they are as men."
USC, 2-2 overall and 1-1 in the Pac-12 Conference, fittingly needed a big play on special teams to revive its season. Just a week ago, a blocked field-goal attempt went the other way for a Texas touchdown that erased USC's chance at conjuring up any second-half magic in Austin.
And a few plays later it felt just right that the Trojans, after rushing for minus-5 yards against the Longhorns, were able to ice the game with a third-down run up the gut by Vavae Malepeai.
USC defensive lineman Jay Tufele (78) blocks a field-goal attempt of Washington State kicker Blake Mazza to preserve the win Friday.
(Wally Skalij / Los Angeles Times)
Jay Tufele (78) is mobbed by USC teamates after blocking a Washington State field-goal attempt to preserve the win Friday.
(Wally Skalij / Los Angeles Times)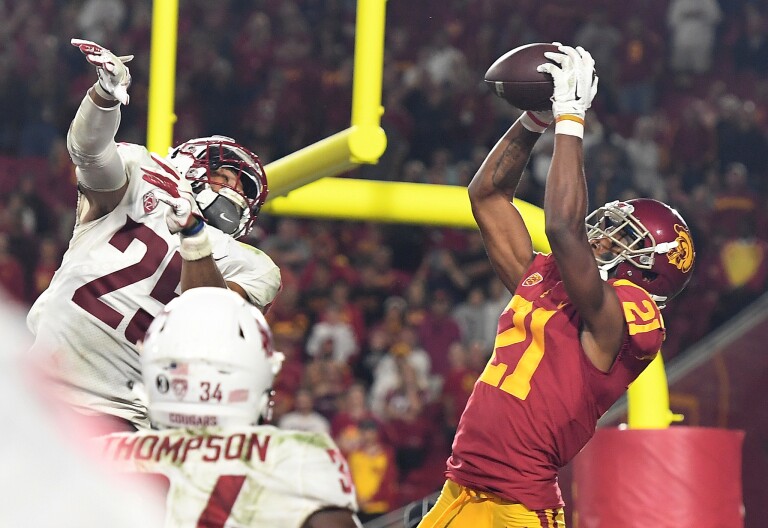 USC receiver Tyler Vaughns catches a two-point conversion in front of Washington State safety Skyler Thomas in the fourth quarterFriday.
(Wally Skalij / Los Angeles Times)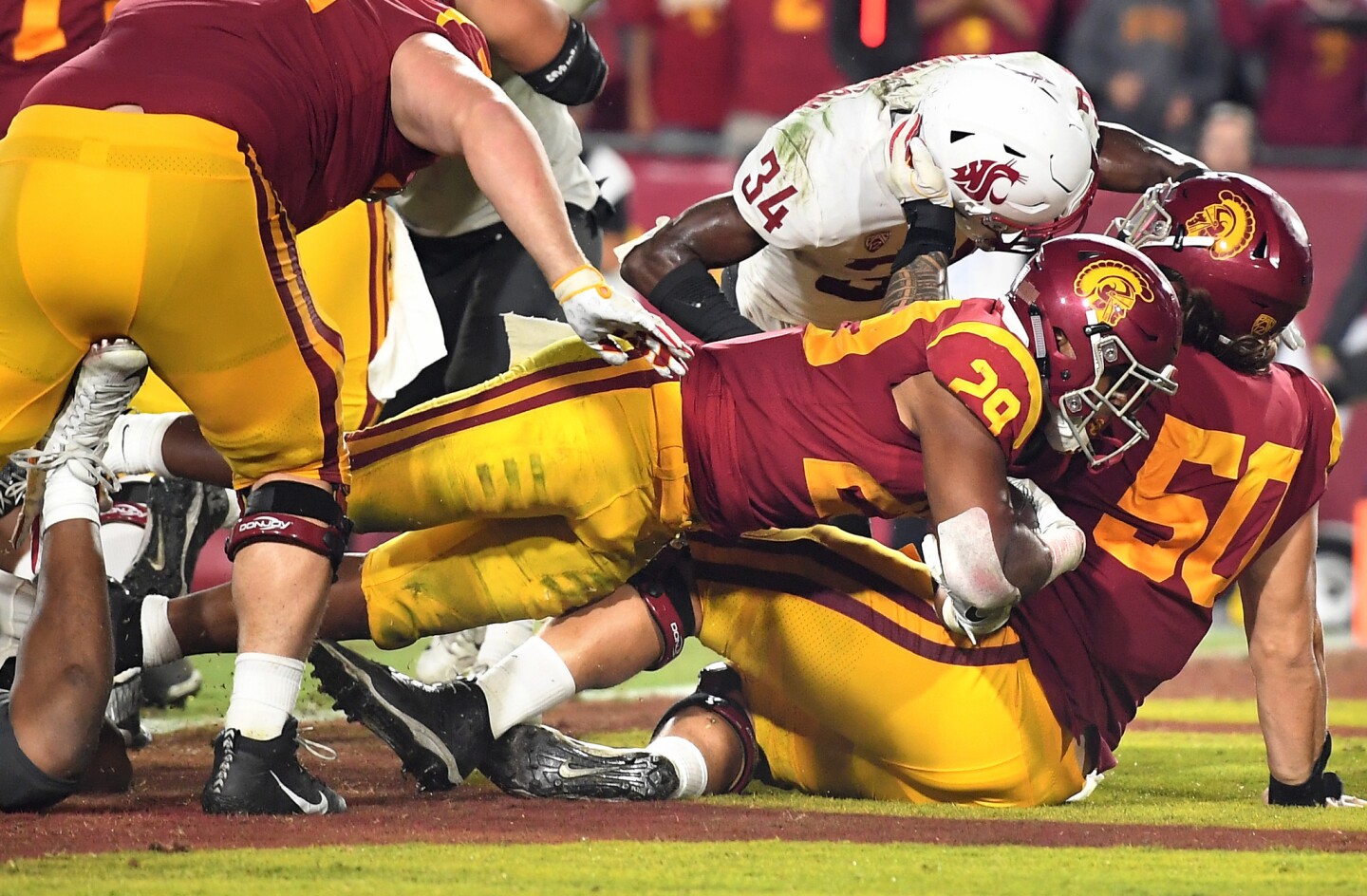 USC running back Vavae Malepeai scores the go-ahead touchdown in the fourth quarter Friday.
(Wally Skalij / Los Angeles Times)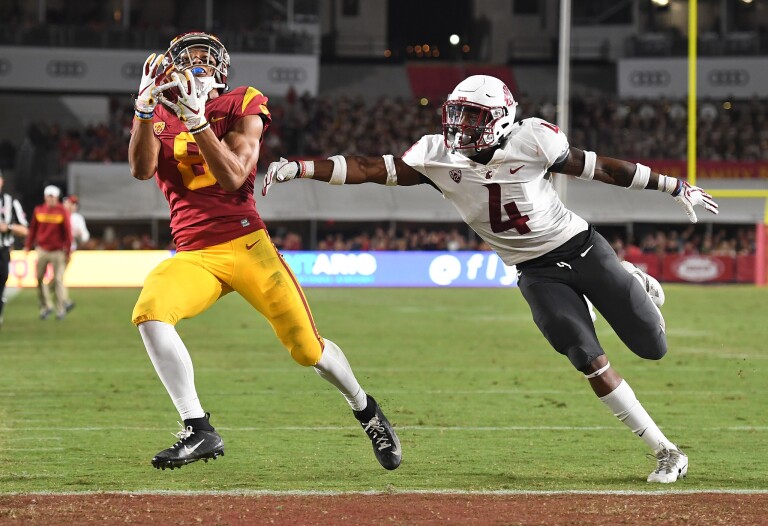 USC receiver Amon-Ra St. Brown catches a touchdown pass in front of Washington State cornerback Marcus Strong during the fourth quarter at the Coliseum on Friday.
(Wally Skalij / Los Angeles Times)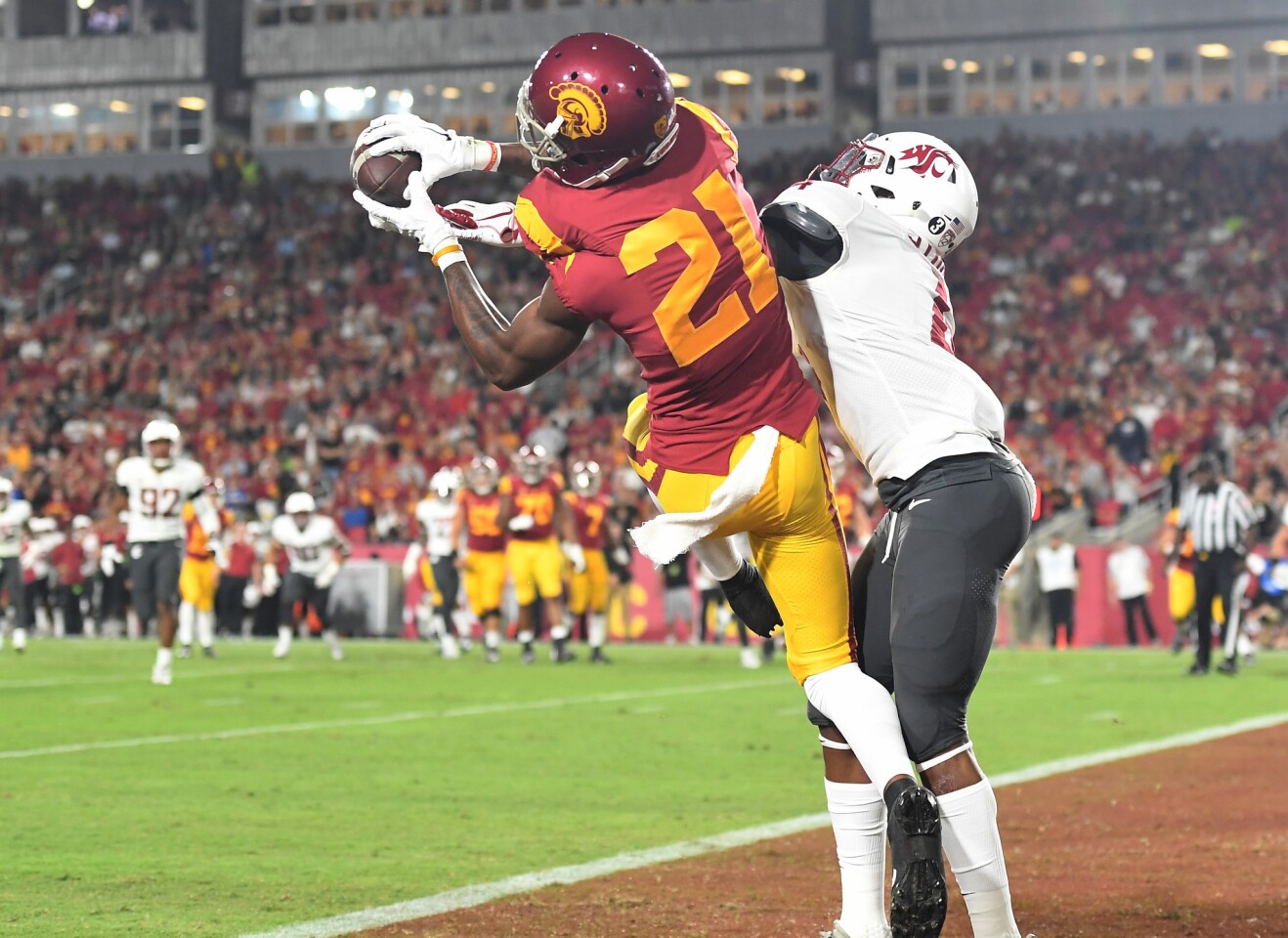 USC receiver Tyler Vaughns catches a touchdown pass in front of Washington St. cornerback Marcus Strong.
(Wally Skalij / Los Angeles Times)
USC running back Vavae Malepeai, left, celebrates his touchdown with lineman Chuma Edoga.
(Wally Skalij / Los Angeles Times)
Washington St. receiver Jamire Calvin makes a reception in front of USC linebacker John Houston in the first quarter at the Coliseum Friday.
(Wally Skalij / Los Angeles Times)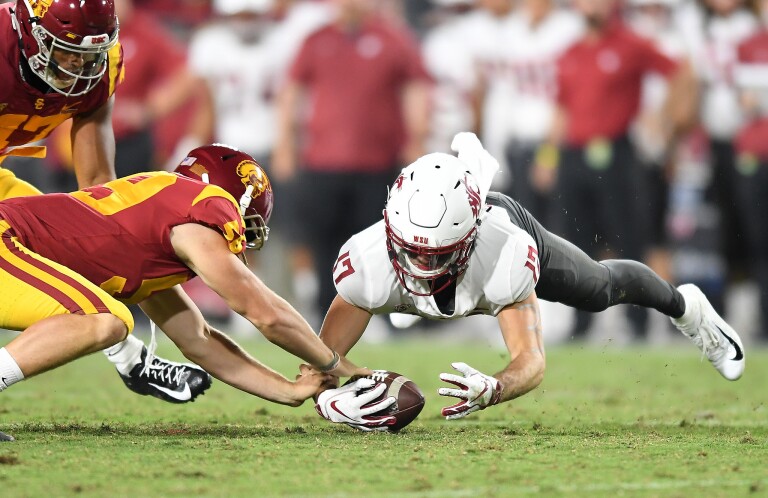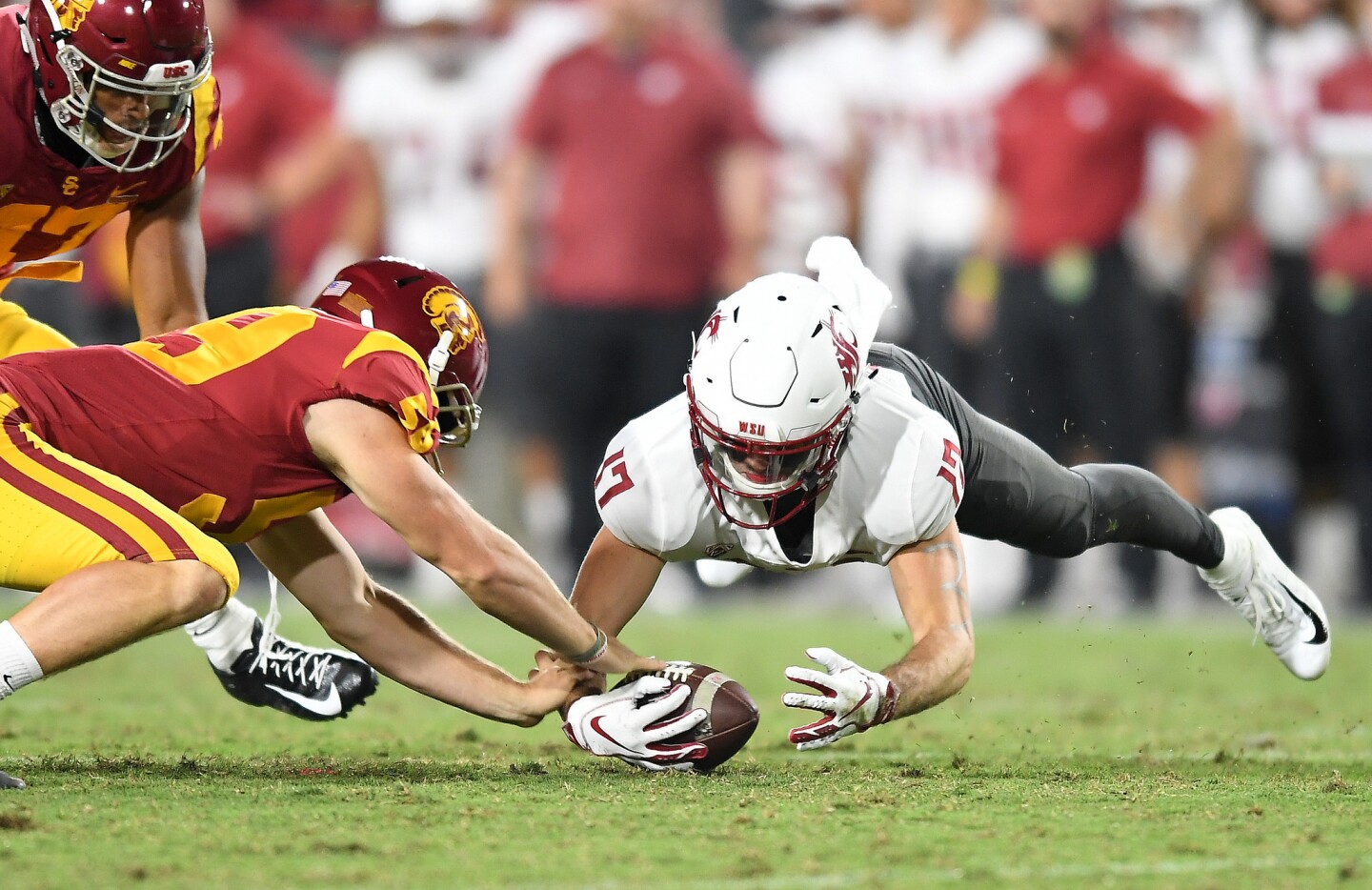 Washington St. punt returner Kyle Sweet recovers his own fumble in front of USC defenders int he second quarter at the Coliseum Friday.
(Wally Skalij / Los Angeles Times)
Washington St. receiver Dezmon Patmon catches a touchdown pass in front of USC cornerback Greg Johnson in the second quarter at the Coliseum Friday.
(Wally Skalij / Los Angeles Times)
Only then could freshman quarterback JT Daniels raise his arms in triumph, taking a snap in the victory formation after completing 17 of 26 passes for 241 yards and three touchdowns.
"Personally," Daniels said, "I'm happy right now. In general, there are some things to learn from, and some things to celebrate."
Helton wanted to see consistency on Friday night. What he got from his team for most of the night was the same kind of uneven performance that put the Trojans' season in a hole.
At the end of the third quarter, USC trailed Washington State 30-24, and the Trojans' 17-game Coliseum unbeaten streak — the second-longest home winning streak in the country to Alabama's 20 — hung in the balance.
Entering Friday night, the streak stood tall for Helton as more than just a number. Given the way things have gone for the Trojans since last year's Cotton Bowl, with USC losing its last three games against Power Five competition, it represented one of the last vestiges of USC's place among college football's elite teams.
If USC couldn't defend Troy's walls against Washington State — a Cougars win Friday would make history as the first time they had beaten the Trojans in back-to-back seasons — then it would have felt doubly dubious for the rest of the season.
The Trojans moved Helton's record at the Coliseum to 18-0. USC's four-year seniors have only lost once at home, to Washington in Steve Sarkisian's last game as head coach.
"We walk out there, and there's more pride because we're in the Coliseum," USC linebacker Cameron Smith said. "Every time in the tunnel we see the guys painted on the wall that have played there before us. For me, it hits me right in the heart."
Through one half, the Trojans looked like the same confusing group that lost to Stanford and Texas. An offense that opened with five consecutive runs amassing 75 yards and a touchdown using a two- tight end set did not go back to that look until well into the second half. Entering the fourth quarter, USC had 66 yards rushing thanks to two sacks and a snap that went over Daniels' head, but also because USC offensive coordinator Tee Martin went pass-heavy.
Stephen Carr took his first two carries 56 yards but didn't see his fourth carry until the end of the third quarter. He'd finish the day with eight carries for 77 yards. USC's leading rusher was Malepeai, who toted it 13 times for 78 yards and two touchdowns. Removing 53 yards of losses from sacks and team miscues, USC averaged 7.4 yards a carry giving the ball to its backs, giving the Trojans true balance for the first time this season.
Daniels did his part throughout the night.
With 14:31 left in the game, he lofted a pass down the right sideline to his high-school teammate at Santa Ana Mater Dei, Amon-ra St. Brown, who is now Daniels' roommate. The ball fell into St. Brown's hands over his shoulder for a 30-yard touchdown pass to give the Trojans a 31-30 lead — their first since Washington State took a 17-14 lead in the second quarter.
Daniels spread the ball to seven different receivers and also threw touchdown passes to Michael Pittman Jr. and Tyler Vaughns — a surefire sign that USC's young quarterback was finding chemistry with the Trojans' veteran receivers.
"Week by week, we just have more practice time," Daniels said. "We're getting used to each other more, learning where they want me to put the ball, and they're making the plays every time it's there."
Defensively, USC continued to struggle on third downs. The Trojans could not get pressure on Minshew the entire first half.
Once Porter Gustin entered the game in the third quarter, coming off his first-half suspension for the targeting ejection against Texas, USC became a different defense and forced back-to-back stops for the first time all night.
That set the tone for how the rest of the game would go, as USC finished off the Cougars with back-to-back stops down the stretch.
"It was critical for our confidence and our psyche," Helton said. "To be able to fight back like that in the second half and be able to finish a game like that in the fourth quarter, it can only build confidence and help your football team."
Twitter: @BradyMcCollough
---
Get the latest on L.A.'s teams in the daily Sports Report newsletter.
You may occasionally receive promotional content from the Los Angeles Times.