Column: The Irish just keep running and running and running over Trojans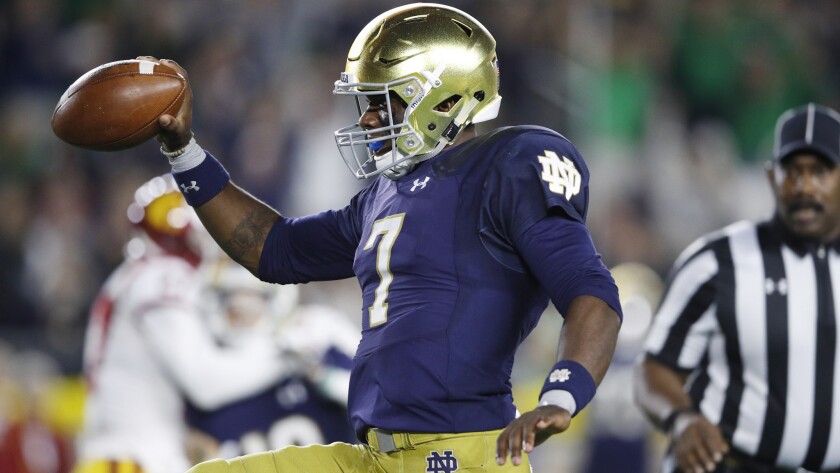 Reporting from South Bend, Ind. —
It was late in the second quarter when Brandon Wimbush dropped back to pass and suddenly found himself under pressure.
The Notre Dame quarterback ducked a rusher and took off, sprinting toward the sideline. Pure speed got him to the corner, where he juked his way into more open space.
Twenty-four yards later, Wimbush skittered past yet another defender for yet another big gain against a USC defense that seemed outmanned all night long.
"It didn't look like we were ready to play," strong safety Chris Hawkins said. "We didn't come out with the fire that we needed."
It was that sort of game for the Trojans, who started the season with a highly touted defense that was supposed to keep opponents bottled up.
On an ugly Saturday in South Bend, they lost 49-14 and saw their College Football Playoff hopes mortally wounded by a persistent inability to stop the run.
How bad was it?
At halftime, Notre Dame had outgained them 190 yards to minus-4. By game's end, with some garbage time thrown into the mix, the advantage grew to 377-76.
And it shouldn't have been a complete surprise.
No. 13 Notre Dame came into this edition of "the greatest intersectional rivalry" with the sixth-best rushing offense in the nation. No. 11 USC — facing a number of challenges in a season of massive expectations — ranked a fairly mediocre 57th against the run.
Wimbush sounded matter-of-fact when describing the play of his offensive line: "Being physical, using their size, their dominance to move guys. They've been doing that all year. Why change what you're doing when you're being successful?"
USC coach Clay Helton put his best spin on the situation, insisting his 6-2 team still controlled its destiny.
On the national level, that seemed implausible.
In the brief history of the CFP, no team has made the final four with two losses. A few have come close — Penn State in 2016 and Stanford the previous season — but even with a recent spate of upsets in college football, it seems unlikely to happen this fall.
The Pac-12 Conference picture is brighter with no ranked teams left on USC's schedule. But the next opponent — Arizona State — is starting to look dangerous and there are problems that need to be addressed.
"We'll watch the tape," Helton said. "Obviously there are several corrections that we've got to make."
The run defense looked shaky as far back as the season opener, surrendering 263 rushing yards to Western Michigan, an unranked team from a Group of Five conference.
Players said it was the first instance of them not staying in their gaps, missing too many assignments.
That performance might have been dismissed as an aberration when USC manhandled a normally physical Stanford along the line of scrimmage the following week. But Washington State had success on the ground in its upset win over USC in late September and Utah forced the action early in a close game last week.
Though injuries have been an issue, especially in the interior of the line, that couldn't explain the magnitude of the breakdown against Notre Dame.
Even when the Trojans scored twice after halftime, threatening to make a game of it, they struggled to force a stop, raising questions about their level of intensity.
"It's definitely an area that we need to get better at," linebacker Cameron Smith said. "And we saw it tonight."
Or as Notre Dame coach Brian Kelly put it: "This game will be won by who's more physical. I think when you run for 370-something yards and you hold them to 70, I think we know who the more physical football team was."
Late in the third quarter, Irish running back Josh Adams took a simple hand-off and pushed into the middle of the line. When right guard Alex Bars set a crushing block, the only thing left in Adams' way was the umpire — the official stationed at linebacker level — as the 225-pound junior sprinted 84 yards for a touchdown.
Adams finished with 191 yards in 19 carries. Wimbush ran 14 times for 106 yards. The pair combined for five touchdowns on the ground.
Falling so far behind, so quickly, USC never really had a chance to develop a rushing game of its own. Five sacks didn't help the overall yardage.
But it was the defense that seemed a bigger concern.
"We didn't fit up Western Michigan the right way, we didn't fit up this team the right way," linebacker Uchenna Nwosu said. "It's assignment-style football, staying at home, playing our gaps."
Follow @LAtimesWharton on Twitter
---
Get the latest on L.A.'s teams in the daily Sports Report newsletter.
You may occasionally receive promotional content from the Los Angeles Times.