Trojans lose bearings against Cal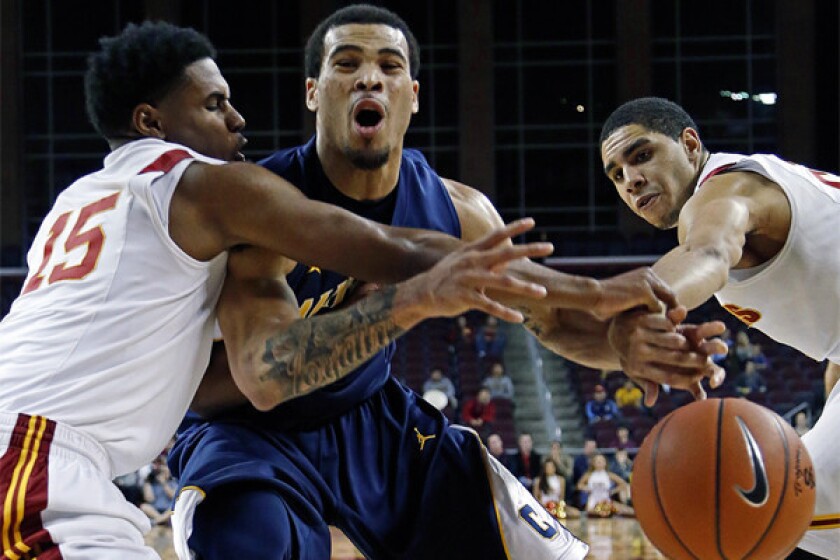 Missed free throws, so many lost chances. A half spent getting badly outrebounded, more lost chances. Bad shooting, blown layups, chances lost over and over.
The mistakes added up to a 72-64 loss for USC against California in a Pac-12 Conference game Saturday night at the Galen Center.
The defeat brought to a stop a slight hint of momentum for the Trojans (6-9, 1-1), who had won two games in a row and were aiming for a 2-0 conference start for only the second time in 11 seasons. Instead it was the Bears (9-5, 1-1) who left town on a high.
USC shot 41% from the field (27 for 66), made only two of 11 three-point attempts and were eight for 18 from the free-throw line. For good measure, the Trojans were also out-rebounded.
Yet until Allen Crabbe, who had a game-high 27 points, made two free throws with 2:51 left to give California a 62-56 lead, it seemed the Trojans might somehow sneak away with the victory and a share of first place in the Pac-12 after the first weekend of play.
"We did a bad job on some of the other guys," said USC Coach Kevin O'Neill, who added that he was less upset by Crabbe's 27 than he was by the 10 each from Justin Cobbs and Ty Wallace. "We didn't do our job defensively. When you miss free throws and the amount of layups around the rim, you've got to finish those."
"This hurts a lot," said USC center Dewayne Dedmon, who had a game-high 11 rebounds. "You want to start out conference play at home with two wins. And you've got to make free throws. That was the difference in the game tonight."
Cobbs' two free throws with four seconds left in the first half gave California a 32-29 halftime lead.
But the real trouble for the Trojans in the first 20 minutes wasn't anything they did on offense or defense. It was the Bears' 21-14 rebounding edge, in a half when neither team led by more than four points.
After a layup by USC's Eric Wise (team-high 14 points) tied the score at 27, Cal scored five of the last seven points in the half and O'Neill scooted off the floor with his face an angry red.
J.T. Terrell, the Wake Forest transfer who early in the season had led USC in scoring, didn't get in the game at all. He played only eight minutes Thursday night in the Trojans' Pac-12 opener, a 71-69 win over Stanford, and had one lonely basket.
After Aaron Fuller and Dedmon missed layups, California's Richard Solomon, who had just dunked, made two free throws and the Bears had a 38-33 lead early in the second half.
That lead grew when Robert Thurman stole the ball and fed Crabbe for a layup that gave the Bears a 44-36 lead with 14:06 left.
The Trojans eventually would scratch back to within 57-56, but never caught up.
twitter.com/mepucin
---
Get the latest on L.A.'s teams in the daily Sports Report newsletter.
You may occasionally receive promotional content from the Los Angeles Times.