Is this progress? Trojans inspire more yawns than boos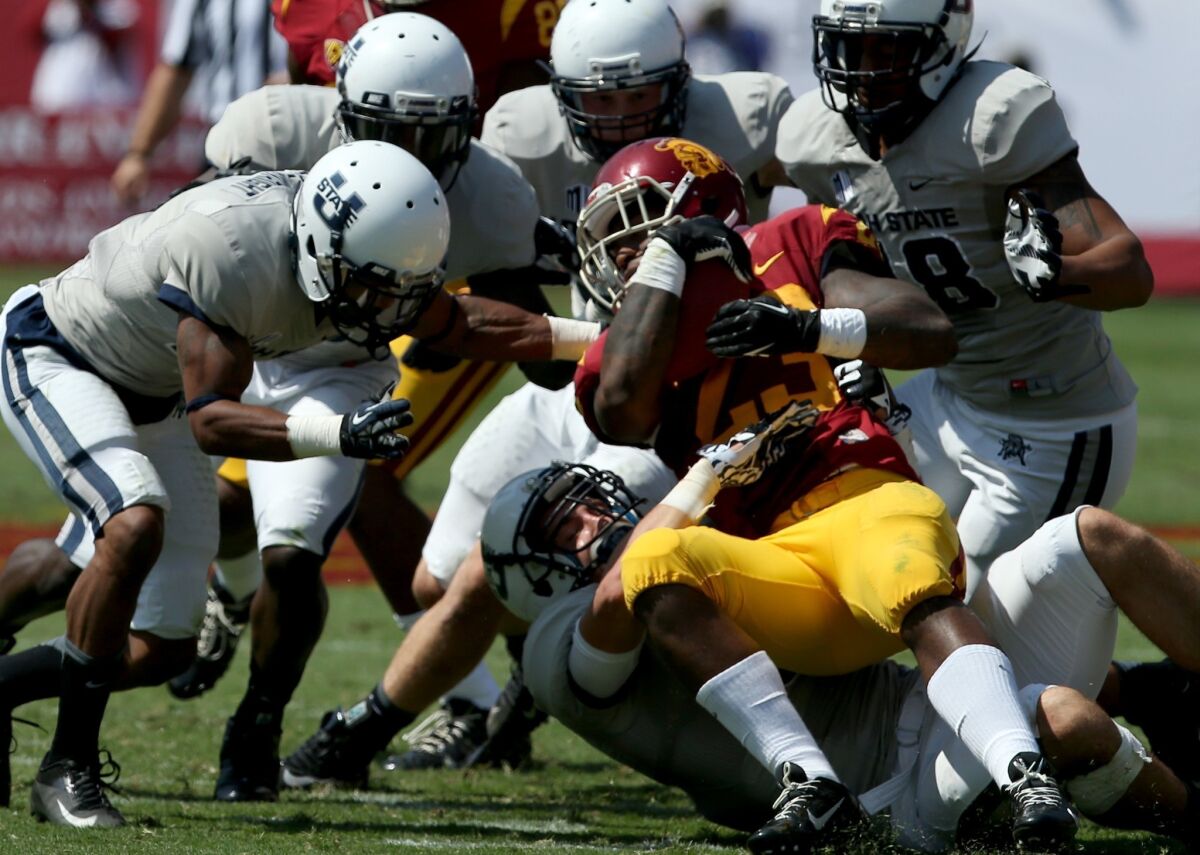 Mush on?
That seems to be the new theme of the USC football team, which beat Utah State by a field goal Saturday in a game that Coach Lane Kiffin accurately described as "mushy."
An hour before the game, in the usually teeming streets around the Coliseum, there was smooth traffic and zero buzz. At kickoff, the Coliseum was about half full with a crowd that was barely awake. During the game, there were scattered boos, a few strong cheers, and mostly shrugs.
It felt like the desolate Dodger Stadium in the last days of the Frank McCourt era. The Trojans even played like the Dodgers in those final days, barely hanging on as if waiting for somebody to rescue them.
On Saturday, that somebody was Utah State punter Jaron Bentrude, whose 12-yard shank set up the Trojans' momentous 16-yard drive that resulted in Andre Heidari's 25-yard field goal early in the fourth quarter to give the Trojans an eventual 17-14 victory.
Yeah, mush on.
"You know they are USC and they've got the tradition … but we're pretty much the same thing," said Utah State linebacker Jake Doughty afterward. "We were right there with them."
This undersized team from the Mountain West Conference actually outgained the Trojans by three yards, and were about 30 yards from attempting a game-tying field goal in the final minutes when the Trojans' George Uko chased down quarterback Chuckie Keeton on fourth down.
When the game finally ended with the Trojans mercifully falling on the ball, the cheering was muted because many fans had turned their backs and were heading toward the tunnel. Through the many sighs, a beaming Marqise Lee pointed to the scoreboard in a futile attempt to change the narrative.
"Hey, look, it's 17-14, it's a great game, that's all I care about!" said Lee.
Bless him for the effort, but it's difficult to characterize this as a great game, and Trojans fans undoubtedly care about plenty more.
There is the offense, for example. Four games into the season and USC still doesn't really have one.
One game after seemingly establishing himself as the starting quarterback, Cody Kessler missed on more than half of his 27 passes, took three sacks, and lost a fumble at the Aggies' 46-yard line late in the first half. It was as if all confidence disappeared with the ball. The Trojans had possession in Utah State territory in each of their final seven drives, yet could only muster up only one field goal.
"Obviously, we'd like to finish better," said Kiffin, whose offense really didn't finish at all.
Runs were smothered. Passes were wide. Plays were weird, especially the three straight passes ordered by Kiffin after Utah State's foolish fake punt gave the Trojans the ball on the Aggies' 34-yard line early in the fourth quarter.
With the Aggies crowding the line to stop the run, Kessler overthrew Tre Madden, threw behind Nelson Agholor, and hit Lee out of bounds to end another potential threat.
"Every week is not going to go as planned, it's not going to go perfect every week," Kessler said. "A lot of people don't realize that."
Here's guessing Trojans fans realize exactly that, as their team has looked like several different teams while compiling a 3-1 record that will get seriously tested Saturday at Arizona State. One more Pac-12 loss and their conference title hopes could be gone before Halloween.
Another worry involves the strange case of Lee, who was arguably the best player in the country last season yet thus far has either been ignored or relatively ineffective. Lee caught just half a dozen passes for 72 yards Saturday, another long afternoon which included one drop and a couple of missed connections.
This season, in four games, Lee has 23 catches for 293 yards and one touchdown.
Last season, in the Trojans' first four games, with Matt Barkley doing the tossing, Lee caught 40 balls for 357 yards and six touchdowns.
There is a sense that Lee has never fully recovered from the shoulder injury he suffered in training camp. He doesn't seem to have the same explosiveness or breakout strength, and he was further hampered Saturday when he acknowledged he tweaked his ankle.
Said Kiffin: "Marqise, as I think you can see, is not 100%, not even close to it."
Said Lee with a grin: "Overall, I'm OK, even if Coach Kiffin don't think I am."
There is also a sense that Lee has never recovered from Kiffin's failure to pick one quarterback, as he has yet to develop any sort of chemistry with Kessler. Although, again, the perpetually bright Lee refuses to complain.
"I'm not worried about it, I'm fine, we won today, that's all I care about," he said. "I want us to win, and I could care less about getting the ball."
The Trojans will continue to remain in games with a defense that once again Saturday played like the one of the nation's best. But can they consistently win, or even entertain, like this? Without an offense? Without a Marqise Lee? In front of a half-empty stadium where yawning fans are seemingly waiting for someone to save them from this tedium?
Mush on.
Twitter: @billplaschke
---
Get the latest on L.A.'s teams in the daily Sports Report newsletter.
You may occasionally receive promotional content from the Los Angeles Times.