USC receiver Devon Williams, a former four-star recruit, enters NCAA transfer portal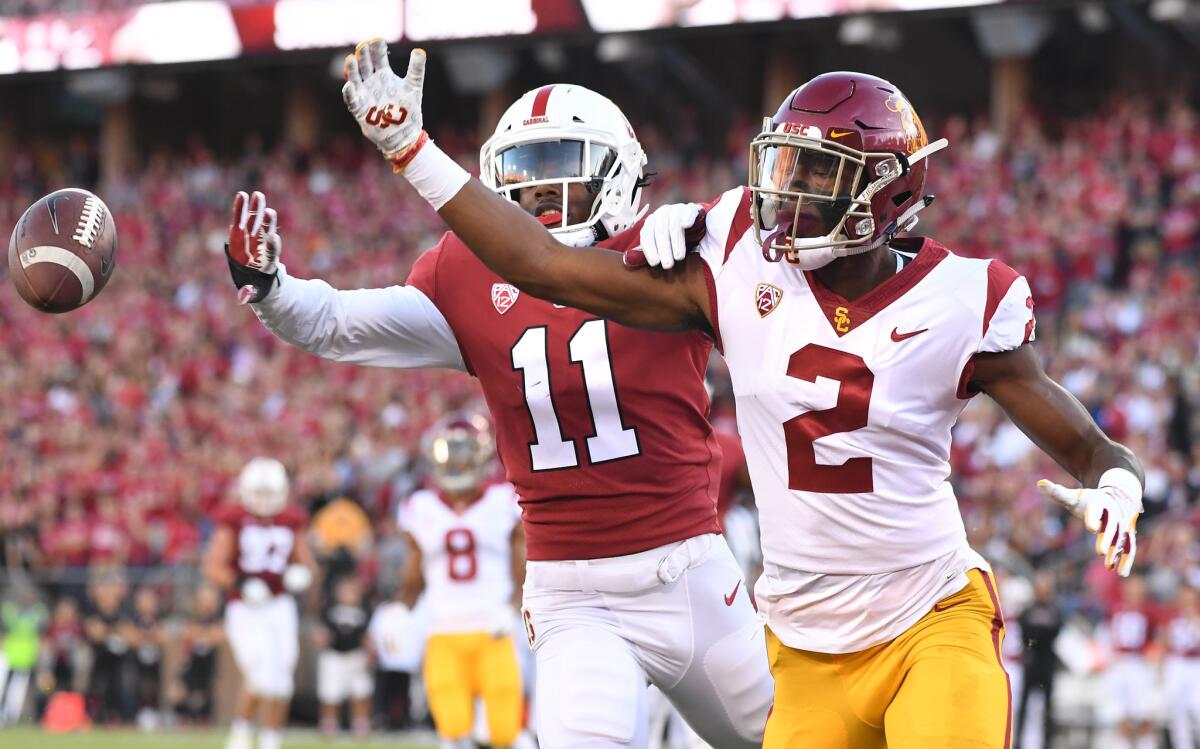 At 6 feet 4 and 210 pounds, Devon Williams' promise as a big-bodied, physical receiver was apparent. At USC, it was also short-lived.
Williams entered the NCAA's transfer portal this week, after playing sparingly through the Trojans' first two games of the season.
A consensus four-star recruit in 2018 who boasted offers from Alabama, Florida State, Notre Dame and Utah, Williams was expected to play a rotational role in a deep USC receiving corps this season.
The sophomore was a periodic standout during spring and fall camp and proved particularly adept in physical, jump-ball situations.
But Williams was also plagued by inconsistency. And in a rotation that stretched as deep as eight receivers, Williams wound up not playing in the season opener.
Ahead of last week's win over Stanford, offensive coordinator Graham Harrell said USC's staff needed to do a better job rotating receivers, Williams included. Then in a victory where several young wideouts stood out, Williams finished with one catch for 11 yards.
As a freshman, Williams played in all 12 games, contributing mostly on special teams. He caught four passes for 87 yards and a touchdown and also returned a blocked punt against UCLA for a touchdown.
Williams' entrance into the transfer portal does not fully guarantee his exit from USC. Coach Clay Helton has a precedent of welcoming back players who decide to return from the portal. Velus Jones, another wideout, chose to come back, and in the opening victory over Fresno State returned a kick for a crucial touchdown.
Helton was not available Wednesday to comment on Williams' decision.
If he does transfer after two games, Williams will not be eligible to play anywhere this season. To transfer and be eligible to play next season, he would need to appeal for immediate eligibility.
Williams could choose to briefly enroll in a junior college, to allow for him to gain immediate eligibility one year after the time of his transfer.
London's calling
Another of USC's talented young receivers has his own plans to play for two teams this season.
Freshman Drake London is a member of both the Trojans football and basketball teams; though, with his first college football season just underway, he hasn't focused much on the latter.
"Right now, I'm just thinking about winning games," London said. "Right after the season, I'll bounce over to basketball the next day and start implementing and learning all the things they're doing right now."
London, who was a four-star recruit in both sports, gets to the gym to shoot a couple of times a week, just to maintain his jumper. But otherwise, he's been entirely focused on football.
So far, that focus seems to be paying off. London caught three passes for 62 yards against Stanford, including a 45-yard gain on his first career reception.
On Tuesday, Harrell credited London's basketball pedigree for his quick ascent in the receiver rotation.
"I think he has a great feel for space and stuff like that," Harrell said. "A lot of it has to do with his basketball background. He has a really large catch radius. He's physical. He's not scared to block. He has a great feel for space. He knows how to use his body to get open."
Rector not practicing
Defensive end Christian Rector did not participate in practice for the second consecutive day. His status for this week's game against Brigham Young remains uncertain.
According to Helton, Rector injured his ankle late in the Stanford game. On his Sunday conference call, Helton suggested that none of the injuries suffered by players against Stanford were serious.
Get the latest on L.A.'s teams in the daily Sports Report newsletter.
You may occasionally receive promotional content from the Los Angeles Times.