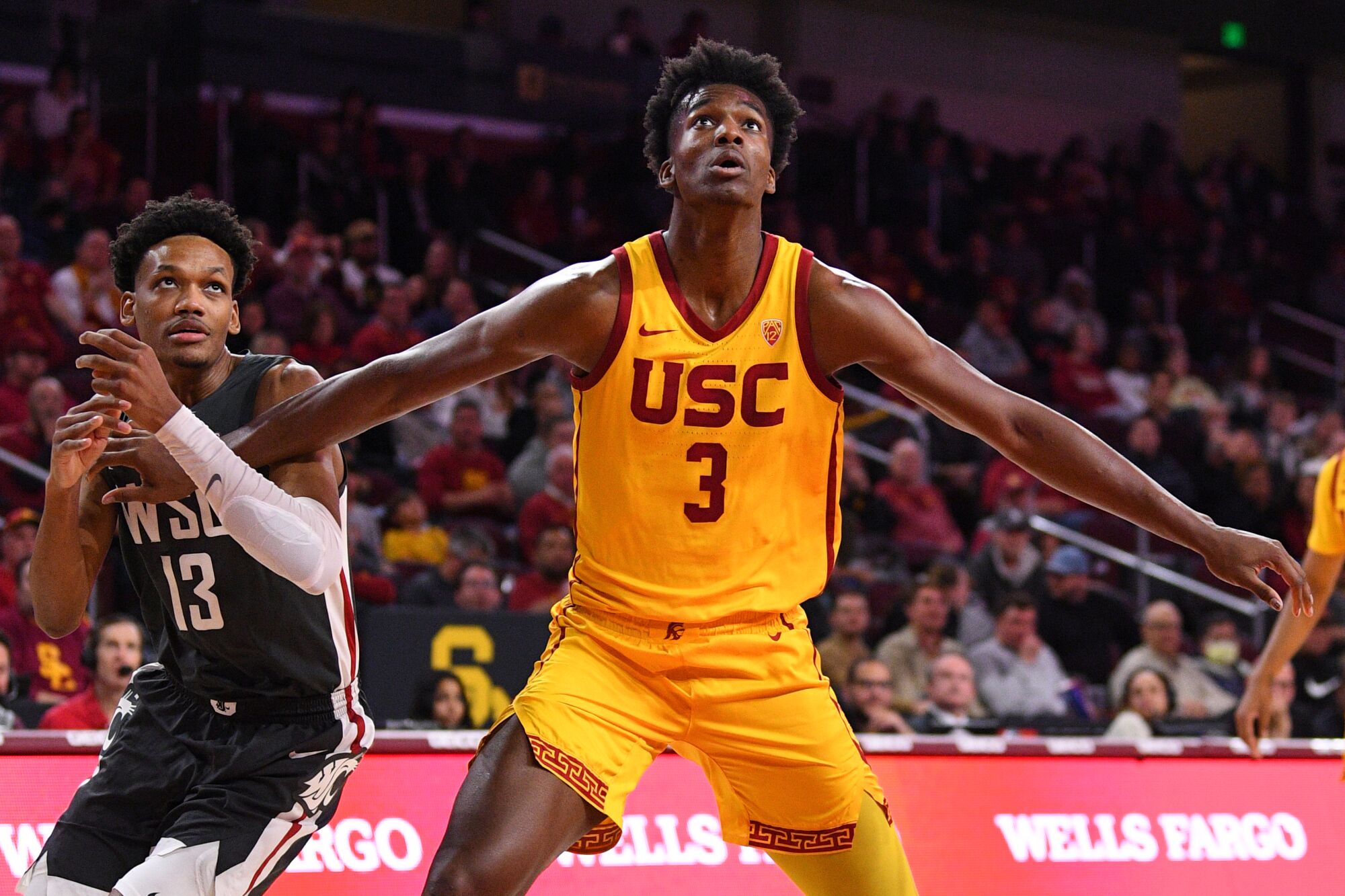 The day his heart stopped suddenly and without explanation, Vince Iwuchukwu wasn't feeling like himself.
Something was just … off. He was exhausted, like he'd barely slept. In hindsight, maybe it was a sign. But in that moment, Iwuchukwu didn't think much of it. He'd been at USC just a few weeks. He was just finding his stride, just starting to prove himself on the Trojans' basketball team. So he arrived at that afternoon's workout intent on pushing through, despite the fact his body was dragging.
Iwuchukwu seemed fine, at first. Better than fine, actually. He was dominating on the interior, running the floor like few 7-footers could. Everyone already could see the five-star pedigree and the one-and-done potential in plain view.
"He was playing terrific basketball," Coach Andy Enfield recalled. It seemed only a matter of time, the coaches all thought, before Iwuchukwu took his place as the next great big man at USC.
Then, midway through that July workout, Iwuchukwu came down with a rebound and something didn't look right to Eric Mobley. The assistant coach watched closely as Iwuchukwu ran down the court in transition. He saw something in the freshman's eyes that worried him. When the team broke for water, Mobley shared his concerns with Enfield, who went to check on Iwuchukwu.
As he sat down, Iwuchukwu grew progressively dizzier. Soon, his head was spinning. "Is everything OK?" Enfield recalled asking. But there wasn't enough time for either to understand what was happening.
A few seconds later, everything went dark.
---
Mobley was one of the first to reach Iwuchukwu as he faded from consciousness. When Iwuchukwu first started to shake, Mobley and Enfield wondered if he was just kidding around. But as the convulsions continued, the 7-footer slumped in his chair, spilling his water. He lost all motor function. Mobley ran across the court as fast as he could.
"Just looking at his eyes, they were rolling back in his head," Mobley said. "And I was like, 'Oh shoot, this is something serious.'"
Mobley had witnessed an unsettlingly similar incident decades before as a senior captain at Portland. He was matched up against Hank Gathers in March 1990 when the Loyola Marymount star suffered cardiac arrest during a West Coast Conference tournament game. Gathers was rushed to the hospital but didn't survive. An autopsy later revealed he suffered from hypertrophic cardiomyopathy.
As Mobley laid Iwuchukwu down on the Galen Center sideline more than 30 years later, he couldn't help but think of that moment and of Gathers.
"Things were happening so fast," Mobley said. "I was just yelling at him and shaking him and slapping him in the face, like, 'Stay with the light!' You could tell he was fighting. You could tell he could hear me, but it was like he couldn't do anything."
The rest of USC's staff flew into action. Enfield and a graduate manager ran to retrieve the automated external defibrillator (AED) from the tunnel outside the locker room. Kurt Karis, USC's director of scouting, rushed to find Jon Yonamine, the team's lead athletic trainer, who had walked out during the water break. Strength and conditioning coach Kurtis Shultz called 911.
The rest of USC's players were sent to the locker room, where a few worrying minutes of waiting felt like an eternity. They tried to keep calm, stay positive. Some prayed. Later, Robin Scholefield, USC's senior associate athletic director and head of sports psychology, spoke with the team to help process emotional trauma from the incident.
"It was just a lot of suspense, like something horrible might happen," forward Josh Morgan said. "We were all just hoping and praying."
Three USC trainers — Yonamine, Erin Tillman and Lauren Crawford — all converged around Iwuchukwu within 45 seconds of his collapse, Enfield estimates. Time, in that moment, was precious. Yonamine unwrapped the AED, while Tillman, the women's basketball trainer, and Crawford, the women's volleyball trainer, administered CPR. They attached the pads from the AED to Iwuchukwu's chest. The device measured his heart's rhythm and determined a shock was needed.
USC guard Boogie Ellis scores a career-high 33 points and the Trojans drain a season-best 13 three-pointers in an 85-75 win over Stanford.
As the trainers worked to save Iwuchukwu's life, Mobley tried desperately to wake him. His message somehow got through to Iwuchukwu, who describes feeling like he was in "a deep slumber, like in the void."
"I just kept following that voice," Iwuchukwu said. "He was saying, 'Vince, come back! Come back! Come back!' Then I heard, 'Vince, don't die on me!' And I was like, 'What the hell are you talking about?'"
The thought of being in grave danger hadn't dawned on him until that moment: "I was like, 'I gotta wake up now,'" Iwuchukwu recalled.
As Yonamine pushed a button, deploying the AED, Iwuchukwu's eyes opened wide. He let out a loud, gasping wail.
He was alive, thanks to USC's athletic trainers and the speed with which the staff acted in an emergency.
"With something like this, where it's a life-or-death situation, to perform under pressure and do what they're trained to do at that level, it's really just incredible," Enfield said. "They gave Vince just such incredible care, as quickly as could be possible in a situation like that."
USC declined to make its athletic trainers available for interviews.
As they set off for the hospital, Iwuchukwu called his mother, Anastecia, from the ambulance. "Mom, I think I just had a heart attack or cardiac arrest," he told her.
She didn't believe him at first. Couldn't she hear the ambulance? he asked. Paramedics had to confirm the news for her: Her son had experienced a cardiac episode.
"I just kept following that voice. He was saying, 'Vince, come back! Come back! Come back!' Then I heard, 'Vince, don't die on me!' And I was like, 'What the hell are you talking about?"
— USC forward Vince Iwuchukwu
He went through a bevy of tests during four days in the hospital to determine why. But there were no concrete explanations to be found, he said.
"They just said it was an event almost like [Buffalo Bills safety] Damar Hamlin's. A freak accident," Iwuchukwu said.
His father, Vincent Sr., boarded a flight from San Antonio the next day. His mother and siblings came soon after. Coaches and teammates came to visit as soon as they could. They marveled at how healthy he seemed, considering what he'd been through.
"Vince was very adamant," Enfield said. "He wanted to leave the hospital the next day and play a game. He said he felt great."
But a few days later, a doctor at Cedars-Sinai Medical Center offered a far less optimistic outlook. The doctor told Iwuchukwu and his family that he'd probably never play basketball again because of the risk to his heart.
Iwuchukwu tried to tell himself he'd be fine without it. He'd played the sport for only four years. He didn't need basketball. He could focus on his studies. Just be a college kid. It's fine, he reassured his parents, hoping to convince himself. Totally fine.
But he couldn't keep up the charade.
"Right after I said that," Iwuchukwu said, "I just broke into tears."
---
At first, Iwuchukwu didn't even like basketball. Hated it, in fact. As a pre-teen, playing in a military kids league in Korea, he towered over the other kids. After just a few games, a coach criticized him for a loss. He decided he didn't like basketball and quit. He focused on soccer instead, carrying on with the sport when his family moved back to Germany.
Soccer wasn't an option when they moved again — this time to Texas, the summer before he started high school. Vince was too skinny and too long for football, he figured. So he gave basketball another try, hoping it would stick.
But he hated it again — until one AAU coach's doubts fueled him that summer. In his pursuit to spite that coach, Iwuchukwu says, he wound up falling in love with basketball. It was only a few months after that he received his first college offer.
While putting USC in position for its first NCAA tournament appearance since 2014, coach Lindsay Gottlieb is also adjusting to life as a mother of two.
The thought that basketball might suddenly be taken away, just after he enrolled, was a devastating blow. But the next day, a different doctor offered a more hopeful prognosis, just enough for Iwuchukwu to cling to. Several other high-achieving athletes, the doctor explained, went through similar cardiac incidents and returned to their sports.
"When I heard that, I told myself, this is the battle," Iwuchukwu said. "It starts now."
The first three months after leaving the hospital were more siege than battle. Unable to do any physical activity or even dribble a basketball, Iwuchukwu felt aimless. "Like I didn't have a purpose," he says. He filled his free time with the music of J. Cole and Korean television dramas. He went to USC practice, just to feel like he was a part of the team. He tried to stay positive, smiling his way through it. But "there were a lot of negative thoughts and negative times," he says.
He tried not to get his hopes up about basketball. Who knew what was in store? A few weeks after the incident, Iwuchukwu underwent a procedure to place a battery-powered pulse generator known as an implantable cardioverter-defibrillator (ICD) in his chest. Wires from the ICD connected to his heart, reading his heart rate and regulating it, if necessary.
The device offered Iwuchukwu and his parents some peace of mind. But he had seen how much his family was affected by the incident. What if it happened again? They did as much research as they could, hashing out the risks.
"Those conversations were tough," Iwuchukwu said. "Because I know they're definitely weighing in their minds, 'Well, I don't know if I want my son to come back to play basketball again.' But my parents are loving and understanding. They've put a lot of time into research and talking to other people and getting knowledge from other sources for us to make a decision about whether it's all right for me to play again."
Whether USC would clear him to play was another question entirely, one that involved the discretion of officials at multiple levels of the university. But for months, as the answer remained uncertain, USC made its support clear, anyway. Athletic officials helped to coordinate the best possible medical care. Staffers ferried him from doctor to doctor. His future at the school, USC told the family, was assured whether he played again or not.
"They give him all the support they could," Iwuchukwu's mother said. "They were really there for him through the whole process."
When USC finally cleared him to return, the process was painfully slow to start. He began with a stationary bike. Then, weights. For a few days, he relished just being able to lift. But the satisfaction didn't last long.
"I got so bored and tired of it," Iwuchukwu said. "I just wanted to play again."
Charles White never lost his love for USC. After USC learned of his dementia, it tried to reconnect with the Heisman Trophy winner and his family.
By Thanksgiving weekend, he finally was able to dribble and shoot again. By mid-December, he was running the court, dunking and taking part in full workouts, all while trainers closely monitored his heart rate.
Iwuchukwu finally was cleared for full contact during Christmas break. It didn't take long for him to realize how far behind he'd fallen.
"I felt like a grandma, like an old man," he recalled with a laugh. "I couldn't move."
But he was back on the court, after months of waiting and wondering and worrying, and he would never take the game he loved for granted. Now he found himself delighting in the dirty work, like boxing out and setting screens. Even if both left him feeling like he barely could walk during that first month back.
His parents got the call from USC a few days into January. Iwuchukwu was cleared to play in a game. They quickly booked flights to Los Angeles with his siblings, this time under far more positive circumstances.
---
Just five minutes had ticked off the clock against Colorado on Jan. 12, when Enfield walked along the Galen Center sideline to the Trojans bench, where he tapped Iwuchukwu on the shoulder. The moment the freshman had been waiting six months for finally had arrived.
"Don't forget your assignments," Enfield reminded him.
But as Iwuchukwu moved to the scorer's table to check in, the entire arena rose to its feet for an ovation. He beamed, immediately forgetting all of his assignments.
His teammates swelled with pride. Tears of joy welled in his parents' eyes.
"It was very emotional," Vincent Sr. said.
"It showed that the community really cared about him," Anastecia said. "It was amazing."
For the briefest of moments, before Iwuchukwu touched the ball for the first time, he thought of the incident last July. But the fear was fleeting, swallowed up soon enough by the action on the court.
Iwuchukwu played just five minutes over two stints and missed two shots, later acknowledging that "honestly, my head was not in the game." But it was a special moment for a family that had gone through so much.
More than a month later, the process of ramping up continues, slowly but surely. Against Oregon State, Iwuchukwu played a season-high 26 minutes and scored 19 points, flashing the five-star talent that brought him to USC.
Those moments still come inconsistently to the 7-footer. Six months away shifted the trajectory of his first college season. He's still adjusting to the speed of the game and getting the hang of USC's defensive sets.
"He realized this would be a long process for him to get back on the court," Enfield said. "I'm sure he'd like to play 35 minutes in a game, but he understands that's not possible right now."
The path he planned may have been redirected, but Iwuchukwu insists his goals haven't changed. "I'm going to be a pro," he assures you.
He knows that means answering questions and easing concerns about his heart. At USC, it's monitored at all times while he's in the game by the strength and conditioning coach. Teammates say they still watch him closely as he runs the court.
"There's always going to be what-ifs," Iwuchukwu said. "Being able to accept the fact that it could happen again, that's the biggest thing. … Fear is the biggest obstacle to jump in this whole path."
There's no outrunning what happened. Iwuchukwu understands that. He'll always be grateful to USC and the athletic trainers who saved his life. And he'll never take basketball for granted again.
But those traumatic few minutes from last July don't cross his mind much anymore.
He keeps his focus trained on the future instead, a future when he's fully regained his footing, when his five-star potential finally is back on full display, when everyone else's nerves have faded.
"There's always going to be what if's. Being able to accept the fact that it could happen again, that's the biggest thing. … Fear is the biggest obstacle to jump in this whole path."
— USC forward Vince Iwuchukwu
As USC makes its final push for the postseason, that day inches ever closer, while the day his heart stopped fades further in the rearview.
"No one can change it for me, unless you have a time machine," he says, with a smile.
That leaves just one option, as Iwuchukwu sees it.
"You've just got to keep moving forward," he said.
Get the latest on L.A.'s teams in the daily Sports Report newsletter.
You may occasionally receive promotional content from the Los Angeles Times.