LAPD details how USC's Josh Shaw became part of incident report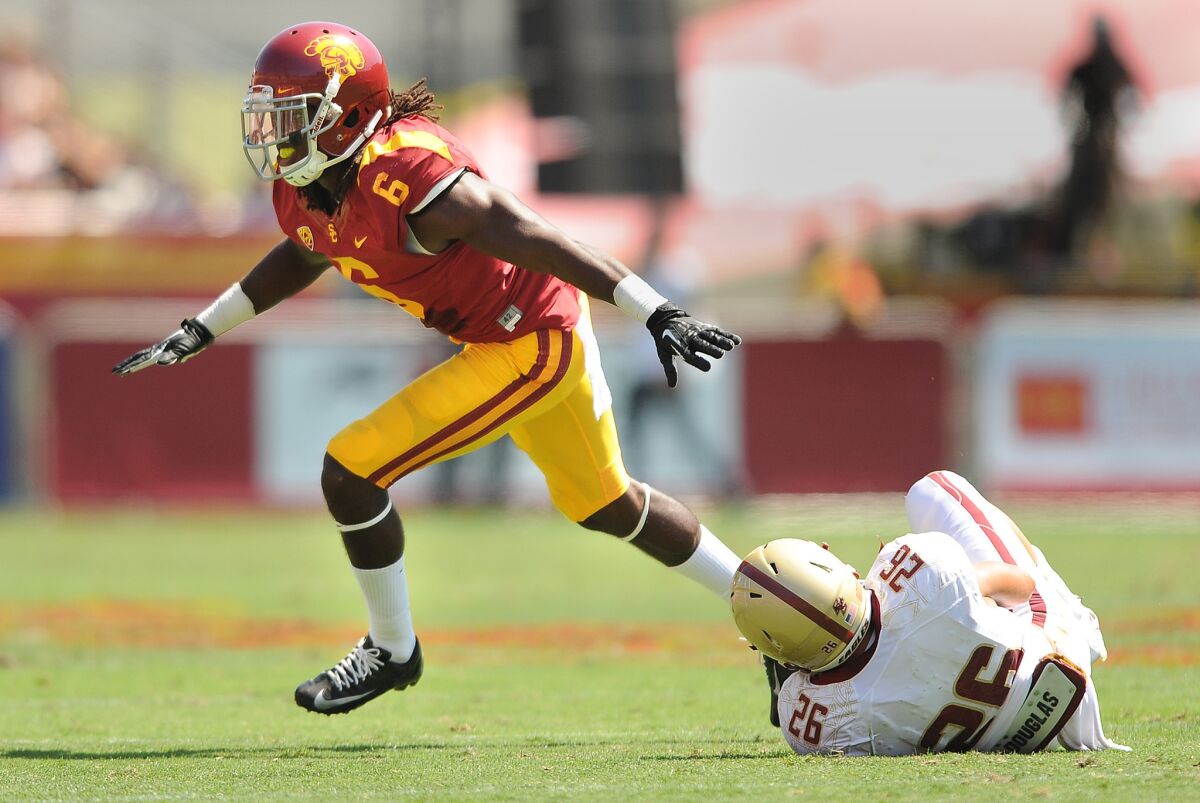 The Los Angeles Police Department on Thursday provided more details about how the name of USC football player Josh Shaw became part of an incident report over the weekend.
The LAPD said that the window of a downtown apartment where Shaw's girlfriend lives had been pried open and that a man she said fit Shaw's description was seen descending from its balcony by eyewitnesses.
Officers responded about 10:40 p.m. Saturday to a report of a "screaming woman" inside an apartment at the Orsini Apartments on North Figueroa Street, Officer Sara Faden said.
The report came from a neighbor. Officers knocked on the door of the third-floor apartment where the screams were heard but there was no answer, Faden said. The officers then broke open the door and conducted a brief search of the apartment, finding no one inside. Officers noticed "the window had been pried open," she said.
Faden said witnesses told police they had seen a black man with dreadlocks climbing from the third-floor balcony of the apartment. The woman who resides in that unit then arrived on the scene.
Given the description of the man provided by witnesses, she said it fit that of her boyfriend, Shaw.
The woman, whom police have not identified, reported nothing stolen from the apartment.
Faden said that the investigation is continuing and that the department would seek to interview Shaw.
Shaw, a senior football captain, was suspended indefinitely by USC on Wednesday after he admitted to school officials that he lied about how he sustained injuries to his ankles.
Shaw initially told USC he was injured after jumping off a second-story balcony to save a young nephew from drowning in a pool at a family gathering in Palmdale.
USC touted Shaw's heroism on its website and posted a link to the story on Twitter. Media outlets, including The Times, reported the account and it went viral over social media.
Shaw confessed Wednesday that the rescue story was a lie. Shaw's attorney said the player was injured when he fell off a balcony at the Orsini Apartments on Saturday.
Times staff writer Richard Winton contributed to this report.
Get the latest on L.A.'s teams in the daily Sports Report newsletter.
You may occasionally receive promotional content from the Los Angeles Times.